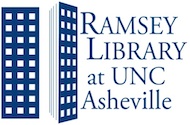 Welcome to the University of North Carolina at Asheville Faculty Scholarship searchable bibliography database,
developed and maintained by D. Hiden Ramsey Library.

We're looking for submissions!

The current database of faculty scholarship was derived from the past Ramsey Library Faculty Bibliography web site, searching faculty websites, and searching scholarly databases. We are actively soliciting submissions for the new database. If you have additional publications to add to our database or corrections to current items, please use the Faculty Submission form linked above to submit them. Additions and corrections will be posted typically within two business days.


Please select at least one year and/or author from the fields below. If you would like to view all records at once, click on the View All button below.
---
Bennett, Charles A. Erebus (Exhibition) 2007. Asheville, NC: RiverSculpture Festival, French Broad River Park.
Canejo, Cynthia. Division and Integration: The Oeuvre of Dan Millspaugh 2009. Asheville, NC: University of North Carolina Asheville.
Derryberry, Virginia. Convergence (Group exhibition with Von Allen, Reni Gower, Alison Helm, Virginia Derryberry, and Virginia Scotchie) 2004. Columbia, SC.: South Carolina State Museum.
Derryberry, Virginia. Portes Ouvertes (Group exhibition with Janet Gorzegno, Mary McDonnell, and Anita Wetzel) 2004. Auvillar, France: Moulin a Nef.
Derryberry, Virginia. Real/Abstract (Solo Exhibition) 2004. Brockport, NY.: Tower Gallery, State University of New York.
Derryberry, Virginia. Vanitas (Solo Exhibition) 2004. Mars Hill, NC.: Weizanblatt Gallery, Mars Hill College.
Derryberry, Virginia. Dreamscapes (Solo exhibition) 2005. Cookeville, TN: Joan Derryberry Gallery, Tennessee Technological University.
Derryberry, Virginia. From These Hills (Juried exhibition) 2005. Abingdon, VA: William King Arts Center.
Derryberry, Virginia. Question Reality: Surrealism in Contemporary Art. (National group invitational exhibition) 2005. Morehead, KY: Claypool-Young Gallery, Morehead State University.
Derryberry, Virginia. To Open Eyes: Artists Who Teach (Group invitational) 2005. Asheville, NC: Asheville Art Museum.
Derryberry, Virginia. Virginia Derryberry/Michael Hough (Two-person exhibition) 2005. Emory, VA: Gallery 1912, Emory and Henry College.
Derryberry, Virginia. Second Nature 2006. Nashville, TN.: Sarratt Gallery, Vanderbilt University.
Derryberry, Virginia. Transcendence 2006. Spartanburg, SC.: University Gallery, University of South Carolina Upstate.
Derryberry, Virginia. "Make It New." (Juried Group Exhibition; Juror, Ron Platt, Curator) 2007. Asheville, NC: Asheville Art Museum.
Derryberry, Virginia. Alchemical Narratives (Solo Exhibition) 2007. Wichita, KS: Staples Gallery, School of Art and Design, Wichita State University.
Derryberry, Virginia. Drawn In Georgia. (Group Invitational; Lisa Dewberry Thrower, Curator) 2007. Atlanta, GA: Museum of Contemporary Art.
Derryberry, Virginia. Small Packages. (Group Invitational Exhibition) 2007. Nashville, TN: Cumberland Gallery.
Derryberry, Virginia. Small Works. (Group Invitational Exhibition) 2007. Tampa, FL:
Derryberry, Virginia. Alchemical Narratives (Exhibition) 2008. Charlotte, NC.: Cone Center, UNC Charlotte.
Derryberry, Virginia. Allegorical Narratives (Small Group Exhibition) 2008. Greensboro, NC.: Green Hill Center for North Carolina Art.
Derryberry, Virginia. Consummation 2008 Oxford American.
Derryberry, Virginia. Rebis: Alchemical Narratives (Exhibition) 2008. Abingdon, VA.:
Derryberry, Virginia. Small Packages (Group Invitational) 2008. Nashville, TN.: Cumberland Gallery.
Derryberry, Virginia. Small Works (Group Invitational) 2008. Tampa, FL.: Clayton Galleries.
Derryberry, Virginia. The Bold and the Beautiful (Group Exhibition/Group invitational) 2008. Hendersonville, NC.: Hendersonville Arts Council.
Derryberry, Virginia. Where We're From (Group Exhibition) 2008. Clemson, SC.: Lee Gallery, Clemson University.
Gortemiller, Maury. Typewriter (2008; photograph) 2009. Oxford, Miss.: Oxford American.
Pecchio, Pamela. "Ladylike: Women Artists Working in the South" (Group Exhibition) 2007. Madison, GA: Madison Morgan Cultural Center.
Pecchio, Pamela. Exhibition Catalog, "Ladylike: Women Artists Working in the South" (Group Exhibition) 2007. Madison, GA: Madison Morgan Cultural Center.
Pecchio, Pamela. Faculty Exhibit (Group Exhibition) 2007. Asheville, NC: S. Tucker Cooke Gallery.
Pecchio, Pamela. Landscape: Photographs by Pamela Pecchio (Solo Exhibition) 2007. Durham, NC: UpFront Gallery, Bull City Arts Collaborative. http://www.bullcityarts.org/BCACupfront.html.
Pecchio, Pamela. MEBIKE, The Dream Bike Festival (Group Exhibition) 2007. Amsterdam, Holland: Amsterdam Westerpark.
Pecchio, Pamela. Mostra (Group Exhibtion) 2007. Cortona, Italy: Piazza Della Repubblica.
Pecchio, Pamela. Wall/Space (Two-Person Exhibition with Terri Bright) 2007. Elon, NC: Elon University, Center for the Arts.
Tynes, Robert. Contemporary Trompe L'Oeil Paintings (Solo Exhibition) 2004. Dallas, NC.: Jeanne Rauch Gallery, Gaston College.
Tynes, Robert. Paintings (Solo Exhibition) 2004. Raleigh, NC.: Lee Hansley Gallery.
Tynes, Robert. Contemporary Trompe L'Oeil Paintings (Solo Exhibition) 2006. Asheville, NC.: Blue Spiral 1 Gallery. http://www.roberttynes.com/Site/Solo_Shows/Pages/Solo_Show_06.html.
Tynes, Robert. 35th Annual Juried Exhibition for North and South Carolina Artists (Exhibition) 2007. Fayetteville, NC: Fayetteville Museum of Art.
Tynes, Robert. Beyond a Gift of Time (Exhibition) 2007. Roswell, NM: Roswell Museum and Art Center.
Tynes, Robert. Homecoming (Exhibition) 2007. Black Mountain, NC: Black Mountain Center for the Arts.
Tynes, Robert. Roswell Artists-in-Residence Fellows (Exhibition) 2007. Roswell, NM: Anderson Museum of Contemporary Art.
Tynes, Robert. Solo Exhibition 2007. Charlotte, NC: Ross Gallery, Central Piedmont Community College.
Tynes, Robert. Subject: Object (Exhibition) 2007. Asheville, NC: Blue Spiral 1 Gallery.
Tynes, Robert, contributer. S. Tucker Cooke: A Retrospective Exhibition (Exhibition Catalog) 2007. Asheville, NC: S. Tucker Cooke Gallery.
Tynes, Robert, et al. Works by North Carolina Artists from Our Collection, Group Exhibition 2005. Greenville, NC: Greenville Museum of Art, The Commons Gallery.
Tynes, Robert; et al. Winter Show (Invitational Group Exhibition) 2011. Greensboro, NC.: Green Hill Center for North Carolina Art, Greensboro Cultural Center.
Walsh, Lorraine. Global Access, International Juried Group Exhibition, Second Place Award 2005. Los Angeles, CA: Los Angeles Center for Digital Art.
Walsh, Lorraine. UpScene: Raise Up. Invitational group exhibition for participating artists featured in "Raise Up" publication 2005. Tampa, FL:
Walsh, Lorraine. Virtual Fields: The Digital Landscape. International Juried Group Exhibition 2005 Indiana University-Purdue University.
Boakye-Boaten, Ayga; Ferguson, S. C [Editor(s)]. I'm Buildin' Me A Home - An Interdisciplinary Reader and Workbook for African American Experience. Brooklyn, New York: Tapestry Press, 2010.
Campbell, Grace G.; Chapman, Reid [Editor(s)]. The Asheville Reader: The Individual in the Contemporary World. Selection from The Asheville Reader. Acton, MA.: Copley, 2008.
Cloninger, Curt; Schminke, Karin; Krause, Dorothy Simpson; Lhotka, Bonny Pierce [Editor(s)]. Digital Art Studio: Techniques for Combining InkjetPrinting and Artist Materials. New York, NY.: Watson-Guptill, 2004.
Combs, A.; Germine, M.; Goertzel, B [Editor(s)]. Mind in Time: The Dynamics of Thought, Reality, and Consciousness. Cresskill, NJ.: Hampton, 2004.
Conser, Walter H.; Payne, Rodger M [Editor(s)]. Southern Crossroads: Perspectives on Religion and Culture. Lexington, KY.: University of Kentucky Press, 2008.
Derryberry, Virginia [Editor(s)]. Second Nature (Exhibition Catalog). Nashville, TN.: Vanderbilt University, 2006.
Gibney, Mark [Editor(s)]. The age of apology :facing up to the past. Selection from Pennsylvania studies in human rights. Philadelphia: University of Pennsylvania Press, 2008.
Gibney, Mark; Skogly, Sigrun [Editor(s)]. Universal Human Rights and Extraterritorial Obligations. University of Pennsylvania Press, 2010.
Ho, Cynthia O.; Mulvaney, Beth A.; Downey, John K [Editor(s)]. Finding Saint Francis in literature and art. New York: Palgrave Macmillan, 2009.
Ho, Cynthia; Moseley, Merritt [Editor(s)]. Postscript . NC: Philological Association of the Carolinas, 2004. http://pachome.org/wp/postscript/.
Ho, Cynthia; Moseley, Merritt [Editor(s)]. Postscript. NC: Philological Association of the Carolinas, 2005. http://pachome.org/wp/postscript/.
Ho, Cynthia; Moseley, Merritt [Editor(s)]. Postscript. NC: Philological Association of the Carolinas, 2006. http://pachome.org/wp/postscript/.
Ho, Cynthia; Moseley, Merritt [Editor(s)]. Postscript. NC: Philological Association of the Carolinas, 2007. http://pachome.org/wp/postscript/.
Ho, Cynthia; Moseley, Merritt [Editor(s)]. Postscript. NC: Philological Association of the Carolinas, 2008. http://pachome.org/wp/postscript/.
Hobby, Blake [Editor(s)]. Death and dying. Selection from Bloom's Literary Themes. New York, NY: Chelsea House, 2009.
Hobby, Blake [Editor(s)]. Human sexuality. Selection from Bloom's Literary Themes. New York, NY: Chelsea House, 2009.
Hobby, Blake [Editor(s)]. The American dream. Selection from Bloom's Literary Themes. New York, NY: Chelsea House, 2009.
Hobby, Blake [Editor(s)]. The Grotesque. Selection from Bloom's Literary Themes. New York: Chelsea House, 2009.
Hobby, Blake [Editor(s)]. The Hero's Journey. Selection from Bloom's Literary Themes. New York: Chelsea House, 2009.
Hobby, Blake [Editor(s)]. The labyrinth. Selection from Bloom's Literary Themes. New York, NY: Chelsea House, 2009.
Hobby, Blake [Editor(s)]. Civil Disobedience. Selection from Bloom's Literary Themes. New York, NY.: Chelsea House, 2010.
Hobby, Blake [Editor(s)]. Enslavement and Emancipation. Selection from Bloom's Literary Themes. New York, NY.: Chelsea House, 2010.
Hobby, Blake [Editor(s)]. Exploration and Colonization. Selection from Bloom's Literary Themes. New York, NY.: Chelsea House, 2010.
Hobby, Blake [Editor(s)]. Sin and Redemption. Selection from Bloom's Literary Themes. New York, NY.: Chelsea House, 2010.
Hobby, Blake [Editor(s)]. The Sublime. Selection from Bloom's Literary Themes. New York, NY.: Chelsea House, 2010.
Hobby, Blake [Editor(s)]. The Taboo. Selection from Bloom's Literary Themes. New York, NY.: Chelsea House, 2010.
Hobby, Blake [Editor(s)]. The Trickster. Selection from Bloom's Literary Themes. New York, NY.: Chelsea House, 2010.
Hook, Brian S.; Moseley, Merritt W.; Peters, Kathleen W [Editor(s)]. The Asheville Reader: The Ancient World. Selection from The Asheville Reader. Acton, MA.: Copley, 2004.
Horvitz, Lori [Editor(s)]. Queer Girls in Class: Lesbian Teachers and Students Tell Their Classroom Stories. Counterpoints, 2011.
Hyde, Gene; Blevins, Brooks [Editor(s)]. Life in the Leatherwoods by John Quincy Wolf . Fayetteville, Arkansas: University of Arkansas Press, 2000.
Iglesias, Holly [Editor(s)]. Boxing Inside the Box: Women's Prose Poetry. Florence, MA: Quale Press, 2004.
Kapur, S.; Soodan, K. S.; Srivastava, U [Editor(s)]. Society and Social Justice: A Nexus in Review. Bloomington, Indiana: iUniverse Inc., 2012.
Magie, Dian [Editor(s)]. On the road again :creative transportation design. Hendersonville, N.C.: Center for Craft, Creativity and Design, 2005.
Moseley, Merritt [Editor(s)]. Effective Teaching: The Carolina Colloquy's Electronic Journal of University Teaching and Learning. Selection from Effective Teaching: The Carolina Colloquy's Electronic Journal of University Teaching and Learning. 2004.
Moseley, Merritt [Editor(s)]. Dictionary of Literary Biography. Volume 326: Booker Prize Novels, 1969-2005. Detroit, MI.: Gale, 2006.
Moseley, Merritt [Editor(s)]. The academic novel: new and classic essays. Chester: Chester Academic Press, 2007.
Schuman, Samuel; American Council on Education [Editor(s)]. Leading America's branch campuses. Selection from American Council on Education series on higher education. Lanham: Rowman & Littlefield Education, 2009.
Serway, R. A.; Faughn, J. S.; Vuille, C.; Bennett, C. A. [Editor(s)]. College Physics (7th Edition). Belmont, CA: Brooks/Cole, 2006.
Stevenson, B.; Ho, C. O [Editor(s)]. Crossing the Bridge: Comparative Essays on Heian Japanese and Medieval European Women Writers. New York: Palgrave, 2000.
Taylor, Laurel [Editor(s)]. Artisans and Craft in Ancient Etruria: A Symposium in Honor of Nancy de Grummond (Special Guest Editor). De Gruyter, 2015.
Wilson, Gordon A [Editor(s)]. Henrici de Gandavo Summa (Quaestiones Ordinariae), art. XXXV-XL. Leuven, Belgium: Leuven University Press, 2004.
Ashburn, Gwen McNeill. "Silence in the Courtroom: Language, Literature and Law in The Ballad of Frankie Silver." In Literature and Law. Edited by Meyer, Michael J. Amsterdam, Netherlands: Rodopi, 2004.
Bell, Christopher Ross. "Transaction Cost Economics." In 21st Century Economics: A Reference Handbook. Edited by Free, Rhona C. Thousand Oaks, CA.: Sage, 2010.
Biocca, Frank; David, Prabu; West, Mark. "Continuous Response Measurement (CRM): A Computerized Tool for Research on the Cognitive Processing of Communication Messages." In Measuring Psychological Responses To Media Messages (Paperback reprint). Edited by Lang, Annie. 15-65. New York: Routledge, 2011.
Blose, Betsy. "Every Day is Father's Day." In Chicken soup for the soul : inside basketball : 101 great hoop stories from players, coaches and fans. Edited by Canfield, Jack, Hansen; Mark Victor; Williams, Pat. 89. Cos Cob, CT; New York, NY: Chicken Soup for the Soul ; Distributed by Simon & Schuster, 2009.
Boakye-Boaten, Agya; Ruffin, T. "From the Classroom to the Streets: Empowering 21st Century College Students through the Ghana Street Children Literacy Initiative." In Service-Learning in Higher Education: Educators, Communities, and Students. 191-202. Indianapolis, IN: University of Indianapolis Press, 2010.
Boakye-Boaten, Agya; Ruffin, T. "Pre-Service Teachers Go Global: How an International Service-Learning Program cultivates pre-service teachers as knowledgeable global citizens with enhanced cultural competence.." In Service Learning in Higher Education: Connecting the Global to the Local. 101-115. Indianapolis, IN: University of Indianapolis Press, 2012.
Boakye-Boaten, Agya; Ruffin, T. "Internationalizing teacher education through e-service Learning: Connecting preservice teachers with English Language Learners via online instruction using skype." In Service Learning in Higher Education: Building Community Across the Globe. 95-105. Indianapolis, IN: University of Indianapolis Press, 2015.
Boyle, K. "Historicism/Historicity." In The Žižek Dictionary. Edited by Butler, R. Acumen, 2013.
Boyle, K.; Mrozowski, D. "The Imagination of Economic Disaster: Eco-Catastrophe Films of the Great Recession." In The great recession in fiction, film and television: Twenty-first-century bust culture. Edited by Boyle, K.; Mrozowski, D. Lanham, Maryland: Lexington Books, 2013.
Butler, Brian E. "Where is the Civil in the Invisible Man's Disobedience?." In Bloom's Literary Themes: Civil Disobedience. Edited by Hobby, Blake. New York, NY.: Chelsea House, 2010.
Canejo, Cynthia. "Questioning Issues of Importance to Afro-Brazilian Art and Culture." In Fetishes and Monuments: Afro-Brazilian Art and Culture in the Twentieth Century. Remapping Cultural History Series. New York and Oxford: Berghahn Books, 2007.
Caulfield, Peter. "A Room in the Pragmatic Hotel: William James, Language, and Epistemology." In Conversations with Pragmatism. Edited by Bube, P. C.; Geller, Jeffrey. New York: Value Inquiry Books Series, 2002.
Chess, Richard. "Kaddish, after Charles Reznikoff." In The best American spiritual writing 2005. Edited by Zaleski, Philip. 16-17. Boston: Houghton Mifflin, 2005.
Chess, Richard. "A Circle With No End." In 27 Views of Asheville. Edited by Neufield, Rob. Hillsborough, NC.: Eno Publishers, 2012.
Cloninger, Curt. "Eternity in an Instant: The Moving Images of David Crawford." In Sequences. Edited by St. George, Paul. Hastings, UK.: The Projection Box Publishers, 2006.
Cornett, Linda, Gibney, Mark. "The Rights of Detainees: Determining the Limits of Law." In Contemporary cases in U.S. foreign policy : from terrorism to trade. Edited by Carter, Ralph G. 419-458. Washington, D.C.: CQ Press, 2005.
Downes, Margaret J. "Contemporary African Women Writers and Core Curricula." In Selected Papers from the Association for Core Texts & Courses, 7th Annual Conference. Edited by Brunello, Anthony. Chelsea, MI.: Sheridan Books, 2004.
Downes, Margaret J. "Love Medicine and the American Dream." In The American dream. Edited by Hobby, Blake. 123-132. New York, NY: Bloom's Literary Criticism, 2009.
Downes, Margaret J. "Enough!' or 'Too Much': The Blakean Paradox of the COPLAC English Department." In Pedagogy: Critical Approaches to Teaching Literature, Language, Composition, and Culture. Edited by Holberg, Jennifer. 295-315. Duke UP, 2010.
Downes, Margaret J. "Sulwan Al-Muta: The Wisdom of Stories for Leaders." In Core Texts: Seeking the Worth of a Liberal Education. Edited by Lee, J. Scott. UPA, 2010.
Dunn, Alvis. "'Los mira con otros ojos': el gobernador de indios Manuel Silverio, el aguardiente y las identidades étnicas en Quetzaltenango, 1780–1785 ." In La Epoca Colonial en Guatemala: Estudios de Historia Social y Cultural. Edited by Herrera, Robinson; Webre, Stephen. Ciudad de Guatemala, Guatemala: Universidad de San Carlos de Guatemala, 2014.
Gibney, Mark. "Refugees." In Encyclopedia of human rights. Edited by Forsythe, David P. Volume 4, 315. Oxford; New York: Oxford University Press, 2009.
Gibney, Mark. "Apologies." In The Pursuit of International Criminal Justice: A World Study on Conflicts, Victimization, and Post-Conflict Justice. Edited by Bassiouni, M. Cherif. Antwerp: Intersentia, 2010.
Gibney, Mark. "Migration Control." In Die Interkulturalitätsdebatte: Leit- Und Streitbegriffe (Intercultural Discourse: Key and Contested Concepts). Edited by Kirloskar-Steinbach, Monika. Freiburg, Germany: Alber Carl, 2012.
Gibney, Mark; Cornett, Linda. "The Rights of Detainees: Determining the Limits of Law." In Contemporary Cases in U.S. Foreign Policy: From Terrorism to Trade. Edited by Carter, Ralph. CQ Press, 2010.
Gibney, Mark; Dalton, Matthew. "The Political Terror Scale." In Exploring international human rights :essential readings. Edited by Callaway, Rhonda L. Boulder, Colo.: Lynne Rienner Publishers, 2007. http://catdir.loc.gov/catdir/toc /ecip077/2006102357.html.
Gibney, Mark; Steiner, Nicholas. "Apology and the War on Terror." In The age of apology :facing up to the past. Edited by Gibney, Mark. 287-297. Philadelphia: University of Pennsylvania Press, 2008.
Gillum, Michael. ""Great God, What They Got in That Wagon?": Grotesque Intrusions in As I Lay Dying." In The Grotesque. Edited by Hobby, Blake. 13-22. New York: Bloom's Literary Criticism, 2009.
Gillum, Michael. "Great God, What they Got in that Wagon': Grotesque Intrusions in As I Lay Dying." In The grotesque. Edited by Bloom, Harold; Hobby, Blake. 13-22. New York: Bloom's Literary Criticism, 2009.
Gillum, Michael. "Hints and Guesses in The Waste Land." In Sin and Redemption. Edited by Bloom, Harold; Hobby, Blake. 281-292. Blooms Literary Criticism, 2010.
Gillum, Michael. "Ingratitude as Sin in Milton's Paradise Lost." In Bloom's Literary Themes: Sin and Redemption. Edited by Bloom, Harold. New York, NY.: Chelsea House, 2010.
Hamlett, W.C., G. Kormanik, M. Storrie, B.Stevens and T.I.Walker. "Chondrichthyan parity, lecithrotrophy and matrotrophy." In Reproductive Biology and Phylogeny of Chondricthyes: Sharks, Skates, Stingrays and Chimaeras. Volume 3, 395-434. United Kingdom: Science Publishers, Inc, 2005.
Hardy, Grant. "Great Wall of China." In The World Book encyclopedia. Edited by World Book, Inc. Chicago: World Book, 2004.
Hardy, Grant. "Song Dynasty." In The World Book encyclopedia. Edited by World Book, Inc. Chicago: World Book, 2004.
Hardy, Grant. "Sima Qian." In Berkshire encyclopedia of world history. Edited by McNeill, William Hard; Bentley, Jerry H. Volume 4, 1715-1717. Great Barrington, Mass.: Berkshire Pub. Group, 2005.
Hardy, Grant. "Introduction." In The Book of Mormon: the earliest text. Edited by Skousen, Royal. vii.. New Haven: Yale University Press, 2009.
Harper, Elizabeth B., Joe H.K.Pechmann and James W.Petranka. "Field enclosures and terrestrial cages." In Amphibian ecology and conservation : a handbook of techniques. Edited by Dodd, C. Kenneth. 203-226. Oxford [England]; New York: Oxford University Press, 2010.
Hays, Tommy. "Too Much Dog." In Literary Dogs & Their South Carolina Writers. Edited by Lane, John. Spartanburg, SC: Hub City Press, 2012.
Hays, Tommy. "Try Not to Think About It." In 27 Views of Asheville. Edited by Neufield, Rob. Hillsborough, NC: Eno Publishers, 2012.
Himelein, Melissa J. "Infertility." In Encyclopedia of human development. Edited by Salkind, Neil J. 711-714. Thousand Oaks, Calif.: Sage Publications, 2006. http://catdir.loc.gov/catdir/toc/ ecip0510/2005008606.html.
Himelein, Melissa. J.; Thatcher, Samuel S. "Psychological issues and their treatment." In Diagnosis and Management of Polycystic Ovary Syndrome. Edited by Diamanti-Kandarakis, Evanthia. 181-187. Boston, MA: Springer US, 2009. http://dx.doi.org/10.1007/978-0-387- 09718-3.
Ho, Cynthia. "Words Alone Cannot Express." In Crossing the Bridge: Comparative Essays on Heian Japanese and Medieval European Women Writers. Edited by Stevenson, B.; Ho, C. 133-152. New York: St.Martin's Press, 2000.
Ho, Cynthia. "St. Lawrence and the Pagans in The Marvels of Rome." In Issues in travel writing : empire, spectacle, and displacementIssues in travel writing : empire, spectacle, and displacement. Edited by Siegel, K. New York: Peter Lang Publishing, 2002.
Ho, Cynthia. "Izumi Shikibu, Murasaki Shikibu, and Sei Shonagon." In Women in the Middle Ages: An Encyclopedia. Edited by Wilson, Katharina. Westport, CT.: Greenwood Press, 2004.
Ho, Cynthia. "Race Matters: The Song of Roland and the Sirat 'Antar'." In Reforming Liberal Education and the Core After the Twentieth Century. Edited by Wudel, Darcy. 77-86. New York: University Press of America, 2004.
Ho, Cynthia. "The God of Small Things(1997) by Arundhati Roy." In Dictionary of Literary Biography. Volume 326: Booker Prize Novels, 1969-2005. Edited by Moseley, Merritt. 287-295. Washington, D.C.: Bruccoli Clark Layman, Inc, 2006.
Ho, Cynthia. "Cross-Cultural Approaches." In Women and Gender in Medieval Europe: An Encyclopedia. Edited by Schaus, Margaret C. New York, NY.: Routledge, 2006.
Ho, Cynthia. "Dichotomize and Conquer: 'Womman Handlyng' in Handlyng Synne." In Classical and Medieval Literature Criticism. Edited by Krstovic, Jelena O. 95-123. Detroit, Mich.: Gale, 2006. http://go.galegroup.com/ps/ i.do?id=GALE%7C0CBC&v=2.1&it=aboutBook&p=LitRC.
Ho, Cynthia. "Ise Monogatari." In Encyclopedia of Medieval Literature. Edited by Ruud, Jay. New York: Facts On File, 2006. http://catdir.loc.gov/catdir/toc/ ecip056/2004031066.html.
Ho, Cynthia. "Izumi Shikubu." In Encyclopedia of Medieval Literature. Edited by Ruud, Jay. New York: Facts On File, 2006. http://catdir.loc.gov/catdir/toc/ ecip056/2004031066.html.
Ho, Cynthia. "Saint Francis of Assisi." In Encyclopedia of Medieval Literature. Edited by Ruud, Jay. New York: Facts On File, 2006. http://catdir.loc.gov/catdir/toc/ ecip056/2004031066.html.
Ho, Cynthia. "The Middle English Saint Francis: Text and Context." In Mindful Spirits in Late Medieval Literature: Essays in Honor of Elizabeth Kirk. Edited by Wheeler, Bonnie. 85-100. New York, NY.: Palgrave, 2006.
Ho, Cynthia. "The Nara Period." In Encyclopedia of Medieval Literature. Edited by Ruud, Jay. New York: Facts On File, 2006. http://catdir.loc.gov/catdir/toc/ ecip056/2004031066.html.
Ho, Cynthia. "Thomas of Celano." In Encyclopedia of Medieval Literature. Edited by Ruud, Jay. New York: Facts On File, 2006. http://catdir.loc.gov/catdir/toc/ ecip056/2004031066.html.
Ho, Cynthia. "Communal and Individual Autobiography in Christine de Pizan's Book of the City of Ladies." In Literature criticism from 1400 to 1800. Edited by Trudeau, Larry. Volume 130, Farmington Hills, MI: Thomas Gale, 2007.
Ho, Cynthia. "Closing the Borders: St. Francis at Orta." In Identity and Alterity in Hagiography and the Cult of Saints. Zagreb, Croatia: Hagiotheca, 2008.
Ho, Cynthia. "Tempted or Just Annoyed? Demonic Testing in the Franciscan Tradition." In Medieval Fraternal Traditions. Edited by Ridyard, Susan. Sewanee, TN.: Sewanee Medieval Colloquium, 2008.
Ho, Cynthia. "The Visual Piety of the Sacra Monte di Orta." In Finding Saint Francis in literature and art. Edited by Ho, Cynthia O.; Mulvaney, Beth A.; Downey, John K. 109-128. New York: Palgrave Macmillan, 2009.
Ho, Cynthia; Driggers, Jim. "Outwit, Outplay, Outlast: Moral Lessons from Handlyng Synne and Survivor." In Cultural Studies of the Modern Middle Ages. Edited by Joy, Eileen A.; Seaman, Myra J.; Bell, Kimberly K.; Ramsey, Mary K. 63-90. New York: Palgrave Macmillan, 2007. http://catdir.loc.gov/catdir/ enhancements/fy0711/2007012373-t.html; http:// catdir.loc.gov/catdir/enhancements/fy0711/2007012373- b.html; http://catdir.loc.gov/catdir/ enhancements/fy0739/2007012373-d.html.
Hobby, Blake. "Alienation in James Joyce's Dubliners." In Alienation. 61-70. New York, NY: Bloom's Literary Criticism, 2009.
Hobby, Blake. "Rebirth and Renewal in Toni Morrison's Beloved." In Rebirth and Renewal. Edited by Hobby, Blake. 25-34. New York, NY: Bloom's Literary Criticism, 2009.
Hobby, Blake. "The Form of Emptiness: Aesthetic Ambivalence and Moral Obligation in Charles Johnson's Middle Passage." In Morality and the literary imagination. Edited by Ricci, Gabriel R. Volume 36, 51-64. New Brunswick, NJ; London: Transaction Publishers, 2009.
Hobby, Blake. "And the Leaves of the Tree Were for the Healing of the Nations': Reading and Civil Disobedience in Ray Bradbury's Fahrenheit 451." In Civil Disobedience. Edited by Hobby, Blake. New York, NY.: Chelsea House, 2010.
Hobby, Blake. "Dark Humor in Cat's Cradle." In Dark Humor. Edited by Hobby, Blake. New York, NY.: Chelsea House, 2010.
Hobby, Blake. "Fetishizing the Bread of Everyday Life: The Taboo Gaze in Nausicaa." In The Taboo. Edited by Hobby, Blake. New York, NY.: Chelsea House, 2010.
Hobby, Blake. "In the Penal Colony." In Sin and Redemption. Edited by Hobby, Blake. New York, NY.: Chelsea House, 2010.
Hobby, Blake. "The Sublime in Edgar Allan Poe's The Fall of the House of Usher." In The Sublime. Edited by Hobby, Blake. New York, NY.: Chelsea House, 2010.
Hobby, Blake. "Urizen and the Fragmentary Experience of the Sublime in The Four Zoas." In The Sublime. Edited by Hobby, Blake. New York, NY.: Chelsea House, 2010.
Hobby, Blake G. "Alan Shapiro." In The Greenwood encyclopedia of multiethnic American literature. Edited by Nelson, Emmanuel S. Westport, Conn.: Greenwood Press, 2005. http://catdir.loc.gov/catdir/toc/ ecip0515/2005018960.html.
Hobby, Blake G. "Charles Johnson." In The Greenwood encyclopedia of multiethnic American literature. Edited by Nelson, Emmanuel S. Westport, Conn.: Greenwood Press, 2005. http://catdir.loc.gov/catdir/toc/ ecip0515/2005018960.html;.
Hobby, Blake G. "David Leavitt." In The Greenwood encyclopedia of multiethnic American literature. Edited by Nelson, Emmanuel S. Westport, Conn.: Greenwood Press, 2005. http://catdir.loc.gov/catdir/toc/ ecip0515/2005018960.html;.
Hobby, Blake G. "The Bone People (1985) by Keri Hulme and "The Famished Road" (1991) by Ben Okri." In Dictionary of Literary Biography. Volume 326: Booker Prize Novels, 1969-2005. Edited by Moseley, Merritt. Detroit, MI.: Gale, 2006.
Hobby, Blake G. "Created Sick, Commanded to Be Sound: Point Counter Point's Self-Referential Wordmusic." In Studies in Modern and Contemporary Fiction: Web-Based Casebooks. Edited by McLaughlin, Robert L. Champaign, IL.: Dalkey Archive Press, 2006.
Hobby, Blake G. "Gloria Bird." In Encyclopedia of American Indian literature. Edited by McClinton-Temple, Jennifer; Velie, Alan R. 55-56. New York: Facts on File, 2007.
Hobby, Blake G. "Mourning Dove." In Encyclopedia of American Indian literature. Edited by McClinton-Temple, Jennifer; Velie, Alan R. 239. New York: Facts on File, 2007.
Hobby, Blake G. "André Gide." In The Facts on File companion to the world novel : 1900 to the present. Edited by Sollars, Michael David; Jennings, Arbolina Llamas. Volume 1, 300-302. New York: Facts On File, 2008.
Hobby, Blake G. "Counterfeiters." In The Facts on File companion to the world novel : 1900 to the present. Edited by Sollars, Michael David; Jennings, Arbolina Llamas. Volume 1, New York: Facts On File, 2008.
Hobby, Blake G. "Lafcadio's Adventures (Les Caves du Vatican, The Vatican Cellars, The Catacombs of the Vatican, The Vatican Swindle)." In The Facts on File companion to the world novel : 1900 to the present. Edited by Sollars, Michael David; Jennings, Arbolina Llamas. Volume 1, 439-444. New York: Facts On File, 2008.
Hobby, Blake G. "The Immoralist." In The Facts on File companion to the world novel : 1900 to the present. Edited by Sollars, Michael David; Jennings, Arbolina Llamas. Volume 1, New York: Facts On File, 2008.
Hobby, Blake; DeBoer, Zachary. "Carnival Virtues: Sex, Sacrilege, and the Grotesque in Nathanael West's Miss Lonelyhearts." In The Grotesque. Edited by Hobby, Blake. 145-154. New York: Bloom's Literary Criticism, 2009.
Holland, Lora L. "Plutarch's Aemilius Paullus: The Model of a Philosopher Statesman." In The Statesman in Plutarch's Works : Volume II: The Statesman in Plutarch's Greek and Roman Lives. Edited by de Blois, Lukas; Bons, Jeroen; Kessels, Ton; Schenkveld, Dirk M. 269-280. Leiden: BRILL, 2005.
Holland, Lora L. "Diana Feminarum Tutela?: The Case of Noutrix Paperia." In Collection Latomus 315: Studies in Latin Literature and Roman History. Edited by Deroux, Carl. Volume 14, 95-115. Brussels: Collection Latomus, 2008.
Holland, Lora L. "Women and Roman Religion." In A Companion to Women in the Ancient Mediterranean. Edited by James, Sharon; Dillon, Sheila. 104-114. Maiden, Massachusetts: Wiley-Blackwell, 2012.
Holland, Lora L. "Women and Roman Religion." In A Companion to Women in the Ancient Mediterranean (Paperback reprint). Edited by James, Sharon; Dillon, Sheila. 104-114. Maiden, Massachusetts: Wiley-Blackwell, 2015.
Hopes, David Brendan. "Paddy Clarke Ha Ha Ha (1993) by Roddy Doyle." In Dictionary of Literary Biography. Volume 326: Booker Prize Novels, 1969-2005. Edited by Moseley, Merritt. Detroit, MI.: Gale, 2006.
Horvitz, Lori. "Naked Hippies and Bonfires." In Rite of Passage. Lonely Planet, 2003.
Horvitz, Lori. "To the Core." In A Women's Touch: An Anthology of Women's Writing. Alyson Press, 2003.
Horvitz, Lori. "Slow Train to the Forbidden City." In A Place Called Home: An Anthology. 2005.
Horvitz, Lori. "Shiksa in My Living Room." In Identity Envy: Wanting To Be Who We're Not: An Anthology. 237. Routledge, 2006.
Horvitz, Lori. "The Lost Language of Lox." In P.S.: What I Didn't Say: Unsent Letters to Our Female Friends. Seal Press, 2009.
Horvitz, Lori. "A Hushed Blue Underworld." In Dear John, I'm in Love with Jane. Seal Press, 2010.
Horvitz, Lori. "Transitions ." In Queer Girls in Class: Lesbian Teachers and Students Tell Their Classroom Stories,. 181. New York: Peter Lang, 2011.
Horvitz, Lori. "Art Colony Birthday Party." In Entering the Real World: VCCA Poets on Mt. San Angelo. Edited by Ingraham, Margaret B.; Brown, Andrea Carter. Wavertree Press, 2012.
Iglesias, Holly. "Epitome Café (poem)." In Are You Experienced? Baby Boom Poets at Midlife. Edited by Gemin, Pamela. Iowa City: University of Iowa Press, 2003.
Iglesias, Holly. "Feeding Frenzy." In Sweeping beauty : contemporary women poets do housework. Edited by Gemin, Pamela. Iowa City: University of Iowa Press, 2005.
Iglesias, Holly. "Thursday Afternoon: Life Is Sweet." In The House of Your Dreams: An International Collection of Prose Poetry. Edited by Alexander, Robert. Buffalo, NY.: White Pine Press, 2008.
Iglesias, Holly. "Dead of Winter (poem)." In Black renaissance = Renaissance noire.. Edited by New York University, Institute of African-American Affairs. Bloomington, IN: Indiana University Press, 2009.
Iglesias, Holly. "Freight (poem)." In Black Renaissance = Renaissance Noire. Edited by New York University, Institute of African-American Affairs. Bloomington, IN: Indiana University Press, 2009.
Iglesias, Holly. "Mass for the Happy Death of Innocence." In To tell the truth : practice and craft in narrative nonfiction. Edited by Griffin, Connie. New York: Pearson/Longman, 2009.
Iglesias, Holly. "Middle of Nowhere (poem)." In Black Renaissance = Renaissance Noire. Edited by New York University, Institute of African-American Affairs. Bloomington, IN: Indiana University Press, 2009.
Iglesias, Holly. "Sorrow Song (poem)." In Black Renaissance = Renaissance Noire. Edited by New York University, Institute of African-American Affairs. Bloomington, IN: Indiana University Press, 2009.
Iglesias, Holly. "The Birth of Ranch Dressing (poem)." In Black Renaissance = Renaissance Noire. Edited by New York University, Institute of African-American Affairs. Bloomington, IN: Indiana University Press, 2009.
Iglesias, Holly. "American Impressionists." In ...And Love. Edited by Krawiec, Richard. Durham, N.C.: Jacar Press, 2012.
Iglesias, Holly. "Chicken Hill, 1943." In 27 Views of Asheville. Edited by Neufield, Rob. 25. Hillsborough, NC.: Eno Publishers, 2012.
Judson, Sarah M. "Solving the Girl Problem: Race, Womanhood, and Leisure in Atlanta During World War I." In Women Shaping the South: Creating and Confronting Change. Edited by Boswell, Angela. Columbus, OH.: University of Missouri Press, 2006.
Julien, Mark; Stratton, Micheal T. "Are You Privileged?." In Understanding and Managing Diversity: Readings, Cases, and Exercises. 6. Prentice Hall, 2014.
Kaminski, Cynthia K., Steven Patch, Barbara C.Reynolds. "Effects of Canopy Gaps on Litter Microarthropods in Western North Carolina." In Forest canopies :forest production, ecosystem health and climate conditions. Edited by Creighton, Jason D.; Roney,Paul J. 143-152. New York: Nova Science Publishers, 2009.
Lambert, Tracy A. "Networking." In Encyclopedia of industrial and organizational psychology. Edited by Rogelberg, Steven G. Volume 2, 514-516. Thousand Oaks, Calif.: SAGE, 2007.
Lance, Charles E.; Griggs, Tracy Lambert; Gould, R. B. "Development and evaluation of a task taxonomy to support research on cross-job transferability of skills." In The handbook of work analysis: Methods, systems, applications and science of work measurement in organizations. Edited by Wilson, Mark A. 663-689. New York, NY US: Routledge/Taylor & Francis Group, 2012.
Lee, Jimin., Scheike, Thomas H., Sun, Yanqing. "Regression Analysis in Failure Time Mixture Models with Change Points According to Thresholds of a Covariate." In Recent advances in biostatistics : false discovery rates, survival analysis, and related topics. Edited by Bhattacharjee, Manish; Dhar, Sunil K.; Subramanian, Sundarraman. 87-107. Singapore ; Hackensack, N.J. : World Scientific Pub. Co.: World Scientific, 2011.
Li, Jinhua. "Mulan (1998) and Hua Mulan (2009): National Myth and Trans-Cultural Intertextuality." In Heroism and Gender in War Film. Edited by Ritzenhoff, Karen A.; Kazecki, Jakub. 187-205. New York: Palgrave Macmillan, 2014. doi:10.1057/9781137360724.
Locklear, Erica Abrams. "Building Bridges with Ron Rash's The World Made Straight: Results from One University and High School Partnership." In Appalachia in the Classroom: Teaching the Region (Series in Race, Ethnicity, and Gender in Appalachia). Edited by Burriss, Theresa L.; Gantt, Patricia M. 69-81. Athens, Ohio: Ohio University Press, 2013.
Locklear, Erica Abrams. "A Matter of Taste: Reading Food and Class in Appalachian Literature." In Writing in the Kitchen: Essays on Southern Literature and Foodways. Edited by Davis, David A.; Powell, Tara. 124-142. Oxford, Mississippi: University of Mississippi Press, 2014.
Locklear, Erica Abrams; Green, Chris. "Writing About Appalachia: Intersections, Missed Connections, and Future Work." In Studying Appalachian Studies: Making the Path by Walking. Edited by Berry, Chad; Obermiller, Phillip J.; Scott, Shaunna L. 62-87. Urbana, Illinois: University of Illinois Press, 2015.
Malicote, Sandra. "Translation: 6 Chansons de Nicolas Payen." In Motets and Chansons: Recent Researches in the Music of the Renaissance. Edited by McDowell, Laura Pollie. Volume 144, Middleton, WI.: A-R Editions, 2006.
Manheimer, R. J. "Education and Aging." In Encyclopedia of Gerontology (Second Edition). Edited by Birren, James E. 463-475. New York: Elsevier, 2007. doi:http://dx.doi.org/10.1016/B0-12-370870-2/00059-7.
Manheimer, R. J. "Humor." In Encyclopedia of Gerontology (Second Edition). Edited by Birren, James E. 728-733. New York: Elsevier, 2007. doi:http://dx.doi.org/10.1016/B0-12-370870-2/00095-0.
Manheimer, Ronald. "Rope of Ashes: Generativity, Global Aging, and Education." In The Generative Society. Edited by de St. Aubin, Ed. Washington, DC.: American Psychological Association, 2004.
Manheimer, Ronald J. "Allocating Resources for Lifelong Learning for Older Adults." In Challenges of an aging society : ethical dilemmas, political issues. Edited by Pruchno, Rachel; Smyer,Michael A. 217-237. Baltimore: Johns Hopkins University Press, 2007.
Manheimer, Ronald J. "Gearing Up for the Big Show: Lifelong Learning Programs Are Coming of Age." In Boomer Bust? Economic and Political Issues of the Graying of Society. Edited by Hudson, R. Volume 3, Westport, CT.: Praeger Perspectives, 2008.
Manheimer, Ronald J. "Afterword: Gateways to Humanistic Gerontology." In Valuing older people : a humanist approach to ageing. Edited by Edmondson, Ricca; Kondratowitz, Hans-Joachim von. Bristol, UK; Portland, OR: Policy Press, 2009.
Marais, Michael, and Moseley, Merritt. "J. M. Coetzee (1940 - )." In Nobel Prize Laureates in Literature, Part 1: Agnon-Eucken. Edited by Thomson, Gale. Volume 329, Farmington Hills: Cengage Gale, 2006.
Mathews, Leah Greden. "How Much Do Visitors Value Scenic Quality? Results from the Blue Ridge Parkway Scenic Experience Project." In Protecting Our Diverse Heritage: The Role of Parks, Protected Areas, and Cultural Sites. San Diego, California: George White Society, 2004.
Mathews, Leah Greden. "Economic Aspects of Cultural Heritage." In 21st Century Economics: A Reference Handbook. Edited by Free, Rhona C. Thousand Oaks, CA.: Sage Publications, 2010.
McClain, John. "A Christian Modernist and the Awe of Nature as Presented in Olivier Messiaen's Opera Saint François D'assise." In Finding Saint Francis in literature and art. Edited by Ho, Cynthia O.; Mulvaney, Beth A.; Downey, John K. 129-138. New York: Palgrave Macmillan, 2009.
McDonald, John Paul. "Introduction to "Catalogue des meilleurs livres avec les meilleures éditions, pour composer une bibliothèque ecclésiastique"." In Traité des études monastiques. Paris, France: C. Robustel, 2004.
McGlinn, Jeanne M. "Coming to America: The U.S. Immigrant Experience." In Breaking boundaries with global literature :celebrating diversity in K-12 classrooms. Edited by Hadaway, Nancy L. 73-92. Newark, DE: International Reading Association, 2007. http://catdir.loc.gov/catdir/toc /ecip0718/2007019301.html.
Moseley, Merritt. "Amis, Father and Son." In A companion to the British and Irish novel 1945-2000. Edited by Shaffer, Brian W. 302-313. Malden, MA: Blackwell Pub., 2005. http://catdir.loc.gov/catdir/toc/ ecip0416/2004007691.html.
Moseley, Merritt. "Julian Barnes's Flaubert's Parrot." In A companion to the British and Irish novel 1945-2000. Edited by Shaffer, Brian W. 481-492. Malden, MA: Blackwell Pub., 2005. http://catdir.loc.gov/catdir/toc/ ecip0416/2004007691.html;.
Moseley, Merritt. "Life and Times of Michael K(1983) by J. M. Coetzee." In Dictionary of Literary Biography. Volume 326: Booker Prize Novels, 1969-2005. Edited by Moseley, Merritt. Detroit, MI.: Gale, 2006.
Moseley, Merritt. "The Conservationist (1974) by Nadine Gordimer." In Dictionary of Literary Biography. Volume 326: Booker Prize Novels, 1969-2005. Edited by Moseley, Merritt. Detroit, MI.: Gale, 2006.
Moseley, Merritt. "The Line of Beauty (2004) by Alan Hollinghurst." In Dictionary of Literary Biography. Volume 326: Booker Prize Novels, 1969-2005. Edited by Moseley, Merritt. Detroit, MI.: Gale, 2006.
Moseley, Merritt. "The Old Devils (1986) by Kingsley Amis." In Dictionary of Literary Biography. Volume 326: Booker Prize Novels, 1969-2005. Edited by Moseley, Merritt. Detroit, MI.: Gale, 2006.
Moseley, Merritt. "The Sea (2005) by John Banville." In Dictionary of Literary Biography. Volume 326: Booker Prize Novels, 1969-2005. Edited by Moseley, Merritt. Detroit, MI.: Gale, 2006.
Moseley, Merritt. "True History of the Kelly Gang (2001) by Peter Carey." In Dictionary of Literary Biography. Volume 326: Booker Prize Novels, 1969-2005. Edited by Moseley, Merritt. Detroit, MI.: Gale, 2006.
Moseley, Merritt. "Randall Jarrell, Mary McCarthy, and Fifties Liberalism." In The academic novel :new and classic essays. Edited by Moseley, Merritt. 184-207. Chester: Chester Academic Press, 2007.
Moseley, Merritt. "Types of Academic Fiction." In The academic novel :new and classic essays. Edited by Moseley, Merritt. 99-113. Chester: Chester Academic Press, 2007.
Moseley, Merritt. "Arthur Miller's Death of a Salesman." In The American dream. Edited by Hobby, Blake. 47-56. New York, NY: Bloom's Literary Criticism, 2009.
Moseley, Merritt. "Erich Maria Remarque's All Quiet on the Western Front." In Death and dying. Edited by Hobby, Blake. 1-12. New York, NY: Bloom's Literary Criticism, 2009.
Moseley, Merritt. "Jane Eyre and the Hero's Journey." In The Hero's Journey. Edited by Hobby, Blake. 85-94. New York: Bloom's Literary Criticism, 2009.
Moseley, Merritt. "Joseph Heller's Catch-22." In Death and dying. Edited by Hobby, Blake. 31-42. New York, NY: Bloom's Literary Criticism, 2009.
Moseley, Merritt. "Middlemarch and the Hero's Journey." In The Hero's Journey. Edited by Hobby, Blake. 131-140. New York: Bloom's Literary Criticism, 2009.
Moseley, Merritt. "The Epic of Gilgamesh and the Hero's Journey." In The Hero's Journey. Edited by Hobby, Blake. 63-74. New York: Bloom's Literary Criticism, 2009.
Moseley, Merritt. "Bernard Malamud (1914 - 1986)." In Student's Encyclopedia of Great American Writers: Volume IV, 1945-1970. Edited by Hobby, Blake. Facts on File, 2010.
Moseley, Merritt. "Exploration and Colonization in Wide Sargasso Sea." In Exploration and Colonization. Edited by Bloom, Harold; Hobby, Blake. 225-234. New York, NY.: Chelsea House, 2010.
Moseley, Merritt. "The Death and Emancipation of Ivan Ilyich." In Enslavement and Emancipation. Edited by Bloom, Harold. New York, NY.: Chelsea House, 2010.
Moseley, Merritt. "Crossing the Channel: Europe and the Three Uses of France in Julian Barnes's Talking it Over." In Julian Barnes : contemporary critical perspectives. Edited by Groes, Sebastian; Childs,Peter. 69-80. London; New York: Continuum, 2011.
Moseley, Merritt. "Julian Barnes." In The encyclopedia of twentieth-century fiction. Edited by Shaffer, Brian W.; O'Donnell, Patrick; Ball, John Clement. Volume 2, 31. Chichester, West Sussex, U.K.; Malden, MA: Wiley-Blackwell, 2011.
Moseley, Merritt. "Michael Frayn." In The encyclopedia of twentieth-century fiction. Edited by Shaffer, Brian W.; O'Donnell, Patrick; Ball, John Clement. Volume 1, 143-145. Chichester, West Sussex, U.K.; Malden, MA: Wiley-Blackwell, 2011.
Nickless, Pamela. "Famine and fashion :needlewomen in the nineteenth century." In Famine and fashion: needlewomen in the nineteenth century. Edited by Harris, Beth. 129-142. Alershot, Hampshire, England; Burlington, VT: Ashgate, 2005. http://catdir.loc.gov/catdir/toc/ ecip0417/2004008773.html.
Nickless, Pamela; Fishback, Price. "Teaching American Economic History." In International Handbook on Teaching and Learning Economics. Edited by Hoyt, Gail. Northhampton, MA.: Edward Elgar, 2012.
Nicolay, Chris W.; Winter, Y. "Performance analysis as a tool for understanding the ecological morphology of nectar feeding bats." In Functional and Evolutionary Ecology of Bats. Edited by Zubaid, A. New York, NY.: Oxford University Press, 2006.
Patch, Steven C.; Maas, Richard P. "Arsenic Release and Exposure from CCA Lumber." In Environmental Impacts of Treated Wood. Edited by Townsend, Timothy G. Boca Raton, FL.: CRC Press, 2006.
Payne, Rodger. "Image and Imagination in the Cult of St. Amico." In Saints and their cults in the Atlantic world. Edited by Cormack, Margaret. 52-67. Columbia: University of South Carolina Press, 2007. http://catdir.loc.gov/catdir/toc /ecip0614/2006016886.html.
Payne, Rodger. "Wise Blood." In Masterplots II: Christian Literature. Edited by Roth, John K. Pasadena, Calif.: Salem Press, 2008.
Payne, Rodger. "The Wolf in the Forest: St. Francis and the Italian Eremitical Tradition." In Finding Saint Francis in literature and art. Edited by Ho, Cynthia O.; Mulvaney, Beth A.; Downey, John K. 63-78. New York: Palgrave Macmillan, 2009.
Payne, Rodger. "Angels With Dirty Faces." In Movies in American history :an encyclopedia. Edited by DiMare, Philip C. Volume 1, 15-17. Santa Barbara, Calif.: Abc-Clio, 2011.
Payne, Rodger. "Catholicism." In Encyclopedia of religion and film. Edited by Mazur, Eric Michael. 107-115. Santa Barbara, Calif.: Abc-Clio, 2011.
Payne, Rodger. "George Lucas." In Movies in American history :an encyclopedia. Edited by DiMare, Philip C. Volume 2, 725-727. Santa Barbara, Calif.: Abc-Clio, 2011.
Payne, Rodger. "Going My Way." In Movies in American history :an encyclopedia. Edited by DiMare, Philip C. Volume 1, 207-209. Santa Barbara, Calif.: Abc-Clio, 2011.
Payne, Rodger. "Intolerance." In Movies in American history :an encyclopedia. Edited by DiMare, Philip C. Volume 1, 261-263. Santa Barbara, Calif.: Abc-Clio, 2011.
Payne, Rodger. "The Hays Office and Censorship." In Movies in American history :an encyclopedia. Edited by DiMare, Philip C. Volume 3, 969-971. Santa Barbara, Calif.: Abc-Clio, 2011.
Payne, Rodger. "Roman Catholicism." In The Routledge Companion to Religion and Popular CultureMovies in American history :an encyclopedia. Edited by Lyden, John; Mazur, Eric. 419-439. New York: Routledge, 2015.
Pearson, Ellen Holmes. "A Federalist Vision: Connecticut and Statehood." In The Uniting States: The Story of Statehood for the 50 United States of America. Edited by Shearer, Benjamin F. Westport, CT.: Greenwood Press, 2004.
Pearson, Ellen Holmes. "Revising Custom, Embracing Choice: Early American Legal Scholars and the Republicanization of the Common Law." In Empire and Nation: The American Revolution in the Atlantic World. Edited by Onuf, Peter. Baltimore, MD.: Johns Hopkins University Press, 2004.
Pearson, Ellen Holmes. "Plessy v. Ferguson." In The public debate over controversial Supreme Court decisions. Edited by Urofsky, Melvin I. Washington, D.C.: CQ Press, 2006.
Pearson, Ellen Holmes. "1775-1815." In A Companion to American Legal History. Edited by Hadden, Sally E.; Brophy, Alfred L. 46-66. Hoboken, NJ: Wiley Blackwell, 2013.
Peterson, Chris J.; Cannon, Jeffery B.; Godfrey, Christopher M. "First Steps Toward Defining the Wind Disturbance Regime in Central Hardwood Forests." In Natural Disturbances and Range of Variation: Type, Frequency, Severity, and Post-disturbance Structure in Central Hardwood Forests. Edited by Greenberg, C. H.; Collins, B. . Springer, 2015.
Peterson, Karin. "How the Ordinary Becomes Extrordinary: The Modern Eye and the Quilt as Art Form." In Extra/ordinary : craft and contemporary art. Edited by Buszek, Maria Elena. 99-114. Durham, NC: Duke University Press, 2011.
Pierce, Daniel. "Hallowed Ground." In 27 Views of Asheville. Edited by Neufield, Rob. Hillsborough, NC.: Eno Publishers, 2012.
Pierce, Daniel S. "The Most Southern Sport on Earth: NASCAR and the Unions." In In Southern Cultures: The Fifteenth Anniversary Reader. Edited by Watson, Harry L. Chapel Hill, NC.: University of North Carolina Press, 2008.
Reynolds, B. C. "Nutrient Cycling in the Southern Appalachians." In Encyclopedia of Appalachia. Knoxville, TN.: University of Tennessee Press, 2006.
Reynolds, Barbara C.; Hunter, Mark D. "Nutrient Cycling." In Forest Canopies. Edited by Lowman, Margaret D. Amsterdam, Netherlands: Elsevier Academic Press, 2004.
Riordan, Christine M., Bryan S. Schaffer, and Marcus M.Stewart. "Relational Demography in Groups: Through the Lens of Discrimination." In Discrimination at work :the psychological and organizational bases. Edited by Dipboye, Robert L. 37-62. Mahwah, N.J.: Lawrence Erlbaum Associates, Publishers, 2005. http://catdir.loc.gov/catdir/toc /ecip0420/2004016293.html.
Roxstrom, Erik; Gibney, Mark. "Rights of Refugees and Asylum Seekers." In Human Rights Monitoring: A Field Mission Manual. Edited by Jacobsen, Anette Faye. Leiden, Netherlands: Martinus Nijhoff, 2008.
Russell, Lorena. "Queering Consumption and Production in Aldrich's What Ever Happened to Baby Jane." In Horror Film: Creating and Marketing Fear. Edited by Hantke, Steffen. Jackson, MS.: University of Mississippi Press, 2004.
Russell, Lorena. "The English Patient (1992) by Michael Ondaatje." In Dictionary of Literary Biography. Volume 326: Booker Prize Novels, 1969-2005. Edited by Moseley, Merritt. Detroit, MI.: Gale, 2006.
Russell, Lorena. "Angela Carter." In Encyclopedia of Erotic Literature. Edited by Brulotte, Ga Tan. Volume 1-2, New York, NY.: Routledge, 2006.
Russell, Lorena. "Latent Lesbians and Heterosexual Narrative: Tracing a Queer Poetics in Fay Weldon's Fiction." In Literary Representations of Queer Heterosexuality. Edited by Fantina, Richard. Jefferson, NC.: McFarland Press, 2006.
Russell, Lorena. "The Queer Intimacies of Six Feet Under." In Considering Alan Ball: Essays on Sexuality, Death, and America in the Television and Film Writings. Edited by Fahy, Thomas. Jefferson, NC.: McFarland Press, 2006.
Russell, Lorena. "The Penal Colony (Frank Kafka)." In Enslavement & Emancipation. Edited by Hobby, Blake. 121-131. New York: Bloom's Literary Criticism, 2010.
Russell, Lorena. "Ideology Formations of the Nuclear Family in The Hills Have Eyes." In Philosophy of Horror. Edited by Fahy, Thomas. Bowling Green, KY.: UP, 2010.
Russell, Lorena. "Fay Weldon." In The encyclopedia of twentieth-century fiction. Edited by Shaffer, Brian W.; O'Donnell, Patrick; Ball; John Clement. Volume 2, 380-381. Chichester, West Sussex, U.K.; Malden, MA: Wiley-Blackwell, 2011.
Schaffer, Bryan S. "Board Assessments of Managerial Performance: An Analysis of Attribution Processes." In Control of Corporate Management. Edited by Campbell, R. L. Concord, Ontario, Canada: Captus Press, 2004.
Schuman, Samuel. "I May Turn Up Yet, On Another Campus:' Vladimir Nabokov and the Academy." In The academic novel :new and classic essays. Edited by Moseley, Merritt. 167-183. Chester: Chester Academic Press, 2007.
Schuman, Samuel. "Only Words to Play With: Teaching Lolita in Introductory Reading and Writing Courses." In Approaches to Teaching Nabokov's Lolita. Edited by Kuzmanovich, Zoran. New York, NY.: Modern Language Association, 2008.
Skogly, Sigrun; Gibney, Mark. "Economic Rights and Extraterritorial Obligations." In Economic rights :conceptual, measurement, and policy issues. Edited by Hertel, Shareen. 267-283. Cambridge; New York: Cambridge University Press, 2007. http://catdir.loc.gov/catdir/toc /ecip0718/2007020993.html.
Slatton, Anne. "Sofia Coppola." In Women Screenwriters: An International Guide. Edited by Nelmes, Jill; Selbo, Jule. 774-776. London, UK: Palgrave Macmillan, 2015.
Smith, Melissa; Budwig, Nancy. "The Development of Verb-Argument Structure in Child Discourse: On the Use of Construction Variation in Peer Play." In Language in the Context of Use: Usage-based Approaches to Language and Language Learning. Edited by Tyler, A. Berlin, Germany: Mouton de Gruyter, 2008.
Strehl, Wiebke; Goulding, Christine; von Schmid, Wolff. "Mittendrin." In Deutsche Sprache und Kultur fuer die Mittelstufe. Glenview, IL.: Pearson, 2012.
Subramaniam, S. "When does 'politics' get in the way of development?: the developmental state, good governance, and liberal democratic change in Malaysia and Singapore." In Law and Development of Middle-Income Countries: Avoiding the Middle-Income Trap. Edited by Peerenboom, R.; Ginsburg, T. Cambridge University Press, 2014.
Traboulsi, Samer. "Lamak ibn M?lik al-Hamm?d? and Sulayhid-Fatimid Relations." In Proceedings of the Seminar for Arabian Studies. 221. 2000.
Traboulsi, Samer. "The Ottoman Conquest of Yemen: The Isma'ili Perspective." In The Arab Lands in the Ottoman Era. Edited by Hathaway, J. 41. 2009.
Traboulsi, Samer. "I Entered Mecca... and Destroyed all the Tombs': Some Remarks on Saudi-Ottoman Correspondence." In The Islamic Scholarly Tradition. Edited by Ahmed, Asad. 197. 2011.
Tynes, Robert. "Selection, Robert Tynes (1984-1985 and 1991)." In The Roswell Artist-in-Residence Program an anecdotal history. Edited by McGarrell, Ann; Anderson, Sally; Williams, Jonathan. 102-104. Albuquerque: University of New Mexico Press, 2007.
Uldricks, Teddy. "The Impossible Alliance: Strategy and Reliability in the Triple Entente Negotiations of 1939." In Pacts and alliances in history : diplomatic strategy and the politics of coalitions. Edited by Yeager, Melissa P.; Carter,Charles. Volume 43, 154-169. London: I.B. Tauris, 2012.
Walsh, Lorraine. "Raise Up." In Contemporary Digital Print Artists. St. Petersburg, FL: UpScene Publishers, 2005.
Weldon, Alice; Peterson, Karin. "Motherhood Status and the Limits of Flexibility: recognition and invisibility among women faculty at a public liberal arts university." In Feminist Activism in the Academy: Essays on Personal, Political and Professional Change. Edited by Mayock, Ellen; Radulescu, Domnica. 160-175. Jefferson, NC: McFarland & Co, 2010.
Whatley, Katherine M.; Beck, Judith A. "Instructor's Resource Manual." In Physics. Edited by Walker, James S. Upper Saddle River, NJ.: Pearson Prentice Hall, 2004.
Wood, John. "Field Relations, Field Betrayals." In Being there :learning to live cross-culturally. Edited by Davis, Sarah H. 194-207. Cambridge, Mass.: Harvard University Press, 2011.
Wood, John C. "Roads to nowhere: Nomadic understandings of space and ethnicity." In Changing Identifications and Alliances in North-East Africa. Volume 1, 225-240. 2013.
Zubko, Katherine C. "Body." In Encyclopedia of Hinduism: Texts, Arts, Rituals, and Concepts. Edited by Jacobsen, Knut A. Volume 2, 720-724. Leiden: Brill, 2010.
Zubko, Katherine C. "Krishna Come Soon: Bharata Natyam and Bhagavata Purana on Stage." In The Bhagavata Purana: Sacred Text and Living Tradition. Edited by Gupta, Ravi M.; Valpey, Kenneth Russell. 162-180. New York: Columbia University Press, 2013.
Alexander, William; Beck, Judith; Connoly, Leo. Instructor's Resource Manual to accompany Astronomy: A Beginner's Guide to the Universe by Eric Chaisson and Steve McMillan. Upper Saddle River, NJ: Pearson Prentice Hall, 2007.
Bahls, C. Patrick. The isomorphism problem in Coxeter groups. London: Imperial College Press, 2005.
Bahls, Patrick. Student writing in the quantitative disciplines :a guide for college faculty. San Francisco: Jossey-Bass, 2012. http://site.ebrary.com/id/10529336.
Bennett, Charles A. Principles of Physical Optics. Hoboken, NJ.: Wiley, 2008.
Boakye-Boaten, A. Understanding the street children phenomenon: A study of street children in Accra, Ghana. SaarbruÃàcken, Germany: MuÃàller, 2008.
Boakye-Boaten, Agya; Ruffin, Tiece. 21st Century Learning: Enhancing Student Learning and Empowering Students through Service Learning. Indianapolis, IN: University of Indianapolis Press, 2011.
Bond, Laura. TEAM for Actors: A Holistic Approach to Embodied Acting. Charleston, SC.: Createspace Independent Publishing Platform, 2012.
Boyle, K.; Mrozowski, D. The Great Recession in Fiction, Film, and Television: Twenty-First-Century Bust Culture. Lanham, Maryland: Lexington Books, 2013.
Brotak, Ed. Wild About Weather: 50 Wet, Windy & Wonderful Activities. New York, NY.: Lark Books, 2004.
Brown, Kim. Instructor's Manual with Test Bank. In Teaching Children Science: A Discovery Approach by Joseph A. Abruscato and Don A. DeRosa. Boston: Allyn & Bacon, 2010.
Brown, Kim. Instructor's Manual with Test Bank and PowerPoint Slides. In Teaching Children Science: A Discovery Approach (8th Edition)by Joseph A. Abruscato and Don A. DeRosa. Boston: Allyn & Bacon, 2014.
Carey, Sabine; Gibney, Mark; Poe, Steven. The Politics of Human Rights: The Quest for Dignity. Cambridge, United Kingdom: Cambridge University Press, 2010.
Chadwick, Cynn. Girls With Hammers. Binghamton, NY.: Haworth Press Inc., 2004.
Chadwick, Cynn. Babies, Bikes, Broads. Ann Arbor, MI.: Bywater Books, 2008.
Chadwick, Cynn. Angels & Manners. Ann Arbor, MI: Bywater Books, 2010.
Chadwick, Cynn. As the table turns. Createspace, 2011.
Chadwick, Cynn. That's karma, baby. Napping Porch Press, 2013.
Chadwick, Cynn. Cat Rising Series: Girls With Hammers. CreateSpace Independent Publishing Platform, 2014.
Chadwick, Cynn. Cutting Loose. Charleston, South Carolina: Napping Porch Press, 2015.
Chapman, Reid; Miles, Deborah. Asheville and Western NC in WWII. Charleston, SC.: Arcadia Publishing, 2006.
Chess, R. Tekiah : poems. Athens, GA: University of Georgia Press, 1994.
Chess, R. Chair in the desert : poems. Tampa, Fla: University of Tampa Press, 2000.
Chess, R. Tekiah: Poems. Tampa, Fla: University of Tampa Press, 2002.
Chess, Richard. Third Temple :poems. Tampa, Fla.: University of Tampa Press, 2007. http://catdir.loc.gov/catdir/toc /ecip075/2006039282.html.
Cloninger, Curt. Fresh Styles for Web Designers: Eye Candy from the Underground. Indianapolis: New Riders, 2001.
Cloninger, Curt. Connect2God. Colorado Springs, CO.: Honor Books, 2004.
Cloninger, Curt. Hot-Wiring Your Creative Process: Strategies for Print and New Media Designers. Berkeley, CA.: New Riders, 2006.
Cloninger, Curt. Fresher Styles for Web Designers: More Eye Candy from the Underground. Berkeley, CA.: New Riders, 2008.
Cloninger, Curt. One Per Year. Brescia, Italy: Link Editions, 2014. http://linkeditions.tumblr.com/cloninger.
Creighton, Jason D.; Roney, Paul J. Forest canopies :forest production, ecosystem health and climate conditions. New York: Nova Science Publishers, 2009.
Davis, Bob J.; Hendrickson, Erik; Whatley, Katherine M.; Beck, Judith A. Instructor Solutions Manual for Physics for Scientists and Engineers with Modern Physics. Upper Saddle River, NJ.: Person Prentice Hall, 2008.
Derballa, Therese; Downes, Margaret; Maret, Louise (authors and editors). The Search for Meaning and Value: An Introduction to Humanities for Asheville-Buncombe Technical Community College (e-Text/modular formatting). New York, NY: Pearson Education, 2015. http://www.pearsonhighered.com/educator/product/Introduction-To-Humanities-New-Design-MyLab-for-Asheville-Buncombe-Technical-Community-College/9781269968218.page#sthash.WBw9FfGp.dpuf.
Derryberry, Virginia. Rebis: Alchemical Narratives, Exhibition Catalogue (with essay by Adam Justice, Curator). Abingdon, VA.: William King Regional Art Center, 2008.
Diefenbach, Donald L. Companion DVD for Video production techniques :theory and practice from concept to screen. New York: Lawrence Erlbaum Associates, 2008. http://catdir.loc.gov/catdir/toc /ecip0716/2007016030.html;.
Diefenbach, Donald L. Video production techniques :theory and practice from concept to screen. New York: Lawrence Erlbaum Associates, 2008. http://catdir.loc.gov/catdir/toc /ecip0716/2007016030.html.
Ettari, Gary. Sentimental Over You. Abbeville, South Carolina: Moonshine Cove, 2015.
Feldherr, Andrew; Hardy, Grant. The Oxford History of Historical Writing. Oxford: Oxford University Press, 2010.
Frankforter, A. Daniel.; Spellman, W.M., . The West: A Narrative History (3rd Edition). Upper Saddle River, N.J.: Pearson Prentice Hall, 2009.
Frankforter, A. Daniel; Spellman, William M. The West: A Narrative History (2nd Edition). Indianapolis, IN.: Prentice-Hall, 2006.
Frankforter, Daniel A.; Spellman, William M. The West: Culture and Ideas. Upper Saddle River, NJ: Pearson Prentice Hall, 2004.
Gibney, Mark. Five uneasy pieces :American ethics in a globalized world. Lanham, Md.: Rowman & Littlefield, 2005.
Gibney, Mark. International Human Rights Law: Returning to Universal Principles. Lanham, MD.: Rowman & Littlefield, 2008.
Gibney, Mark. The Global Refugee Crisis. Santa Barbara, CA.: ABC-CLIO, 2010.
Gibney, Mark; Vandenhole, Wouter. Litigating Transnational Human Rights Obligations: Alternative Judgments. Routledge, 2013.
Hardy, Grant. Worlds of Bronze and Bamboo: Sima Qian's Conquest of History. New York: Columbia University Press, 1999.
Hardy, Grant. Understanding the Book of Mormon: A Reader's Guide. New York, NY.: Oxford University Press, 2010.
Hardy, Grant; Kinney, Anne Behnke. The establishment of the Han empire and imperial China. Westport, Conn.: Greenwood Press, 2005. http://catdir.loc.gov/catdir/toc/ ecip051/2004022475.html.
Hartman, Richard; Malicote, Sandra. Elye of Saint-Gilles: A Chanson De Geste. New York, NY.: Italica Pess, 2010.
Hays, Tommy. The pleasure was mine. New York: St. Martin's Press, 2005.
Hopes, David B. Bird songs of the Mesozoic :a day hiker's guide to the nearby wild. Minneapolis, Minn.: Milkweed Editions, 2005. http://catdir.loc.gov/catdir/toc/ ecip051/2004021870.html.
Hopes, David B. A dream of Adonis. San Antonio, Tex.: Pecan Grove Press, 2007.
Horvitz, Lori. Negotiating a Perilous Empowerment: Appalachian Women's Literacies. Athens, OH: Ohio University Press, 2011.
Horvitz, Lori. The Girls of Usually. Kirksville, Missouri: Truman State University Press, 2015.
Iglesias, Holly. Souvenirs of a Shrunken World. Tuscon, AZ.: Kore Press, 2008.
Iglesias, Holly. Angles of Approach. Buffalo, NY.: White Pine Press, 2010.
Iglesias, Holly. Fruta Bomba. Lubbock, T.X.: Q Avenue Press, 2012.
Lanou, A. J. Physicians Committee for Responsbile Medicine Expert Nutrition Panel. Healthy Eating for Life for Children. New York, NY: Wiley and Sons. Inc, 2002.
Lanou, Amy. Building Bone Vitality: A Revolutionary Diet Plan to Prevent Bone Loss and Reverse Osteoporosis—Without Dairy Foods, Calcium, Estrogen or Drugs. New York: McGraw-Hill, 2009.
Lisé, Gloria; Weldon, Alice (trans.). Departing at dawn :a novel of Argentina's dirty war. New York: Feminist Press at the City University of New York, 2009. http://catdir.loc.gov/catdir/toc /ecip0825/2008034012.html.
Locklear, Erica Abrams. The Fable Fair. Waterford Institute (Adolescent Educational , 2004.
Locklear, Erica Abrams. Negotiating a Perilous Empowerment :Appalachian Women's Literacies. Athens: Ohio University Press, 2011.
Mabillon, Jean; McDonald, John Paul (trans.). Treatise on Monastic Studies: 1691. Lanham, MD.: University Press of America, 2004.
Manns, Mary Lynn. Pedagogical Patterns: Advice for educators. New Paltz, N.Y.: Joseph Bergin Software Tools, 2012.
Manns, Mary Lynn; Rising, Linda. Fearless Change: Patterns for Introducing New Ideas. Boston: Addison-Wesley, 2005. http://catdir.loc.gov/catdir/toc/ecip0418/ 2004013261.html.
Marienthal, Hal. Nicholas Icarus: Or The Man Who Flew. New York: iUniverse, 2007.
McClary, Cheryl. Commitment Chronicles: The Power of Staying Together. Naperville, IL.: Sourcebooks, 2006.
McGlinn, Jeanne M. A Study Guide to Khaled Hosseini's A Thousand Splendid Suns. New York, NY.: Riverhead Books (Penguin), 2010.
Mills, Sophie. Euripides: Bacchae. London, UK.: Duckworth, 2006.
Min, Katherine. Secondhand World. New York: Knopf, 2008.
Moseley, Merritt. Understanding Michael Frayn. Columbia, SC.: University of South Carolina Press, 2006.
Moseley, Merritt. The Fiction of Pat Barker: Reader's Guide to Essential Criticism. London, UK: Palgrave Macmillan, 2014.
Pearson, Ellen Holmes. Remaking Custom: Law and Identity in the Early American Republic. Charlottesville: University of Virginia Press, 2011.
Pierce, Daniel S. The Great Smokies: From Natural Habitat to National Park. Knoxville, Tennessee: University of Tennessee Press, 2000.
Pierce, Daniel S. Real NASCAR: White Lightning, Red Clay, and Big Bill France. Chapel Hill, NC.: UNC Press, 2010.
Pierce, Daniel S. Corn in a Jar: Moonshining in the Great Smoky Mountains. Gatlinburg, TN: Great Smoky Mountains Association, 2013.
Pons, Cathy R., Albert Valdman, Mary Ellen Scullen. Points de D'Part. Upper Saddle River, N.J.: Pearson/Prentice Hall, 2009.
Ready, Milton. The Tar Heel State: A History of North Carolina. Columbia: University of South Carolina Press, 2005. http://catdir.loc.gov/catdir/toc/ ecip0510/2005009660.html.
Rizzo, Tracey. A Certain Emancipation of Women: Gender, Citizenship, and the Causes Célèbres of Eighteenth-Century France. Selinsgrove, PA.: Susquehanna University Press, 2004.
Ruppert, Nancy. Math Methods: An Online Course. Raleigh, NC: North Carolina Department of Public Instruction, 2007.
Schrader, Constance A. A Sense of Dance : Exploring Your Movement Potential. Champaign, IL: Human Kinetics, 2005.
Schrader, Constance A. Instructor Guide for A Sense of Dance. Champaign, IL: Human Kinetics, 2005.
Schuman, Samuel. Seeing the light :religious colleges in twenty-first- century America. Baltimore: Johns Hopkins University Press, 2009.
Schuman, Samuel; Portnoy, Jeffrey A. Honors programs at smaller colleges. Lincoln, Neb.: National Collegiate Honors Council, 2011.
Senzon, Simon A., . The Secret History of Chiropractic: D.D. Palmer's Spiritual Writings. Asheville, N. C.: S. A. Senzon, 2005.
Spellman, W. M. A Short History of Western Political Thought. Houndmills, Basingstoke, Hampshire; New York: Palgrave Macmillan, 2011.
Spellman, W. M. A Brief History of Death. London: Reaktion Books, 2014.
Spellman, William M. A Concise History of the World Since 1945. London, UK.: Palgrave/Macmillan, 2006.
Spellman, William M. Uncertain Identity: International Migration Since 1945. London, UK.: Reaktion, 2008.
Tynes, Robert. Exhibition Catalog: Contemporary Trompe L'Oeil Paintings by Robert Tynes. Dallas, NC.: Gaston College, 2004.
Valdman, Albert; Pons, Cathy; Scullen, Mary Ellen. Chez Nous: Branché Sur le Monde Francophone (3rd Edition). Upper Saddle River, N.J.: Pearson/Prentice Hall, 2005.
Valdman, Albert; Pons, Cathy; Scullen, Mary Ellen. Chez Nous: Branché Sur le Monde Francophone (4th Edition). Upper Saddle River, NJ.: Pearson Prentice Hall, 2009.
Walters, Scott; Pritner, Cal. Introduction to Play Analysis. New York, NY.: McGraw-Hill, 2004.
Weldon, Alice; Sigmon, Robert L. Avoiding Trial and Error: Faculty Learning in Spanish Service-Learning Projects. Boston, MA.: Heinle, 2004.
Wood, John C. Names of Things. Ashland, OR.: Ashland Creek Press, 2012.
Wood, John Colman. When men are women: Manhood among Gabra nomads of East Africa. Madison, Wisconsin: University of Wisconsin Press, 2000.
Wood, John Colman. The Names of Things. Ashland, Oregon: Ashland Creek Press, 2012.
Zubko, Katherine C. Dancing bodies of devotion : fluid gestures in Bharata natyam. 2014.
Zubko, Katherine C.; Sahay, Raj R. Inside the Indian Business Mind: A Tactical Guide for Managers. Santa Barbara, CA.: Praeger, 2010.
Benjes-Small, Candice; Ackerman, Eric; Hyde, Gene. "Job Hunting: What Search Committees Want You To Know." Presented at Association of College and Research Libraries. 2011.
Brownsmith, Joseph D. "Teaching and Learning Middleware: A New Course." Presented at Proceedings of the Eastern Conference of the Consortium for Computing Sciences in Colleges (CCSE). Consortium for the Computing Sciences in Colleges, 2006.
Bruce, R.; Brock, D.; Reiser, S. "Teaching programming using embedded systems." Presented at IEEE SouthEastCon. 2013.
Bruce, R.; Reiser, S. "Take Chances, Make Mistakes & Get Dirty." Presented at IEEE SouthEastCon 2010. 2010.
Burg, J.; Reiser, S.; Kirby, W. "Hot fusion: Music, art, and computer science education." Presented at Annual Conference on Innovation and Technology in Computer Science Education, ITiCSE. 313-314. 2013.
Butler, Brian E. "Emerson Woelffer: At the Center and At the Edge (introduction to art show)." Presented at Emerson Woelffer: At the Center and At the Edge. Black Mountain College Musseum and Arts Center: 2008.
David Tysinger (Undergraduate Research Student), Linda Nelms, Steve Patch, and Robert Yearout. "Modeling Public Transportation Efficiency in Asheville, North Carolina." Presented at Proceedings of the 12th International Conference on Industrial Engineering Theory, Applications and Practice. 339-334. 2007.
Downes, Margaret [peer reviewer and ed.]. "." Presented at Proceedings: International Conference, Empowering Women through Adult Education. 2008.
Downes, Margaret J. "'Sulwan Al-Muta': The Wisdom of Stories for Leaders." Presented at Twelfth Annual Conference of the Association for Core Texts and Courses 7. 21-30. 2007.
Fogle, Alycia; Gowen, Ashley. "The Effects of Social Responsibility Marketing on Small Business Profit." Presented at The Southern Journal of Entreprenurship 2. 107. 2009.
Gentry, Bill; Deal, Jennifer; Griggs, Tracy Lambert; Mondore, Scott. "Generational Differences in the Desire for and Preferences in a Coaching Relationship." Presented at Proceedings of the 2007 Meeting of the Southern Management Association. 672-677. 2007. http://southernmanagement.org/meetings/2007/proceedings/PaperID55.pdf;.
Gentry, Bill; Griggs, Tracy Lambert; Mondore, Scott. "The Influence of Social Support on Managerial Effectiveness: Age as a Moderator." Presented at Proceedings of the 2007 Meeting of the Southern Management Association. 666-671. 2007. http://southernmanagement.org/meetings/2007/proceedings/PaperID55.pdf.
Gillum, Michael. "Galenic Medicine and Magic in Milton's Comus." Presented at NEH Conference on Science and the Humanities. 2007.
Godfrey, C. M.; Peterson, C. J. "Reconstruction of near-surface tornado wind fields from forest damage patterns in complex terrain (Poster)." Presented at 26th Conference on Severe Local Storms. Nashville, Tennessee: American Meteorological Society, 2012.
Godfrey, C. M.; Peterson, C. J. "Estimating enhanced Fujita scale levels based on forest damage severity." Presented at Special Symposium on Severe Local Storms: The Current State of the Science and Understanding Impacts. Atlanta, Georgia: American Meteorological Society, 2014.
Godfrey, C. M.; Peterson, C. J. "Side-by-side tree and house damage in the May 2013 Moore, OK EF5 tornado: Lessons for the enhanced Fujita scale." Presented at Special Symposium on Severe Local Storms: The Current State of the Science and Understanding Impacts. Atlanta, Georgia: American Meteorological Society, 2014.
Godfrey, C. M.; Wolf, P. L.; Goldsbury, M. K.; Caudill, J. A.; Wedig, D. P. "An evaluation of convective warning utilization by the general public." Presented at Conference on Weather Warnings and Communication. Oklahoma City, Oklahoma: American Meteorological Society, 2011.
Maas, Richard P.; Patch, Steven C.; Berkowitz, J. F. "Continuing Studies of Arsenic Dislodgement and Exposure from CCA-Treated Lumber." Presented at Environmental Impacts of Preservative-Treated Wood Conference. Orlando, FL.: Environmental Impacts of Preservative-Treated Wood Conference, 2004.
Mathews, Leah Greden, Anne Lancaster, Art Rex, Daniel O'Leary, and Anna Callahan. "Practicing What We Preach: Using Community-Based Research Methods to Facilitate Multidirectional and Multilayered Information Exchange Along the Urban-Rural Fringe." Presented at Emerging Issues Along Urban-Rural Interfaces II: Linking Land Use Science and Society. 32-35. 2007. http://emergingissues.interfacesouth.org/pastconferences/2007proceedings.pdf.
McGlinn, James. "Ideas Exchange: Verse Novels as Language Experience." Presented at NCEAT Notes. 2011.
Miller, J. W. (Bill), Craig, J. R., Callahan, J. E., and Wilde-Ramsing, M. "MERGING GEOLOGY AND HISTORY THROUGH INFORMAL EDUCATION: THE QUEEN ANNE'S REVENGE(?) SHIPWRECK PROJECT." Presented at The Geological Society of America Annual Meeting and Exposition. 46. 2005. https://gsa.confex.com/gsa/2005AM/finalprogram/abstract_92200.htm.
Mitesh Shah (Undergraduate Research Student), Robert Yearout, Claudel McKenzie, and R.Hollingsworth. "Reducing Non-Conformance in Spin-Draw-Winding Process." Presented at Proceedings of the 12th International Conference on Industrial Engineering Theory, Applications and Practice. 327-332. 2007.
Nicolay C. W., and J. L. Nalley. "Upper extremity strength and endurance throughout the menstrual cycle in naturally cycling women and women using chemical contraceptives." Presented at Proceedings of the 10th Annual International Conference on Industrial Engineering Theory Application and Practice. 574-579. 2005.
Nicolay, C. W.; Nalley, J. W. "Grip strength in female tennis players: ergonomic implications of extreme asymmetry in hand use." Presented at Proceedings of the 10th Annual International Conference on Industrial Engineering Theory Application and Practice. 560-565. 2005.
Novikova, I.; Mikhailov, E. E.; Stagg, L.; Rochester, S.; Budker, D. "Tunable lossless slow and fast light in a four-level N-system." Presented at Proceedings of SPIE - The International Society for Optical Engineering 8636. 2013.
Purewal, Semmy; Astrachan, O.; Brown, D.; Forbes, J. "Using Social Networks to Engage Computer Science Students." Presented at Proceedings of the 43rd ACM technical symposium on Computer Science Education - SIGCSE. 681. 2012.
Purewal, T. S.; Brown, D. "Social network programming with JavaScript and Spotter." Presented at Proceedings of the 50th Annual Southeast Regional Conference- ACM-SE. 341. 2012.
Reagan, Adam, and Rahman Tashakkori. "Fuzzy Sectorization in Knowledge Discovery of Digital Mammograms." Presented at Proceedings of IEEE Southeast Conference. 503-508. 2007. http://ieeexplore.ieee.org/xpl/articleDetails.jsp?arnumber=4147483&searchWithin%3Dfuzzy+sectorization%26sortType%3Dasc_p_Sequence%26filter%3DAND%28p_IS_Number%3A4144548%29.
Reiser, S.; Bruce, R. "Cultivating creativity (and majors) with computational craft." Presented at IEEE SouthEastCon. 2014.
Reiser, Susan L.; Bruce, Rebecca F. "Service Learning Meets Mobile Computing." Presented at Proceedings of the 46th Annual Association of Computing Machinery's Southeast Regional Conference. Association for Computing Machinery, 2008.
Reiser, Susan, and Rebecca Bruce. "Fabrication: A Tangible Link Between Computer Science and Creativity." Presented at SIGCSE '09 Proceedings of the 40th ACM technical symposium on Computer science education. 382-386. 2009. http://dl.acm.org/citation.cfm?doid=1508865.1509001.
Riddle, Norma J.; Leonard, Andrea A.; Smith, Laura E.; Hyde, Gene. "Beyond Place: Appalachia in Cyberspace-Convenor: Fred Hay." Presented at Appalachian Studies Association Annual Conference Session 11.17. 2014.
Ruppert, Nancy. "Project Based Learning in the Middle School Mathematics Classroom." Presented at Proceedings of Society for Information Technology & Teacher Education International Conference 2007. 3393-3398. San Antonio, Texas, USA: AACE, 2007. http://www.editlib.org/p/25137.
Schuman, Samuel. "The Sun's a Thief: Nabokov and Shakespeare - A Quantitative Approach." Presented at Revising Nabokov revising : the proceedings of the International Nabokov Conference in Kyoto : March 24-27, 2010 Kyoto, Japan. 131. Kyoto: The Nabokov Society of Japan, 2010.
Shattleroe, Marietta; Ward, Jennifer Rhode; Clarke, H. David. "Genetic and chemotypic diversity in American ginseng (Panax quinquefolius L.) from western North Carolina." Presented at Ecological Society of America 100th Annual Meeting Conference Proceedings. 2015.
Sherrie Carter (Undergraduate Research Student), Linda Nelms, and Robert Yearout. "Reducing Non-Conformance in Printer Set-Up Operations." Presented at Proceedings of the 12th International Conference on Industrial Engineering Theory, Applications and Practice. 320-326. 2007.
Stratton, Micheal T.; Stark, Gary. "Dress For Success In The Classroom (But What is Success To You?)." Presented at Proceedings of the 39th Annual OBTC Teaching Conference for Management Educators. OBTC, 2012.
Taylor, Laurel. "Artisans and Craft in Ancient Etruria: A Symposium in Honor of Nancy de Grummond (Etruscan Studies)."
Uldricks, Ted. "Appeasement in Russian, Chinese, and American Foreign Policy." Presented at Selected Annual Proceedings of the Conference of Florida Historians. 88-105. 2009. http://fch.ju.edu/fch_vol_16.pdf.
Yearout, Robert; Barrow, K.; McKenzie, Claudel; Garcia, A. Garza; Villafuerte, V. "A Methodology to Attain Noise Compliance for a Small Company (A Health & Safety Case Study)." Presented at Proceedings of the 13th International Conference on Industrial Engineering Theory, Applications and Practice. International Journal of Industrial Engineering, 2008.
Holland, Lora. "Aedituus." In The Encyclopedia of Ancient History. Edited by Roger Bagnall et al. Malden, Massachusetts: Wiley-Blackwell, 2012. doi:10.1002/9781444338386.wbeah17007.
Holland, Lora. "Ambarvalia." In The Encyclopedia of Ancient History. Edited by Roger Bagnall et al. Malden, Massachusetts: Wiley-Blackwell, 2012. doi:10.1002/9781444338386.wbeah17007.
Holland, Lora. "Bellona." In The Encyclopedia of Ancient History. Edited by Roger Bagnall et al. Malden, Massachusetts: Wiley-Blackwell, 2012. doi:10.1002/9781444338386.wbeah17071.
Holland, Lora. "Carmentis and Carmentalia." In The Encyclopedia of Ancient History. Edited by Roger Bagnall et al. Malden, Massachusetts: Wiley-Blackwell, 2012. doi:10.1002/9781444338386.wbeah17083.
Holland, Lora. "Cult Instruments, Roman." In The Encyclopedia of Ancient History. Edited by Roger Bagnall et al. Malden, Massachusetts: Wiley-Blackwell, 2012. doi:10.1002/9781444338386.wbeah17107.
Holland, Lora. "Diana." In The Encyclopedia of Ancient History. Edited by Roger Bagnall et al. Malden, Massachusetts: Wiley-Blackwell, 2012. doi:10.1002/9781444338386.wbeah17118.
Holland, Lora. "Faunus and Fauna." In The Encyclopedia of Ancient History. Edited by Roger Bagnall et al. Malden, Massachusetts: Wiley-Blackwell, 2012. doi:10.1002/9781444338386.wbeah17153.
Holland, Lora. "Janus." In The Encyclopedia of Ancient History. Edited by Roger Bagnall et al. Malden, Massachusetts: Wiley-Blackwell, 2012. doi:10.1002/9781444338386.wbeah17221.
Holland, Lora. "Liber and Libera." In The Encyclopedia of Ancient History. Edited by Roger Bagnall et al. Malden, Massachusetts: Wiley-Blackwell, 2012. doi:10.1002/9781444338386.wbeah17242.
Holland, Lora. "Liberalia." In The Encyclopedia of Ancient History. Edited by Roger Bagnall et al. Malden, Massachusetts: Wiley-Blackwell, 2012. doi:10.1002/9781444338386.wbeah17243.
Holland, Lora. "Lua." In The Encyclopedia of Ancient History. Edited by Roger Bagnall et al. Malden, Massachusetts: Wiley-Blackwell, 2012. doi:10.1002/9781444338386.wbeah17247.
Holland, Lora. "Marriage, Sacred, Greece & Rome." In The Encyclopedia of Ancient History. Edited by Roger Bagnall et al. Malden, Massachusetts: Wiley-Blackwell, 2012. doi:10.1002/9781444338386.wbeah17257.
Holland, Lora. "Meditrinalia." In The Encyclopedia of Ancient History. Edited by Roger Bagnall et al. Malden, Massachusetts: Wiley-Blackwell, 2012. doi:10.1002/9781444338386.wbeah17264.
Holland, Lora. "Salacia." In The Encyclopedia of Ancient History. Edited by Roger Bagnall et al. Malden, Massachusetts: Wiley-Blackwell, 2012. doi:10.1002/9781444338386.wbeah17405.
Holland, Lora. "Septimontium." In The Encyclopedia of Ancient History. Edited by Roger Bagnall et al. Malden, Massachusetts: Wiley-Blackwell, 2012. doi:10.1002/9781444338386.wbeah10066.
Holland, Lora. "Vortumnus." In The Encyclopedia of Ancient History. Edited by Roger Bagnall et al. Malden, Massachusetts: Wiley-Blackwell, 2012. doi:10.1002/9781444338386.wbeah17471.
Adams, Ian; Hennon, Christopher C.; Jones, W. L.; Ahmad, K. A. "Evaluation of Hurricane Ocean Vector Winds From WindSat." IEEE Tranasactions on Geoscience and Remote Sensing 44, no.3 (2006): 656-667.
Adell, Elena. "Representaciones del intelectual en la literatura de los novísimos escritores cubanos: Ronaldo Menéndez, Ricardo Arrieta y la agrupación El Establo." Revista de literatura latinoamericana 39, no.1 (2010): 45.
Adell, Elena. "Hacia una estética de lo violento en Las bestias de Ronaldo Menéndez y en La sombra del caminante de Ena Lucía Portela." Cuban Intersections of Literary and Urban Spaces. (2011): 97.
Alam, Aftab; Khan, Suffian N.; Smirnov, AV; Nicholson, DM; Johnson, Duane D. "Green's function multiple-scattering theory with a truncated basis set: An augmented-KKR formalism." Physical Review B 90, no.20 (2014): 205102.
Allen, S. D.; Sulock, J. M.; Sabo, W. A. "The Political Business Cycle: How Significant? ." Public Finance Review 14, no.1 (1986): 107-112. doi:10.1177/109114218601400107.
Alm, Mary. "Review of Breaking the Rules: Liberating Writers Through Innovative Grammar Instruction, by Edgar H. Schuster." Journal of Adolescent and Adult Literacy 47, no.8 (2004): 711-712.
Alstad, Karrin P.; Hart, Stephen C.; Horton, Jonathan L.; Kolb, Thomas E. . "Application of tree-ring isotopic analyses to reconstruct historic water use of riparian trees." Ecological Applications 18, no.2 (2008): 421-437. http://dx.doi.org/10.1890/06-1969.1.
Alstad, Karrin P.; Hart, Stephen C.; Horton, Jonathan L.; Kolb, Thomas E. "Application of tree-ring isotopic analyses to reconstruct historic water-use of riparian trees." Ecological Applications 18. (2008): 421-437.
Alsweiss, Suleiman; Hanna, Rafik; Laupattarakasem, Peth; Jones, W. Linwood; Hennon, Christopher C.; Chen, Ruiyao. "A Non-MLE Approach for Satellite Scatterometer Wind Vector Retrievals in Tropical Cyclones." Remote Sensing 6, no.5 (2014): 4133-4148.
Andreeva, Alexandra V., Mikhail A. Kutuzov, Rita Vaiskunaite, Jasmina Profirovic, Thomas E. Meigs, Sanda Predescu, Asrar B. Malik, and Tatyana Voyno-Yasenetskaya. "Gα12 Interaction with αSNAP Induces VE-cadherin Localization at Endothelial Junctions and Regulates Barrier Function." Journal of Biological Chemistry 280, no.34 (2005): 30376-30383. http://www.jbc.org/content/280/34/30376.full.pdf+html.
Anton, K. A.; R. Ward, J.; Cruzan, M. B. "Pollinator-mediated selection on floral morphology: evidence for transgressive evolution in a derived hybrid lineage." Journal of Evolutionary Biology 26, no.3 (2013): 660-673. doi:10.1111/jeb.12083.
Ardawatia, Vandana V.; Masià-Balagué, Miriam; Krakstad, Beate F.; Johansson, Bente B.; Kreitzburg, Kelly M.; Spriet, Endy; Lewis, Aurélia E.; Meigs, Thomas E.; Aragay, Anna M. "Gα12 binds to the N-terminal regulatory domain of p120ctn, and downregulates p120ctn tyrosine phosphorylation induced by Src family kinases via a RhoA independent mechanism." Experimental cell research 317, no.3 (2011): 293-306. doi:http://dx.doi.org/10.1016/j.yexcr.2010.10.017.
Ashburn, Gwen McNeill. "Review of Evaluating Faculty Performance: A Practical Guide to Assessing Teaching, Research, and Serviceby Peter Seldin." Journal of Effective Teaching. (2006).
Babuin, J. Lisa; Miller, J. William; Moorhead, Kevin K.; Craig, James R. "Corrosion mineralogy of common bird shot types in North Carolina, USA, environments." The Canadian Mineralogist 52, no.3 (2014): 487-500.
Bahls, P.; Kutler, L.; Mousley, S. "Estimates on the size of the cycle spectra of Hamiltonian graphs." Discrete Mathematics 313, no.20 (2013): 2119-2123.
Bahls, Patrick. "Some new biautomatic Coxeter groups." Journal of Algebra 296. (2006): 339-347.
Bahls, Patrick. "The Group BS(1,2) and a Construction of Magnus." Communications in Algebra 35, no.12 (2006): 4088-4095. doi:10.1080/00927870701544831.
Bahls, Patrick; Bailey, Elizabeth; Olsen, McCabe. "New families of graphs whose independence polynomials have only real zeros." AUSTRALASIAN JOURNAL OF COMBINATORICS 60, no.2 (2014): 128-135.
Bahls, Patrick; Gin, Nicole A. "Clawfreeness of the powers of a graph." Discrete Applied Mathematics 160, no.9 (2012): 1390-1393. doi:10.1016/j.dam.2012.01.023.
Bahls, Patrick; Mihalik, Michael. "Reflection independence in even Coxeter groups." Geometriae Dedicata 110, no.1 (2007): 63-80. http://download.springer.com/static/pdf/219/art%253A10.1007%252Fs10711-003-1134-z.pdf?auth66=1382713883_62cbd5ca45932f608e11f1f2cec23856&ext=.pdf.
Bahls, Patrick; Smith, Tyler. "Rewriting Systems and Orderings on Artin Monoids." International Journal of Algebra & Computation 17, no.1 (2007): 61-75. doi:10.1142/S0218196707003482.
Bahls, Patrick; Spencer, T. "On the Ramsey Numbers of Trees with Small Diameter." Graphs & Combinatorics 29, no.1 (2013): 39-44. doi:10.1007/s00373-011-1098-y.
Bahls, Patrick; Wray, Amanda. "LaTeXnics: The effect of specialized typesetting software on STEM students' composition processes." Computers and Composition 37. (2015): 104-116. http://dx.doi.org/10.1016/j.compcom.2015.06.006.
Ballard, T. E.; Richards, J. J.; Wolfe, A. L.; Melander, C. "Synthesis and anti-biofilm activity of a second generation reverse amide oroidin library: an SAR study." Chemistry: A European Journal 14, no.34 (2008): 10745. doi:10.1002/chem.200801419.
Bares, William Kirk. "Transatlanticism as Dutch National Spectacle: Universalism and Postpolitics at the North Sea Jazz Festival." American Music 33, no.2 (2015), http://www.jstor.org/journal/americanmusic.
Barnard, Neal D., Scialli, Anthony R., Turner-McGrievy, Gabrielle, Lanou, Amy J., Glass, Jolie, . "The effects of a low-fat, plant-based dietary intervention on body weight, metabolism, and insulin sensitivity." The American Journal of Medicine The American Journal of Medicine 118, no.9 (2005): 991-997.
Barnes, Julie; Bryant, Rob; McCracken, Daniel D.; Reiser, Susan. "Teaching human-computer interaction ." ACM SIGCSE Bulletin 35, no.1 (2003): 125-126. doi:10.1145/792548.611901.
Batada, Ameena; Bruening, Meg; Marchlewicz, Elizabeth H.; Story, Mary; Wootan, Margo G. "Poor Nutrition on the Menu: Children's Meals at America's Top Chain Restaurants." Childhood Obesity 8, no.3 (2012): 251-254.
Beaver, Miranda R.; Simmons Jr., J. G.; Heard, George L.; Setser, D. W.; Heard, George L. "Unimolecular Reactions Including ClF Interchange of Vibrationally Excited CF2ClCHFCH2CH3 and CF2ClCHFCD2CD3." Journal of Physical Chemistry A 111, no.34 (2007): 8445-8455. doi:10.1021/jp071837k.
Beier, Colin M.; Horton, Jonathan L.; Walker, John F.; Barton D. Clinton; Nilsen, Erik T. "Carbon Limitation Leads to Suppression of First Year Oak Seedlings beneath Evergreen Understory Shrubs in Southern Appalachian Hardwood Forests." Plant Ecology 176, no.1 (2005): 131-142. http://www.jstor.org/stable/20146705.
Bell-Ruppert, Nancy. "Undergraduate Action Research: Using Best Practices to Assess Student Learning." Current Issues in Middle Level Education 11, no.2 (2005): 61-65. http://www.napomle.org/cimle/fall2005/bellruppert_fa2005.pdf.
Bennett, C. A.; Hutchinson, D. P. "Far Field Propagation of the Truncated EH11 Dielectric Waveguide Mode." Applied Optics 28, no.13 (1989): 2581. doi:10.1364/AO.28.002581.
Bennett, C. A.; Richards, R. K.; Hutchinson, D. P. "Absolute Broadband Calibration Procedure for Infrared Heterodyne Receivers." Applied Optics 27, no.16 (1988): 3324. doi:10.1364/AO.27.003324.
Bennett, David J.; Foo, Patrick S. "Mid-range Action-driving Visual Information and the Milner and Goodale "Two Visual Systems" Hypothesis ." Psyche 16, no.2 (2006): 96-116.
Bergvall, L.; Himelein, M. J. "Attitudes toward seeking help for sexual dysfunctions among US and Swedish college students." Sexual and Relationship Therapy 29, no.2 (2014): 215-228.
Berry, Traci S.; Midgett, Aaron; Ferguson, Heather A.; Parworth, Caroline; Heard, George L.; Setser, D. W.; Holmes, Bert E. "Characterization of the Unimolecular Water Elimination Reaction from 1-Propanol, 3,3,3-Propan-1-ol-d3, 3,3,3-Trifluoropropan-1-ol, and 3-Chloropropan-1-ol." Journal of Physical Chemistry A 113, no.37 (2009): 10013. http://www.ncbi.nlm.nih.gov/pubmed/19702256.
Betsalel, Kenneth A. "Hannah Arendt on Burton Street: Re-Storying Community with a Political Theorist." Journal of Public Scholarship in Higher Education 4. (2014).
Bettencourt, M.; Weldon, A. "Team Teaching: Are Two Are Better than One?." Journal on Excellence in College Teaching. (2010).
Blalock, S. J.; Casteel, C.; Roth, M. T.; Ferreri, S.; Demby, K. B.; Shankar, V. "Impact of enhanced pharmacologic care on the prevention of falls: A randomized controlled trial ." The American journal of geriatric pharmacotherapy 8, no.5 (2010): 428-440. www.refworks.com.
Bland, Robert N.; Stoffan, Mark A. "Returning Classification to the Catalog." Information Technology and Libraries 27. (2008): 55-60.
Boakye-Boaten, A. "Street Children: Experiences from the Streets of Accra." Research Journal of International Studies , no.8 (2008): 76-84.
Boakye-Boaten, Agya. "AN EXAMINATION OF THE PHENOMENON OF STREET CHILDREN IN SELECTED COMMUNITIES IN ACCRA (GHANA)." Ohio University. (2006): 259.
Boakye-Boaten, Agya. "Surviving in the Streets; the Story of a Street Girl from Ghana." International Journal of Humanities and Social Science 1, no.18 (2011): 244-249. http://www.ijhssnet.com/journals/Vol_1_No_18_Special_Issue/27.pdf.
Boayke-Boaten, Agya. "Changes in the concept of Childhood: Implications on Children in Ghana ." Journal of International Social Research , no.10 (2010): 104-115.
Boboltz, D. A.; Simonetti, J. H.; Dennison, B.; Diamond, P. J.; Uphoff, J. A. "A Water Maser Flare in W49N: Amplification by a Rotating Foreground Cloud." Astrophysical Journal 509. (1998): 256.
Booker, R. A.; De Lucia, F. C. "The Millimeter Wave Spectrum of CF2Cl2." Journal of Molecular Spectroscopy 118. (1986): 548.
Booker, R. A.; De Lucia, F. C.; Crownover, R. L.; Helminger, P. "Millimeter and Submillimeter-Wave Spectra of the NO' Stretching Mode (V6) in Nitric Acid." Journal of Molecular Spectroscopy 128. (1988): 306.
Boudreaux, Gregory Mark; Walls, Jess E. "Descartes' Calculus of Subnormals: What Might Have Been." The College Mathematics Journal 44, no.5 (2013): 409-420.
Boyle, K. "Whose Apocalyptic Ruses?: Derrida, Psychoanalysis, and Biblical Criticism." Journal of Philosophy and Scripture 4, no.1 (2006): 1-20.
Boyle, K. "Reading the Dialectical Ontology of The Life Aquatic with Steve Zissou Against the Ontological Monism of Adaptation." Film-Philosophy 11, no.1 (2007): 1-32.
Boyle, K. "The Four Fundamental Concepts of Slavoj Žižek's Psychoanalytic Marxism." International Journal of Žižek Studies 2, no.1 (2008).
Boyle, K. "Children of Men and I Am Legend: The Disaster-Capitalism Complex Hits Hollywood." Jump Cut 51. (2009).
Boyle, K. "Ideology at the End of Times." Postscript: The Journal of the Philological Association of the Carolinas 27, no.5 (2012), http://pachome.org/wp/postscript/?page_id=293.
Brawley, Douglas N.; Meigs, Thomas E. "Fluorescent protein and epitope tagging within the helical domain of G12 subfamily proteins." The FASEB Journal 27. (2013): 598.9.
Brennan, Michael J.; Hennon, Christopher C.; Knabb, Richard D. "The Operational Use of QuikSCAT Ocean Surface Vector Winds at the National Hurricane Center." Weather & Forecasting 24, no.3 (2009): 621-645. doi:10.1175/2008WAF2222188.1.
Brock, J. Dean; Bruce, Rebecca F. "Sensing the world with a Raspberry Pi." Journal of Computing Sciences in Colleges 30, no.2 (2014): 174-175.
Brock, J. Dean; Bruce, Rebecca F.; Cameron, Marietta E. "Changing the world with a Raspberry Pi." Journal of Computing Sciences in Colleges 29, no.2 (2013): 151-153.
Brock, J. Dean; Bruce, Rebecca F.; Reiser, Susan L. "Using Arduino for introductory programming courses ." Journal of Computing Sciences in Colleges 25, no.2 (2009): 129. http://dl.acm.org/citation.cfm?id=1629057.
Brodsky, Marc; Hyde, Gene. "Surviving the Downturn: Challenges Faced by Appalachian Regional Collections During a Time of Reduced Resources." Journal of Archival Organization 10, no.3-4 (2012): 3-4.
Brown, Kim T. "Testing the testing: Validity of a state growth model." International Journal of Education Policy and Leadership 3, no.6 (2008): 1-14. http://journals.sfu.ca/ijepl/index.php/ijepl/article/view/106.
Brown, Kim T. "Testing the Testing: Validity of a State Growth Model." International Journal of Education Policy and Leadership 3, no.6 (2008): 1-14. http://journals.sfu.ca/ijepl/index.php/ijepl/article/view/106.
Brown, Kim T. "Taking the Language Experience Approach to the Next Step: Transforming Male Reluctant Readers into Independent Readers." Language Experience Forum 40, no.2 (2011).
Brown, Toni; Holt Jr., Herman L.; Lee, Moses. "Synthesis of Biologically Active Heterocyclic Stilbene and Chalcone Analogs of Combretastatin." Topics in Heterocyclic Chemistry 2. (2006): 1-51.
Brown, Tracy L. "The Relationship Between Stroop Interference and Facilitation Effects: Statistical Artifacts, Baselines, and a Reassessment." Journal of Experimental Psychology.Human Perception & Performance 37, no.1 (2010): 85-99. doi:10.1037/a0019252.
Burgin, M. O.; Simmons Jr., J. G.; Heard, G. L.; Setser, D. W.; Holmes, B. E. "Unimolecular Reactions of Vibrationally Excited CF2ClCHFCH3and CF2ClCHFCD3: Evidence for the 1,2-FCl Interchange Pathway." Journal of Physical Chemistry A 111, no.12 (2007): 2283-2292. doi:10.1021/jp066722f.
Burkhardt, T., Nelms, L., Shreffler, S., and Yearout, R. "Reducing Role Change Times (A Work Methods Case Study)." Advances in Industrial Engineering Theory, Applications, and Practices. (2005): 214-219.
Burley, L. A.; Moyer, A. T.; Petranka, J. W. "Interactions between wood frogs and spotted salamanders: Tadpole density mediates intraguild predation and intra- and interspecific competition." Oecologia 146. (2006): 641-649.
Burton, H.; Dixit, S.; Litkowski, P.; Wingert, J. R. "Functional connectivity for somatosensory and motor cortex in spastic diplegia." Somatosensory and Motor Research 26, no.4 (2009): 90.
Burton, H.; Sinclair, R. J.; Wingert, J. R.; Dierker, D. L. "Multiple parietal operculum subdivisions in humans: tactile activation maps ." Somatosensory and Motor Research 25, no.3 (2008): 149.
Burton, Harold; Dixit, Sachin; Litkowski, Patricia; Wingert, Jason R. "Functional connectivity for somatosensory and motor cortex in spastic diplegia." Somatosensory & Motor Research 26, no.4 (2009): 90-104. doi:10.3109/08990220903335742.
Burton, Harold; Sinclair, Robert J.; Wingert, Jason R.; Dierker, Donna L. "Multiple parietal operculum subdivisions in humans: Tactile activation maps." Somatosensory and Motor Research 25. (2008): 149-162.
Butera, C. Jacob. "Book Review: The Oxford Handbook of Warfare in the Classical World." The Classical Review 64, no.2 (2014): 481-483. http://search.proquest.com/docview/1561546045?accountid=8388.
Butler, Brian. "Law's Image of Pragmatism-Another Legal Fiction." Contemporary Pragmatism 1, no.1 (2004).
Butler, Brian. "Studying (the Theoretical Analysis of) Contemporary American Film." Film-Philosophy 8, no.42 (2004), http://www.film-philosophy.com/index.php/f-p/article/view/810/722.
Butler, Brian. "Review of The Subject in Art: Portraiture and the Birth of the Modern by Catherine M. Soussloff." Consciousness, Literature and the Arts 8, no.2 (2007), http://blackboard.lincoln.ac.uk/bbcswebdav/users/dmeyerdinkgrafe/archive/soussloff.html.
Butler, Brian. "Seeing Ecology and Seeing as Ecology: On Brereton's Hollywood Utopia and the Andersons' Moving Image Theory." Film-Philosophy 11, no.1 (2007): 61-69. http://www.film-philosophy.com/index.php/f-p/article/view/81/66.
Butler, Brian E. "Rorty, the First Amendment and Antirealism: Is Reliance Upon Truth Viewpoint-Based Speech Regulation?." Journal of Moral Philosophy 1, no.1 (2004): 69-88.
Butler, Brian E. "Neo-Neo-Classicism: The Artistic and Political Challenge of Ian Hamilton Finlay." Geometer. (2009).
Butler, Brian E. "Blackness is Noir: Flory's Philosophical Investigation of the Black Noir Genre in Film." Film-Philosophy 14, no.1 (2010): 332-336.
Butler, Brian E. "Cass Sunstein, John Dewey and the Pragmatic Cost-Benefit State." Soundings 93, no.1-2 (2010): 95-116.
Butler, Brian E. "Constructing a Pragmatic Conception of Human Rights: The Contribution of T.H. Green." The Review Journal of Human Rights 7, no.2 (2010): 103-121.
Butler, Brian E. "Democracy and Law: Situating Law within John Dewey's Democratic Vision." Etica & Politica 12, no.1 (2010): 256-280.
Butler, Brian E. "Dews, Dorks, and Poses Decide Lochner." Contemporary Pragmatism 7, no.2 (2010): 15-44.
Butler, Brian E. "Sen's The Idea of Justice: Back to the (Pragmatic) Future." Contemporary Pragmatism 7, no.2 (2010): 219-229.
Butler, Brian E. "Review of Reading Obama: Dreams, Hope, and the American Political Tradition, by James T. Kloppenberg." Education and Culture 28, no.1 (2012): 87-90.
Butts, M. M.; DeJoy, D. M.; Schaffer, Bryan S.; Vandenberg, R. J.; Wilson, M. G. "Creating Safer Workplaces: Assessing the Determinants and Role of Safety Climate." Journal of Safety Research 35, no.1 (2004): 81-90.
Butts, Marcus M.; Vandenberg, Robert J.; DeJoy, David M.; Schaffer, Bryan S.; Wilson, Mark G. "Individual Reactions to High Involvement Work Processes: Investigating the Role of Empowerment and Perceived Organizational Support." Journal of Occupational Health Psychology 14, no.2 (2009): 122-136. doi:10.1037/a0014114.
Cameron, Marietta E. "Othellodirector: a tool for automating and managing an Othello programming tournament." Journal of Computing Sciences in Colleges 29, no.2 (2013): 240-241.
Campbell, Grace G. "Review of Nature Ethics." Ecopsychology 2, no.3 (2010): 195-198.
Canejo, Cynthia. "The Resurgence of Anthropophagy: Tropicália, Tropicalismo, and Hélio Oiticica." Third Text 18, no.1 (2004): 61-68. doi:10.1080/0952882032000182712.
Canejo, Cynthia. "Evidence of an Innovative Master Builder in Northern Burgundy: The Early Gothic Construction of the Parish Churches at Gurgy and Beines." Journal of the Society of Architectural Historians [JSAH]. (2005): 281-291.
Canejo, Cynthia. "Gestos efêmeros e obras tangíveis: A trajetória de Antonio Manuel (Antonio Manuel: Ephemeral Gestures and Tangible Works)." Novos Etudos 76. (2006): 265-274.
Canejo, Cynthia. "The Yonne Valley Builder: An Indentifiable Master Introducting a Unique Blend of Cistercian and Non-Cistercian Northern Burgundian Design to the Oise." Peregrinations Journal of Medieval Art and Architecture 3, no.3 (2012): 19-65.
Cannon, I. L.; Allen, N. W. "Procedural Development forin vitro Studies on the Gabaergic Mechanism of Modafinil." UNCA Journal of Undergraduate Research. (2010).
Cantwell, Lisa R.; Forrest, T. G. "Response of Anolis sagrei to Acoustic Calls from Predatory and Nonpredatory Birds." Journal of Herpetology 47, no.2 (2013): 293-298. http://search.proquest.com/docview/1373078382?accountid=8388.
Cao, D.; Lu, G. -Q; Wieckowski, A.; Wasileski, S. A.; Neurock, M. "Mechanisms of Methanol Decomposition on Platinum: A Combined Experimental and Ab Initio Approach." Journal of Physical Chemistry B 109, no.23 (2005): 11622.
Carson, Rachel; Giarrocco, Kelly; Hamel, Zoé; Mathews, Leah Greden. "The Talk at Tailgate Markets: How Interactions Affect Purchase Behavior.". (2013).
Cates, Ezra L.; Westphal, Marilyn J.; Cox, John H.; Calabria, Jon; Patch, Steven C. "Field Evaluation of a Proprietary Storm-Water Treatment System: Removal Efficiency and Relationships to Peak Flow, Season, and Dry Time." Journal of Environmental Engineering 135, no.7 (2009): 511-517. doi:10.1061/(ASCE)0733-9372(2009)135:7(511).
Caulfield, Peter. "Dancing into the Bright Moonlight." The Connecticut Review 28. (2006): 53-59.
Caulfield, Peter. "People of the Book." Bear River Review 1, no.1 (2006): 10-12. https://www.lsa.umich.edu/bearriver/thefinishedwork/thebearriverreview/backissues.
Cavagnini, Kyle S.; Snelson, Mark T.; Denker, Bradley M.; Meigs, Thomas E. "Gα12 regulation of polycystin-1 proteolysis and nuclear localization." The FASEB Journal 27. (2013): 598.8.
Cavagnini, Kyle; Martin, Joseph; Brawley, Douglas; Meigs, Thomas. "Identification of Gα12-specific binding determinants in AKAP-Lbc (802.8)." The FASEB Journal 28, no.1 Supplement (2014): 802.8.
Chen, Minjiao; Qu, Honglin; Zhu, Jiahua; Luo, Zhiping; Khasanov, Airat; Kucknoor, Ashwini S.; Haldolaarachchige, Neel; Young, David P.; Wei, Suying; Guo, Zhanhu. "Magnetic Electrospun Fluorescent Polyvinylpyrrolidone Nanocomposite Fibers." Polymer 53, no.20 (2012): 4501-4511. doi:10.1016/j.polymer.2012.07.046.
Chess, R. "Meditation upon Waking in Elul." The Forward. (2000).
Chess, R. "Meditation upon Waking in Elul and Therapy." Tampa Review. (2000).
Chess, R. "Third Temple." The Forward. (2001).
Chiang, Evelyn S.; Padilla, Miguel A. "Assessment of Parent Orientation towards Autonomy vs. Control in Promoting Children's Healthy Eating and Exercise." Applied Psychology: Health & Well-Being 4, no.2 (2012): 202-217. doi:10.1111/j.1758-0854.2012.01069.x.
Chiang, Evelyn S.; Therriault, David J.; Franks, Bridget A. "Individual differences in relative metacomprehension accuracy: Variation within and across task manipulations." Metacognition and Learning 5, no.2 (2011): 121-135. doi:10.1007/s11409-009-9052-6.
Chiang, Evelyn. S.; Molin,Ashley J.; Byrd,Sandra P.; Crawford, Yashica J. "Parent perceptions of children's weight status, nutrition, and activity levels." ICAN: Infant, Child, and Adolescent Nutrition 1, no.4 (2009): 220-224. http://can.sagepub.com/content/1/4/220.full.pdf+html.
Chiang, Evelyn; Byrd, Sandara; Molin, Ashley. "Children's Perceived Cost for Exercise: Application of an Expectancy-Value Paradigm." Health Education and Behavior 38, no.2 (2011): 143-149. http://heb.sagepub.com/content/38/2/143.full.pdf+html.
Clayton, Russell W.; Barton, Harry. "Rhona Rapoport: A Critical Biography of a Pioneering Work-Family Researcher." Journal of Applied Management and Entrepreneurship 16, no.3 (2011): 23-33. http://search.proquest.com/docview/889143979?accountid=8388.
Clinton, Barton D.; Vose, James M.; Knoepp, Jennifer D.; Elliott, Katherine J.; Reynolds, Barbara C.; Zarnoch, Stanley J. "Can Structural and Functional Characteristics be used to Identify Riparian Zone Width in Southern Appalachian Headwater Catchments." Canadian Journal of Forest Research 40, no.2 (2010): 235-253.
Cloninger, Curt. "2,305-Words on 'Sweet Child o' Mine." Paste Magazine 26. (2006): 70-73.
Colby, Jeffrey; Dobson, James. "Comparative Flooding Between the Coastal Plains and Mountains of North Carolina." Natural Hazards Review 11, no.1 (2010): 19-28.
Collins, S. N.; Holt, H. L. Jr.; Harkless, J. A.; Gudmundsdottir, A. D.; Ault, B. S. "Visiting Faculty Mentor as a Component of an NSF-REU Program." Journal of Chemical Education 86, no.5 (2009): 565. http://pubs.acs.org/doi/abs/10.1021/ed086p565.
Comins, Daniel L.; King, Laura S.; Smith, Emilie D.; Février, Florence C. "Synthesis of C-4 Substituted Nicotine Derivatives via an N-Acylpyridinium Salt of (S)-Nicotine." Org. Lett. 7. (2005): 5059.
Coplan, Myron J.; Patch, Steven C.; Masters, Roger D.; Bachman, Marcia S. "Confirmation of and explanations for elevated blood lead and other disorders in children exposed to water disinfection and fluoridation chemicals." NeuroToxicology 28, no.5 (2007): 1032-1042. doi:10.1016/j.neuro.2007.02.012.
Crane, S.; Collins, L.; Hall, J.; Rochester, D.; Patch, S. "Reducing Utilization by Uninsured Frequent Users of the Emergency Department: Combining Case Management and Drop-in Group Medical Appointments ." The Journal of the American Board of Family Medicine 25, no.2 (2012): 184-191. http://www.jabfm.org.
Crane, Steven; Sailer, Doug; Patch, Steven. "Improving Asthma Care in Emergency Department: Results of a multi-hospital collaborative quality initiative in Western North Carolina." North Carolina Medical Journal 72, no.2 (2011): 111-117. http://www.ncmedicaljournal.com/wp-content/uploads/2011/03/72220-web.pdf.
Crowe, Eileen. "Re-Valuing the Personal Narrative: Developing Metaphor and Critical Thinking in the Composition Classroom." PostScript: The Publication of the Philological Association of the Carolinas 25. (2008): 26-53.
Crownover, R. L.; Booker, R. A.; De Lucia, F. C.; Helminger, P. "The Rotational Spectrum of Nitric Acid: The First Five Vibrational States." Journal of Quantitative Spectroscopic Radiation Transfer 40, no.1 (1988): 39.
Culatta, K. E.; Horton, J. L. "Physiological response of southern appalachian high-elevation rock outcrop herbs to reduced cloud immersion." Castanea 79, no.3 (2014): 182-194.
Cundiff, D. K.; Lanou, A. J.; Nigg, C. R. "Relation of omega-3 fatty acid intake to other dietary factors known to reduce coronary heart disease risk." American Journal of Cardiology 99, no.9 (2007): 1230.
Damiano, Diane L.; Wingert, Jason R.; Stanley, Christopher J.; Curatalo, Lindsey. "Contribution of hip joint proprioception to static and dynamic balance in cerebral palsy: a case control study." Journal of Neuroengineering and Rehabilitation 10, no.57 (2013), http://search.proquest.com/docview/1372509865?accountid=8388.
de Grummond, Nancy; Sowder, Cheryl; Holland, Lora; et al. "Excavations in an Etruscan Well at Cetamura del Chianti: A Preliminary Report." Etruscan Studies 18, no.1 (2015): 3-27.
DeJoy, D. M.; Gershon, R. M.; Schaffer, B. S. "Safety Climate: Assessing Management and Organizational Influences on Safety." Professional Safety Journal 49, no.7 (2004): 50-57.
DeJoy, David M.; Schaffer, Bryan S.; Wilson, Mark G.; Vandenberg, Robert J.; Butts, Marcus M. "WITHDRAWN: Reprint of "Creating safer workplaces: assessing the determinants and role of safety climate"." Journal of Safety Research. (2013).
Dennison, B. "Fast radio bursts: Constraints on the dispersing medium." Monthly Notices of the Royal Astronomical Society: Letters 443, no.1 (2014): L11-L14.
Dennison, B.; Bennett, C. A.; Blake, M.; Brown, M.; Castelaz, A. T.; Castelaz, M.; Christiansen, W. A.; Cline, J. D.; Daugherty, J. K.; Hutchinson, D.; Kaltreider, C.; Kirbach, E. R.; Moffett, D.; Osborne, C.; Owen, L.; Vorren, K. "The dedicated interferometer for rapid variability." Astronomical & Astrophysical Transactions 26, no.6 (2007): 557-565. doi:10.1080/10556790701610498.
Dennison, Brian; Turner, B. E.; Minter, Anthony H. "The Fine-Structure Lines of Hydrogen in HII Regions." The Astrophysical Journal 633. (2005): 309-316. http://iopscience.iop.org/0004-637X/633/1/309/fulltext/.
Derryberry, Virginia. "Convergence (article on group exhibition by Von Allen, Reni Gower, Alison Helm, Virginia Derryberry, and Virginia Scotchie)." Carolina Arts: A Publication Covering the Arts in the Carolinas , no.July Issue (2004), http://www.carolinaarts.com/704scstmus.html.
Dickson, J.; Flores, L.; Stewart, M.; Holt, H.; LeBlanc, R.; Lee, M. "Synthesis and Cytotoxic Properties of Chalcones: An Interactive and Investigative Undergraduate Laboratory Project at the Interface of Chemistry and Biology." Journal of Chemical Education 83, no.6 (2006): 934. http://pubs.acs.org/doi/abs/10.1021/ed083p934.
Diefenbach, Donald L.; West, Mark D. "Television and attitudes toward mental health issues: Cultivation analysis and the third-person effect." Journal of Community Psychology 35, no.2 (2007): 181-195. doi:10.1002/jcop.20142.
DiPalma, Sonya; Gouge, Michael E. "Adapting to the Changing Media Landscape." REVIEW 49-50. (2013): 71-83. http://cmreview.org/adapting-to-the-changing-media-landscape/.
Doane, A. N.; Kelley, M. L.; Chiang, E. S.; Padilla, M. A. "Development of the Cyberbullying Experiences Survey." Emerging Adulthood 1, no.3 (2013): 207-218.
Downes, Margaret. "General Education Teaching and The Life of the Mind." AGLS News 22. (2005): 1-4.
Dumont, E. R.; Nicolay, C. W. "Cross-sectional geometry of the dentary in bats." Zoology 109, no.1 (2006): 66-74.
Duncan, Juliana R.; Roach, Michael S.; Stiles, Brooke Sibila; Holmes, Bert E. "Unimolecular Rate Constant and Threshold Energy for the HF Elimination from Chemically Activated CF3CHFCF3." Journal of Physical Chemistry A 114, no.26 (2010): 6996-7002. http://www.ncbi.nlm.nih.gov/pubmed/20536197.
Duncan, Juliana R.; Solaka, Sarah A.; Setser, D. W.; Holmes, Bert E. "Unimolecular HCl and HF Elimination Reactions of 1,2-Dichloroethane, 1,2-Difluoroethane and 1,2-Chlorofluoroethane: Assignment of Threshold Energies and Pre-exponential Factors." Journal of Physical Chemistry A 114, no.2 (2010): 794-803.
Duncan, Juliana; Heard, George; Holmes, Bert. "Theoretical Investigation of 1,2-Interchange of Chlorine Atom and Methyl Group in 1, 1-Dichloroacetone." Journal of Physical Chemistry A 114, no.50 (2010): 12992-12997.
Dunn, Ann. "THE RELATIONSHIP OF "TONGUE" TO "HAND" IN SHAKESPEARE'S FIVE ROMAN PLAYS: TRACING THE AUTHOR'S EVOLVING VIEWS ON HUMAN NATURE." International Journal of Arts & Sciences 6, no.2 (2013): 47-60. http://search.proquest.com/docview/1496695754?accountid=8388.
Eason, James; Marcis, John G.; Burney, Robert B.; Boyles, Gerald V. "GRADE EXPECTATIONS: EVIDENCE OF COGNITIVE BIASES IN STUDENTS'ACADEMIC SELF-ASSESSMENT IN THE INTRODUCTORY FINANCE COURSE." Academy of Educational Leadership Journal 17, no.1 (2013).
Enstice, Erin; Duncan, Juliana R.; Setser, D. W.; Holmes, Bert E. "Unimolecular Reaction in the CF3CH2Cl 'Üî CF2ClCH2F System: Isomerization by Interchange of Cl and F Atoms." Journal of Physical Chemistry A 115, no.6 (2011): 1054-1066. http://www.ncbi.nlm.nih.gov/pubmed/21244059.
Eppard, Holly R.; Horton, Jonathan L.; Nilsen, Erik T.; Galusky, Preston; Clinton, Barton D. "Investigating the Allelopathic Potential of Kalmia latifolia L. (Ericaceae)." Southeastern Naturalist 4, no.3 (2005): 383-392. http://www.treesearch.fs.fed.us/pubs/25424.
Ercanoglu, E.; Weber, K.T.; Langille, J.; Neves, R. "Modeling wildland fire susceptibility using fuzzy systems." GIScience and Remote Sensing 43, no.3 (2006): 268-282.
Ettari, Gary. "Midnight at the Writer's Get-Acquainted Party." Concho River Review. (2006).
Ettari, Gary. "Rehearsal: Archibald Mcleish's JB." North Carolina Literary Review. (2006).
Ettari, Gary. "'That Mirrour Faire': Samuel Daniel and the Collapse of the Subject." Philological Review 33, no.2 (2007): 1-19.
Ettari, Gary. "Ars Poetica: An Interview with Al Maginnes." North Carolina literary review : NCLR. 16. (2007).
Ettari, Gary. "Flyfishing in the Land of Not So Many Waters. (Poem)." Gray's sporting journal. 32, no.2 (2007).
Ettari, Gary. "The Poet and the Sea: An Interview with Peter Makuck." North Carolina literary review : NCLR. 16. (2007).
Ettari, Gary. "Ut Pictura Poesis: Jonson and the Painted Subject." PostScript: The Publication of the Philological Association of the Carolinas 25. (2008): 117-132.
Ettari, Gary; Easterling, H. "Reading (and) the Profession." Reader : essays in reader-oriented theory, criticism, and pedagogy 47. (2002).
Evans, Michael A.; Smith, Daniel C.; Holub, Justin M.; Argenti, Anthony; Hoff, Mafoloe; Dalglish, Gerard A.; Wilson, Donna L.; Taylor, Brett M.; Berkowitz, Joshua D.; Burnham, Bruce S.; Krumpe, Keith; Gupton, John T.; Scarlett, Tanya C.; Durham, , Richard W., Jr; Hall, Iris H. "Synthesis and Cytotoxicity of Substituted Ethyl 2-Phenacyl-3-phenylpyrrole-4-carboxylates ." Archiv der Pharmazie 336, no.3 (2003): 181-190. doi:10.1002/ardp.200390018.
Evans, W. Randy; Pane Haden, Stephanie S.; Clayton, Russell W.; Novicevic, Milorad M. "History-of-management-thought about social responsibility." Journal of Management History 19, no.1 (2013): 8-32. http://search.proquest.com/docview/1242215643?accountid=8388.
Everett, W. C.; Heard, G. L.; Holmes, Bert. "A Computational Study of the Thresholds of the 1,2-FCI interchange Reaction of Chlorofluoroethanes." Canadian Journal of Chemistry 88, no.11 (2010): 1112-1117.
Felix, Brian. "Wes Montgomery's A Day In The Life: The Anatomy of a Jazz-Pop Crossover Album." American Music 8, no.3 (2015): 237-258. doi:10.1080/17494060.2015.1083784.
Ferguson, John D.; Johnson, Nichole L.; Kekenes-Huskey, Peter M.; Everett, William C.; Heard, George L.; Setser, Donald W.; Holmes, Bert E. "Unimolecular Rate Constants for HX or DX Elimination (X = F, Cl) from Chemically Activated CF3CH2CH2Cl, C2H5CH2Cl, and C2D5CH2Cl: Threshold Energies for HF and HCl Elimination." Journal of Physical Chemistry A 109, no.20 (2005): 4540-4551.
Fernandes, Jane K.; Myers, Shirley Shultz. "Inclusive deaf studies: Barriers and pathways." Journal of Deaf Studies and Deaf Education. (2009), http://jdsde.oxfordjournals.org/content/early/2009/07/28/deafed.enp018.full.pdf+html.
Fiedler, R. L.; Pauls, T.; Johnston, K. J.; Dennison, B. "Galactic Structures Associated with ESE's in the Radio Light Curves of NRAO 140, 0954+658, and 2352+495." Astrophysical Journal 430. (1994): 595.
Fink, Philip W., Foo, Patrick S.; Warren, William H. "Obstacle Avoidance During Walking in Real and Virtual Environments." ACM Transaction on Applied Perception 4, no.1 (2007): 1-18. http://dl.acm.org/citation.cfm?id=1227136&CFID=369177062&CFTOKEN=81676574.
Fink, Philip W., Foo, Patrick S.; Warren, William H. "Catching fly balls in virtual reality: A critical test of the outfielder problem." Journal of Vision 9, no.13 (2009): 14:1-14:8. http://www.journalofvision.org/content/9/13/14.full.pdf+html.
Foo, Patrick; Duchon, Andrew; Warren Jr., William H.; Tarr, Michael J. "Humans do not switch between path knowledge and landmarks when learning a new environment." Psychological research 71, no.3 (2007): 240-251. doi:10.1007/s00426-006-0080-4.
Foo, Patrick; Warren, William H.; Duchon, Andrew; Tarr, Michael J. "Do Humans Integrate Routes Into a Cognitive Map? Map- Versus Landmark-Based Navigation of Novel Shortcuts." Journal of Experimental Psychology.Learning, Memory & Cognition 31, no.2 (2005): 195-215. doi:10.1037/0278-7393.31.2.195.
Fordyce, Lauren. "Social and clinical risk assessment among pregnant Haitian women in South Florida." Journal of Midwifery & Women's Health 54, no.6 (2009): 477-482. doi:10.1016/j.jmwh.2009.07.008.
Franks, Bridget A.; Therriault, David J.; Buhr, Miriam I.; Chiang, Evelyn S.; Gonzalez, Claire M.; Kwon, Heekyung K.; Schelble, Jenni L.; Wang, Xuesong. "Looking back: reasoning and metacognition with narrative texts." Metacognition and Learning 8, no.2 (2013): 145-171. http://search.proquest.com/docview/1398256177?accountid=8388.
Friederich, Laura; Duncan, Juliana R.; Heard, George L.; Setser, D. W.; Holmes, Bert E. "Unimolecular Reactions of CH2BrCH2Br, CH2BrCH2Cl, and CH2BrCD2Cl: Identification of the Cl-Br Interchange Reaction." Journal of Physical Chemistry A 114, no.12 (2010): 4138-4147.
Fuller, Kate; Monson, Mahri; Ward, Jennifer; Mathews, Leah Greden. "Can Nature Drive Economic Growth?." Review of Agricultural Economics 27, no.4 (2005): 621-629. doi:10.1111/j.1467-9353.2005.00267.x.
Gaber, John; Kapur, Sonia. "Health Impact Assessments in India: Exploring a Possible Community Health Policy Innovation." Indian Journal of Public Health Research & Development 5, no.3 (2014): 276-280.
Gant, John Eric. "Eurocentric Virtues in the Seventeenth-Century Cuban Epic." CLA Journal 5, no.2 (2011): 123-139.
Gardner, D. "Eat Smart, Move More North Carolina: an obesity prevention movement." North Carolina medical journal 75, no.6 (2014): 407-412. doi:75608 [pii].
Gibney, Mark. "A Sense of Space: Human Rights and the West's Legal Framework." International Studies Journal 2. (2005): 1-17.
Gibney, Mark. "Ending the Nightmare." The Humanist September-October. (2006): 43-44.
Gibney, Mark. "Genocide and State Responsibility." Human Rights Law Review 7, no.4 (2007): 760-773. http://hrlr.oxfordjournals.org/content/7/4/760.full.pdf+html.
Gibney, Mark. "Review of Ethics in Action: The Ethical Challenge Of International Human Rights Nongovernmental Organizations." UN Chronicle 44, no.1 (2007): 46-47.
Gibney, Mark. "Responsibilities for Protecting Human Rights." global-e: a global studies journal 1, no.3 (2008), http://global-ejournal.org/category/volume-1/.
Gibney, Mark. "Universal Duties: The Responsibility to Protect, the Duty to Prevent (Genocide) and Extraterritorial Human Rights Obligations." Global Responsibility to Protect 3, no.2 (2011): 123-151. doi:10.1163/187598411X575649.
Gibney, Mark. "The Problem with Teaching 'Ethics'." International Studies Perspectives 13, no.1 (2012): 13-15. doi:10.1111/j.1528-3585.2011.00446.x.
Gibney, Mark., Wood, Reed M., , . "Prospects for the New UN Human Rights Council." International studies journal International Studies Journal 4, no.1 (2007): 1-32.
Gibney, Mark; Roxstrom, Erik. "What A Pity! Sovereign Immunity, State Responsibility, And The Diminution Of Accountability Under International Human Rights Law." Journal Of Human Rights 11, no.4 (2012): 443-459.
Gibney, Mark; Wood, Reed. "The Political Terror Scale: A Re-Introduction and a Comparison with CIRI." Human Rights Quarterly 32. (2010): 367-400.
Gillette, David P. "Effects of terrestrial invertebrate reduction on three stream fishes in experimental mesocosms ." Freshwater Science 31, no.3 (2012): 835-847. doi:10.1899/11-101.1.
Gillette, David P. "Effects of Variation among Riffles on Prey Use and Feeding Selectivity of the Orangethroat Darter Etheostoma spectabile." American Midland Naturalist 168, no.1 (2012): 184-201.
Gillum, Michael. "Milton's Roses and Amaranth." ANQ 20, no.1 (2007): 28-33.
Gillum, Michael. "Milton's Roses and Amaranth." Anq: a Quarterly Journal of Short Articles 20, no.1 (2008): 28-34.
Gillum, Michael. "Yet Once More, "Gumms of Glutenous Heat"." Milton Quarterly 44, no.1 (2010): 47-51.
Giorgio, A., Nelms, L., Yearout, R. "Overcoming Obsolescent Part Issues in Achieving ISO-9001:2000 Certification (A Quality Control Case Study) ." Advances in Industrial Engineering Theory, Applications, and Practices. (2005): 675-680.
Gloag, Oliver. "Camus et les colonies : à rebours de l'Histoire." Romance Notes 55, no.1 (2015): 77-86. doi:10.1353/rmc.2015.0002.
Godfrey, Christopher M.; Barrett, Bradford S.; Godfrey, Elaine S. "Severe Weather Field Experience: An Undergraduate Field Course on Career Enhancement and Severe Convective Storms." Journal of Geoscience Education 59. (2011): 111-118. http://nagt-jge.org/doi/full/10.5408/1.3604823.
Godfrey, Christopher M.; Stensrud, D. J. "Soil temperature and moisture errors in operational Eta Model analyses." Journal of Hydrometeorology 9, no.3 (2008): 367-387.
Godfrey, Christopher M.; Stensrud, David J. "An Empirical Latent Heat Flux Parameterization for the Noah Land Surface Model." Journal of Applied Meteorology and Climatology 49, no.8 (2010): 1696-1713.
Goldberg, Caren B.; Riordan, Christine M.; Schaffer, Bryan S. "Does Social Identity Theory Underlie Relational Demography? A Test of the Moderating Effects of Uncertainty Reduction and Status Enhancement on Similarity Effects." Human Relations 63, no.7 (2010): 903-926.
Goyette, T. M.; Oesterling, L. C.; Petkie, D. T.; Booker, R. A.; Helminger, P.; De Lucia, F. C. "Rotational Spectrum of HNO3 in the V5 and 2V9 Vibrational States." Journal of Molecular Spectroscopy 175. (1996): 395.
Greason, Paige B.; Welfare, Laura E. "The Impact of Mindfulness and Meditation Practice on Client Perceptions of Common Therapeutic Factors." The Journal of Humanistic Counseling 52, no.2 (2013): 235-253.
Gu, Hongbo; Ding, Daowei; Sameer, Pallavkar; Guo, Jiang; Yerra, Narendranath; Huang, Yudong; Luo, Zhiping; Ho, Thomas C.; Haldolaarachchige, Neel; Young, David P.; Khasanov, Airat; Guo, Zhanhu; Wei, Suying. "Microwave Assisted Formation of Magnetic Core-Shell Carbon Nanostructure." ECS Solid State Letters 2, no.12 (2013): M65-M68. doi:10.1149/2.001312ssl.
Guo, B.; Yim, H.; Khasanov, A. M.; Stevens, J. G. "Formation of Magnetic FexOy/Silica Core-Shell Particles in a One-Step Flame Aersol Process." Aerosols Science and Technology 44, no.4 (2010): 281. doi:10.1080/02786821003586950.
Gupton, John T.; Banner, Edith J.; Scharf, Austin B.; Norwood, Bradley K.; Kanters, Rene P. F.; Dominey, Raymond N.; Hempel, Jonathan E.; Kharlamova, Anastasia; Bluhn-Chertudi, Itta; Hickenboth, Charles R.; Little, Barrett A.; Sartin, Melissa D.; Coppock, Matthew B.; Krumpe, Keith E.; Burnham, Bruce S.; Holt Jr., Herman L.; Du, Karen X.; Keertikar, Kartik M.; Diebes, Anthony; Ghassemi, Shahnaz; Sikorski, James A. "The application of vinylogous iminium salt derivatives to an efficient synthesis of the pyrrole containing alkaloids Rigidin and Rigidin E." Tetrahedron 65, no.22 (2006): 4283. http://www.ncbi.nlm.nih.gov/pmc/articles/PMC2678759/.
Gurney, Evan. "I'm Most Comfortable with the Eclectic': A Conversation with Stuart Dybek." The Carolina Quarterly 60, no.1 (2010): 71-82.
Gurney, Evan. "A New Allusion to Thomas Browne." Notes and Queries 59, no.2 (2012): 178-179.
Gurney, Evan. "No Desert of Dry Verse: That Was Oasis." The Carolina Quarterly 62, no.2 (2012): 102-105.
Gurney, Evan. "Spenser's 'May' Eclogue and Charitable Admonition." Spenser Studies: a Renaissance Poetry Annual 27, no.1 (2012): 193-219.
Gurney, Evan. "Thomas More and the problem of charity." Renaissance Studies 26, no.2 (2012): 197-217.
Gurney, Evan. "'Give me mine angle': fishing for a moral in Antony and Cleopatra." Shakespeare (Online Journal). (2014), http://dx.doi.org/10.1080/17450918.2014.985603.
Hale, Rebecca; Travis, Joseph. "The Evolution of Developmental Dependence, or 'Why Do My Kids Need Me So Much?'." Evolutionary Ecology Research 14. (2012): 207-221.
Hardy, Grant. "The Gift and Power: Translating the Book of Mormon." Journal of Mormon History 39, no.2 (2013): 258-264.
Harp, E. M.; Petranka, J. W. "Ranavirus in wood frogs (Rana sylvatica): Potential sources of transmission within and between ponds." Journal of Wildlife Diseases 42. (2006): 307-318.
Harvey, Mark L. "The Centrality of Research to the Field of Ecopsychology." Ecopsychology 6, no.1 (2014): 40-41.
Harvey, Mark L. and Debbie Miles. "And Then They Came for Me: The Effectiveness of a Theatrical Performance and Study Guide on Middle-school Students' Holocaust Knowledge and Empathic Concern." Youth Theatre Journal 23, no.2 (2009): 91-102. http://www.tandfonline.com/doi/full/10.1080/08929090903281402#.UkMMAIasiSo.
He, Qingliang; Yuan, Tingting; Zhang, Xi; Yan, Xingru; Guo, Jiang; Ding, Daowei; Khan, Mojammel A.; Young, David P.; Khasanov, Airat; Luo, Zhiping. "Electromagnetic Field Absorbing Polypropylene Nanocomposites with Tuned Permittivity and Permeability by Nanoiron and Carbon Nanotubes." The Journal of Physical Chemistry C 118, no.42 (2014): 24784-24796.
He, Qingliang; Yuan, Tingting; Zhu, Jiahua; Luo, Zhiping; Haldolaarachchige, Neel; Sun, Luyi; Khasanov, Airat; Li, Yutong; Young, David P.; Wei, Suying; Guo, Zhanhu. "Magnetic High Density Polyethylene Nanocomposites Reinforced with In-situ Synthesized Fe-FeO Core-shell Nanoparticles." Polymer 53, no.16 (2012): 3642-3652. doi:10.1016/j.polymer.2012.06.010.
Heafner, T.; Lipscomb, G.; Rock, T.; NCPSSE (O'Connor, K.; Good, A.; Oldendorf, S.; Passe, J.; Byrd, S. ).; SCPSSE (Linter, T.; Faulkner, B.; Burkett, C.; McNulty, C.; Volger, K.; Knopf, H. ). "To test or not to test: The role of testing in elementary social studies." Social Studies Research and Practice 1, no.2 (2006): 145-164.
Heafner, Tina, K. O'Connor, Eric Groce, Sandra Byrd, Amy Good, Tracy Rock, Jeff Passe, and Sandra Oldendorf. "To Test or Not to Test? The Role of Resting in Elementary Social Studies. A Case for Social Studies Advocacy: Becoming Agents for Change." Social Studies and the Young Learner 20, no.1 (2007): 26-29.
Heafner, Tina; Good, Amy; Passe, Jeff; Rock, Tracy; Byrd, Sandra; Oldendorf, Sandra; Groce, Eric. . "Fact or Fiction: Is Social Studies 'History' in North Carolina's Elementary Schools." Social Studies Research and Practice 2, no.3 (2007): 502-509. http://socstrp.org/.
Heimbach Jr, James A.; Hall, William D. "Applications of the Clark model to winter storms over the Wasatch Plateau." The Journal of Weather Modification 26, no.1 (2014): 1-11.
Heimbach Jr, James A.; Super, Arlin B. "The Bridger Range, Montana, 1986-1987 Snow Pack Augmentation Program." The Journal of Weather Modification 20, no.1 (2014): 19-26.
Heimbach, James A. "Some Characteristics of Aerially-Released AgI Plumes in Alberta." The Journal of Weather Modification 22, no.1 (2014): 133-136.
Heimbach, James A.; Hall, William B.; Super, Arlin B. "Modeling and observations of valley-released silver iodide during a stable winter storm over the Wasatch Plateau of UTAH." The Journal of Weather Modification 29, no.1 (2014): 33-41.
Hennon, Christopeher C. "Citizen Scientists Analyzing Tropical Cyclone Intensities." EOS, Transactions American Geophysical Union 93, no.40 (2012): 285-287.
Hennon, Christopher C.; Helms, Charles N.; Knapp, Kenneth R.; Bowen, Amanda R. "An Objective Algorithm for Detecting and Tracking Tropical Cloud Clusters: Implications for Tropical Cyclogenesis Prediction." Journal of Atmospheric & Oceanic Technology 28, no.8 (2011): 1007-1018. doi:10.1175/2010JTECHA1522.1.
Hennon, Christopher C.; Marzban, Caren; Hobgood, Jay S. "Improving Tropical Cyclogenesis Statistical Model Forecasts through the Application of a Neural Network Classifier." Weather & Forecasting 20, no.6 (2005): 1073-1083. doi:10.1175/WAF890.1.
Hennon, Christopher C.; Papin, Philippe P.; Zarzar, Christopher M.; Michael, Jeremy R.; Caudill, J. Adam; Douglas, Carson R.; Groetsema, Wesley C.; Lacy, John H.; Maye, Zachery D.; Reid, Justin L.; Scales, Mark A.; Talley, Melissa D.; Helms, Charles N. "Tropical Cloud Cluster Climatology, Variability, and Genesis Productivity." Journal of Climate 26, no.10 (2013): 3046-3066.
Hewitt, Lyndi. "Feminists and the Forum: Is it Worth the Effort?." Societies Without Borders 3. (2008): 118.
Hewitt, Lyndi. "Framing across Differences, Building Solidarities: Lessons from Women's Rights Activism in Transnational Spaces." Interface: A Journal for and about Social Movements 3, no.2 (2011): 65.
Hewitt, Lyndi; Karides, Marina. "More than a Shadow of a Difference: Feminist Participation in the World Social Forum." Handbook of World Social Forum Activism 3, no.2 (2011): 65.
Himelein, Melissa J. "RISK FACTORS FOR SEXUAL VICTIMIZATION IN DATING A Longitudinal Study of College Women ." Psychology of Women Quarterly 19, no.1 (1995): 31 48. doi:10.1111/j.1471-6402.1995.tb00277.x.
Himelein, Melissa J. "College Teaching and Community Outreaching: Service." American Journal of Health Education 41. (2010): 368-378.
Himelein, Melissa J.; Thatcher, S. S. "Depression and Body Image Among Women With Polycystic Ovary Syndrome." Journal of Health Psychology 11. (2006): 613-625.
Himelein, Melissa J.; Thatcher, S. S. "Polycystic Ovary Syndrome and Mental Health: A Review." Obstetrical and Gynecological Survey 61. (2006): 723-732.
Hitch, William J. "Billing for pharmacists' cognitive services in physicians' offices: Multiple methods of reimbursement ." Journal of the American Pharmacists Association 52, no.2 (2012): 175. doi:10.1331/JAPhA.2012.11218.
Hixson, Susan; Chang, Eun-Woo; Holmes, Bert E.; Bushey, Michelle M. "Recent Trends in Instrumentation Requests to NSF's CCLI Chemistry Program." Journal of Chemical Education 87, no.3 (2010): 247-249. http://pubs.acs.org/doi/abs/10.1021/ed800100a.
Ho, Cynthia. "Bahina Bai and Mystical Resistance." East-West Connections: Review of Asian Studies 4. (2004): 97-100.
Ho, Cynthia. "Grilled for Love: St. Lawrence and His Devotees." Medieval Perspectives 19. (2004): 9-26.
Ho, Cynthia. "Review of Francis of Assisi: Performing the Gospel Life by Lawrence S. Cunningham." Sixteenth Century Journal 35. (2004): 944-945.
Ho, Cynthia. "Tanizaki and Murasaki: The Bridge Crossing Dream to Dream." Journal of the Japan Studies Association of America 4. (2004): 39-53.
Ho, Cynthia. "Review of Three Alliterative Saints' Hymns: Late Middle English Stanzaic Poems ed. by Ruth Kennedy." The Medieval Review. (2005), https://scholarworks.iu.edu/dspace/handle/2022/5915.
Ho, Cynthia. "Teaching Waka." Japan Studies Association Journal 6. (2008): 111-116.
Ho, Cynthia. "The Stable Nativities of Bethlehem, Grecchio, and Assisi." Medieval Perspectives 22. (2010): 45-61.
Hobby, Blake. "New Wine From Old Bottles." James Joyce Literary Supplement 19, no.2 (2005): 19-20.
Hobby, Blake G. "Inside Out/Outside In (Review of Literary Modernism and Musical Aesthetics: Pater, Pound, Joyce, and Stein by Brad Bucknell)." James Joyce Literary Supplement 18. (2004): 29.
Hobby, Blake G. "Translating Music and Supplanting Tradition: Reading, Listening and Interpreting in Tristan." Nebula 2, no.4 (2005): 85-105.
Hoffman, E.; Relwani-Garg, N.; Kaneshiro, S.; Kapur, Sonia. "Peak-experiences among Indians in midlife." Indian Journal of Positive Psychology 3, no.3 (2012): 217.
Hoffman, E.; Srivastava, G.; Kapur, S. "Youthful peak-experiences among India's nursing students: Educational implications." Indian Journal of Positive Psychology 4, no.2 (2013): 391-395.
Holbrook, C. T.; Petranka, J. W. "Ecological Interactions Between Rana sylvatica and Ambystoma maculatum: Evidence of Interspecific Competition and Facultative Intraguild Predation." Copeia 4. (2004): 932-939. http://www.bioone.org/doi/pdf/10.1643/CE-04-037R1.
Holland, Lora. "Review of Etruscan Myth, Sacred History, and Legend by Nancy Thomson de Grummond." New England Classical Journal 34, no.3 (2007): 262-265.
Holland, Lora. "Review of Women's Religious Activity in the Roman Republic by Celia Schultz." New England Classical Journal 34, no.2 (2007): 156-158.
Holland, Lora. "Family Nomenclature and Same-Name Divinities in Roman Religion and Mythology." The Classical World 104, no.2 (2011): 211-226.
Holland, Lora L. "Review of The Oxford Classical Dictionary of Myth and Religion, edited by Simon Price and Emily Kearns." New England Classical Journal 31. (2004): 405.
Holland, Lora L. "Review of The Religion of the Etruscans, edited by Nancy Thomson de Grummond and Erika Simon." New England Classical Journal 33. (2006): 316-319.
Holland, Lora L. "Euclio's Solitary Slave: Staphyla in Plautus' Aulularia." New England Classical Journal 35, no.1 (2008): 21-30.
Holland, Lora L. "Last Act in Corinth: The Burial of Medea's Children (E. Med. 1378-83)." The Classical Journal 103, no.4 (2008): 405-428.
Holland, Lora L. "Review of Jörg Rüpke's Religion of the Romans, translated and edited by Richard Gordon." Classical Review 59, no.2 (2009): 553-554. http://gateway.proquest.com/openurl/openurl?ctx_ver=Z39.88-2003&xri:pqil:res_ver=0.2&res_id=xri:lion-us&rft_id=xri:lion:rec:abell:R04332495.
Holland, Lora L. "Review of Art, Myth and Ritual in Classical Greece by Judith Barringer." The Classical Review 60, no.1 (2010): 268-270.
Holmes, Doug A.; Holmes, Bert E. "Unimolecular Rate Constants, Kinetic Isotope Effects and Threshold Energies for FH and FD Elimination from CF3CHFCH3 and CF3CHFCD3." Journal of Physical Chemistry A 109, no.47 (2005): 10726-10733. http://pubs.acs.org/doi/abs/10.1021/jp054536o.
Holt Jr., Herman L.; LeBlanc, Regan; Dickson, John; Brown, Toni; Maddox, Jessica R.; Lee, Moses. "Reaction of Chalcones with Basic Hydrogen Peroxide: A Structure and Reactivity Study." Heterocyclic Communications 11, no.6 (2005): 465. http://www.degruyter.com/view/j/hc.2005.11.6/hc.2005.11.6.465/hc.2005.11.6.465.xml?format=INT.
Holt Jr., Herman L.; Russo, Tom; Pinhas, Allan. "The Ring Expansion of a Dimethyl-Substituted Vinylcyclobutene Derivative by Metal Complexes Which Can Undergo an Inner Sphere Electron Transfer." Journal of Organometallic Chemistry 601, no.1 (2000): 147. doi:10.1016/S0022-328X(00)00054-1.
Hook, Brian S. "Oedipus and Thyestes among the Philosophers: Incest and Cannibalism in Plato, Diogenes, and Zeno." Classical Philology 100, no.1 (2005): 17-40. doi:10.1086/431428.
Hook, Brian S. "Review of D. Iunii Iuuenalis: Satura X, ed. by Pierpaolo Campana." Classical Review 58. (2008): 166-167.
Hook, Brian S. "Review of Juvenal and the Satiric Genre by Frederick Jones." The Classical Journal Online. (2008), http://cj.camws.org/reviews2008.php.
Hook, Brian S. "Umbricius Caligatus: Wordplay in Juvenal 3.322." Collection Latomus: Studies in Latin Literature and Roman History 14. (2008): 365-374.
Hook, Brian S.; Davis, Duane H. "A Note on the Baths in Confessions IX,xii,32." Augustinian Studies 42, no.1 (2011): 49-56.
Hopes, David. "Dancing for the Lady, "Dialogue of Heart and Soul," and "Hold Them"." Image 42. (2004): 80-81, 84.
Hopes, David. "Driving Christmas Night and "Gather, Sow"." Windhover 8. (2004): 181-182.
Hopes, David. "The Forest Fire." Ekphrasis: A Poetry Journal. (2004).
Horton, Jonathan L., McKenna, Joseph ; Rossell, Jr., C. Reed; Clarke, H. David; Ward, Jennifer Rhode; Patch, Steven C. "Habitat Characteristics of Spiraea virginiana Britton, a Federally Threatened Riparian Shrub, in North Carolina." Castanea 80, no.2 (2015): 122-129. doi:http://dx.doi.org/10.2179/15-048.
Horton, Jonathan L.; Clark, Janelle L. "Water table decline alters growth and survival of Salix gooddingii and Tamarix chinensis seedlings." Forest Ecology and Management 140, no.2-3 (2001): 239-247. http://dx.doi.org/10.1016/S0378-1127(00)00314-5.
Horton, Jonathan L.; Clinton, Barton D.; Walker, John F.; Beier, Colin M.; Nilsen, Erik T. "Variation in Soil and Forest Floor Characteristics Along Gradients of Ericaceous, Evergreen Shrub Cover in the Southern Appalachians.." Castanea 74, no.4 (2009): 340-352.
Horton, Jonathan L.; Former, Renee; Goklany, Maya. "Photosynthetic Characteristics of the C4 Invasive Exotic Grass Miscanthus sinensis Andersson Growing Along Gradients of Light Intensity in the Southeastern United States." Castanea 75, no.1 (2010): 52-66.
Horton, Jonathan L.; Francis, Jacob S. "Using Dendroecology to Examine the Effect of Oriental Bittersweet (Celastrus orbiculatus) Invasion on Tulip Poplar (Liriodendron tulipifera) Growth." American Midland Naturalist 172, no.1 (2014): 25-36. http://dx.doi.org/10.1674/0003-0031-172.1.25.
Horton, Jonathan L.; Hart, Stephen C. "Hydraulic lift: a potentially important ecosystem process." Trends in Ecology and Evolution 13, no.6 (1998): 232-235. http://dx.doi.org/10.1016/S0169-5347(98)01328-7.
Horton, Jonathan L.; Hart, Stephen C.; Kolb, Thomas E. . "Physiological condition and water source use of Sonoran Desert riparian trees at the Bill Williams River, Arizona, USA.." Isotopes in Health and Environmental Studies 39, no.1 (2003): 69-82.
Horton, Jonathan L.; Kolb, Thomas E.; Hart, Stephen C. "Leaf gas exchange characteristics differ among Sonoran Desert riparian tree species." Tree Physiology 21, no.4 (2001): 233-241. doi:10.1093/treephys/21.4.233.
Horton, Jonathan L.; Kolb, Thomas E.; Hart, Stephen C. "Physiological response to ground water depth: influence of species and river flow regulation." Ecological Applications 11, no.4 (2001): 1046-1059. http://dx.doi.org/10.1890/1051-0761(2001)011%5B1046:PRTGDV%5D2.0.CO;2.
Horton, Jonathan L.; Kolb, Thomas E.; Hart, Stephen C. "Responses of riparian trees to interannual variation in ground water depth in a semi-arid river basin." Plant, Cell, and Environment 24, no.3 (2001): 293-304. doi:10.1046/j.1365-3040.2001.00681.x/pdf.
Horton, Jonathan L.; Neufeld, Howard S. "Photosynthetic responses of Microstegium vimineum (Trin.) A. Camus, a shade-tolerant, C4 grass, to variable light environments." Oecologia 114, no.1 (1998): 11-19. doi:10.1007/s004420050414 .
Horvitz, Lori. "Argentina." Kumquat Meringue. (2002).
Horvitz, Lori. "Mr. Wilcomersky's Motorcycle." Facets Magazine. (2002).
Horvitz, Lori. "My Imaginary Aunt Fanny." Jabberwock Review. (2002).
Horvitz, Lori. "The Knot Lady." Descant. (2002).
Horvitz, Lori. "Theories of Color." Quarter After Eight. (2002).
Horvitz, Lori. "Writhing Hieroglyphics." Headwaters. (2002).
Horvitz, Lori. "The Sublet." Coe Review. (2003).
Horvitz, Lori. "Death and Furniture." The Mochila Review. (2005).
Horvitz, Lori. "New York: 1986-9." Hotel Amerika. (2005).
Horvitz, Lori. "The Aspirin Factory." Headwaters. (2005).
Horvitz, Lori. "My Life as a Hippie Chick." Hamilton Stone Review. (2006).
Horvitz, Lori. "The Girls of Usually & The Weight of Stuff." Salt River Review. (2006).
Horvitz, Lori. "Unloading Bones." The Southeast Review. (2006).
Horvitz, Lori. "A Certain Shade of Blue." The Broome Review. (2008).
Horvitz, Lori. "Exchange Theory and Rational Choice." SUB-LIT. (2008).
Horvitz, Lori. "Making Lists." Dos Passos Review. (2008).
Horvitz, Lori. "Feminist Christmas Tree Farm." Hamilton Stone Review. (2011).
Horvitz, Lori. "I Met a Ghost!." TheAwl.com. (2011).
Horvitz, Lori. "The Woman Who Slept All Day." Prose-Poem. (2011).
Horvitz, Lori. ""Fahrenheit or Celsius" and "The Point"." Mad Hatters' Review. (2012).
Horvitz, Lori. "Deathbed Pearls." Burrow Press. (2012).
Horvitz, Lori. "Mongrels of Salamanca ." Chariton Review 35, no.1 (2012).
Horvitz, Lori. "Mongrels of Salamanca." Chariton Review. (2012).
Horvitz, Lori. "OpenWide 66." South Dakota Review. (2012).
Horvitz, Lori. "Slimfast Vacation." The Monarch Review. (2012).
Horvitz, Lori. "Vibrator." Juked. (2012).
Horvitz, Lori. "Cool as Patty Hearst." Saint Ann's Review. (2013).
Horvitz, Lori. "Little Pink Hatchling." Compose: A Journal of Simply Good Writing. (2013).
Horvitz, Lori. "The Golden Cord." The Tusculum Review. (2013).
Horvitz, Lori. "All the World's Oceans." Chattahoochee Review. (2014).
Horvitz, Lori. "The Big Smoke ." Epiphany: A Literary Journal. (2014): 123.
Humphreys, John H.; Pane Haden, Stephanie S.; Novicevic, Milorad M.; Clayton, Russell W.; Gibson, Jane Whitney . "Lillian McMurry of Trumpet Records: Integrity and Authenticity in the Charismatic, Constructive Narcissist Leader." Journal of Leadership & Organizational Studies 18, no.1 (2011): 40-55. http://jlo.sagepub.com/content/18/1/40.full.pdf+html.
Humphreys, John H.; Williams, Jr, Wallace A.; Clayton, Russell; Novicevic, Milorad M. "Towards the augmenting role of authenticity:Xenophon as leadership theorist." Management & Organizational History 6, no.2 (2011): 183-207. http://moh.sagepub.com/content/6/2/183.full.pdf+html.
Hutchins, Matthew W.; Reynolds, Barbara C.; Patch, Steven P. "Prescribed Fire and the Abundance of Soil Microarthropods in Northeast Georgia." Southeastern Naturalist 10, no.3 (2011): 489-500.
Hyde, Gene. "The Southern Highlands as Literary Landscape: An Interview with Fred Chappell and Donald Harington." Southern Quarterly 60, no.2 (2002): 86-87.
Hyde, Gene. "Appalachian Special Collections and Appalachian Studies: The Relationship Between Collections, Curricula, and the Development of Interdisciplinary Regional Studies Programs." Journal of the Society of North Carolina Archivists 6, no.1 (2008): 4-25.
Hyun, Seunggeun; Lee, Jimin; Sun, Yanqing. "Proportional hazards model for competing risks data with missing cause of failure." Journal of Statistical Planning & Inference 142, no.7 (2012): 1767-1779. doi:10.1016/j.jspi.2012.02.037.
Iglesias, Holly. "Domestic Bliss." MiPoesias. 19. (2005).
Iglesias, Holly. "Perishables (poem)." Margie: The American Journal of Poetry 4. (2005).
Iglesias, Holly. "Pope Fiction." MiPoesias. 19. (2005).
Iglesias, Holly. "Civil Defense Drill No. 6." Beloit Poetry Journal 57, no.2 (2006): 33-33.
Iglesias, Holly. "Imaginary Island." The Massachusetts Review 47, no.3 (2006).
Iglesias, Holly. "Natural Flair." Beloit Poetry Journal 57, no.2 (2006): 32-32.
Iglesias, Holly. "Boom." Hamilton Stone Review 13. (2007), http://www.hamiltonstone.org/hsr13.html#poetry;.
Iglesias, Holly. "Death of the Kid." The Rambler 4, no.3 (2007).
Iglesias, Holly. "Just Desserts." The Rambler 4, no.1 (2007).
Iglesias, Holly. "Kindling." Hamilton Stone Review 13. (2007), http://www.hamiltonstone.org/hsr13.html#poetry.
Iglesias, Holly. "Mass for the Death of Innocence." Barrow Street. (2007).
Iglesias, Holly. "Middle of Nowhere." Hamilton Stone Review 13. (2007), http://www.hamiltonstone.org/hsr13.html#poetry;.
Iglesias, Holly. "Twelve, I Am Twelve." Hearthstone 8, no.1 (2007).
Iglesias, Holly. "Wear and Tear." Hamilton Stone Review 13. (2007), http://www.hamiltonstone.org/hsr13.html#poetry;.
Iglesias, Holly. "Chicken Hill, 1943, "Dead of Winter," and "Season of the Witch"." Red Line Blues. (2008).
Iglesias, Holly. "From the Book of Ralph." North Carolina conversations 2, no.2 (2009).
Iglesias, Holly. "THREE POEMS—Magisterium, 1950: Double Negatives, Pathetic Fallacies, and the Exercise of Power; White Flight; and Hit Parade ." New Orleans Review (Web-Only Content). (2014), http://www.neworleansreview.org/magisterium-1950-double-negatives-pathetic-fallacies-and-the-exercise-of-power/.
J. M. Langille, M. J. Jessup, J. M. Cottle, G. Lederer, T.Ahmad. "Timing of metamorphism, melting and exhumation of the Leo Pargil dome, northwest India ." Journal of Metamorphic Geology 30, no.7 (2012): 769-791. doi:10.1111/j.1525-1314.2012.00998.x.
J. Myrick, T. Burkhard, L. Nelms, Steven C. Patch, R.Yearout. "Professional Perceptions of Six Sigma's Value." International Journal of Industrial Engineering 16, no.3 (2009): 234-247. http://journals.sfu.ca/ijietap/index.php/ijie/article/view/269.
Jacobs Jr., David R.; Haddad, Ella H.; Lanou, Amy J.; Messina, Mark J. "Food, plant food, and vegetarian diets in the US dietary guidelines: conclusions of an expert panel." American Journal of Clinical Nutrition 89, no.5 (2009): 15495-15525. http://ajcn.nutrition.org/content/89/5/1549S.full.pdf+html?sid=7c21710f-bbf8-4b0f-9d84-675caad6c55d.
Jansen, Anne. "Review of If I Ever Get Out of Here by Eric Gansworth ." Studies in American Indian Literatures 26, no.2 (2014): 98-101.
Jansen, Anne. "Under Lynching's Shadow: Grimké's Call for Domestic Reconfiguration in Rachel." African American Review 47, no.2-3 (2014): 391-402.
Jiahua Zhu, Sameer Pallavkar, Minjiao Chen, Narendranath Yerra, Zhiping Luo, Henry A. Colorado, Hongfei Lin, Neel Haldolaarachchige, Airat Khasanov, Thomas C. Ho David P. Young, Suying Wei and Zhanhu Guo. "Magnetic carbon nanostructures: microwave energy-assisted pyrolysisvs. conventional pyrolysis." Chemical Communications 49, no.3 (2013): 258-260. http://pubs.rsc.org/en/content/articlelanding/2013/cc/c2cc36810b#!divAbstract.
Johnson, Marlie; Younglove, Brent; Lee, Lauren; LeBlanc, Regan; Holt Jr., Herman; Hills, Patrice; Mackay, Hilary; Brown, Toni; Mooberry, Susan L.; Lee, Moses. "Design, Synthesis, and Biological Testing of Pyrazoline Derivatives of Combretastatin-A4." Bioorganic & Medicinal Chemistry Letters 17, no.21 (2007): 5897. doi:10.1016/j.bmcl.2007.07.105.
Judson, Sarah. "I Am a Nasty Branch Kid: Women's Memories of Place in the Era of Asheville's Urban Renewal." North Carolina Historical Review 91, no.3 (2014): 323-350.
Kaplan, Daniel D.; Meigs, Thomas E.; Kelly, Patrick; Casey, Patrick J. "Identification of a Role for β-Catenin in the Establishment of a Bipolar Mitotic Spindle." Journal of Biological Chemistry 279, no.12 (2004): 10829-10832.
Keathley, Kristen; Himelein, Melissa J.; Srigley, Grace. "Youth soccer participation and withdrawal: Gender similarities and differences." Journal of Sport Behavior 36, no.2 (2013): 171-188.
Kelley, Heidi. "Anthropologist's Return." Anthropology and Humanism 39, no.1 (2014): 101-101.
Kelley, Heidi, and Ken Betsalel. "Travels in Stroke Country: An Ethnographic Photo Essay." Journal of Contemporary Ethnography 34, no.2 (2005): 170-179. http://jce.sagepub.com/content/34/2/170.full.pdf+html.
Kelly P, Casey PJ, Meigs TE, . "Biologic functions of the G12 subfamily of heterotrimeric g proteins: growth, migration, and metastasis." Biochemistry 46, no.23 (2007): 6677-87.
Khasanov, Airat; He, Jian; Gaillard, Jay; Yang, Keqin; Rao, Apparao M.; Cameron, C. Michelle; Schmeltzer, J. M.; Stevens, John G.; Nath, Amar. "." Applied Physics Letters 93, no.1 (2008).
Khasanov, Airat; He, Jian; Gaillard, Jay; Yang, Keqin; Rao, Apparao M.; Cameron, C. Michelle; Schmeltzer, J. M.; Stevens, John G.; Nath, Amar. "The Role of Gamma-Iron Nanoparticulates in the Growth of Carbon Nanotubes." Applied Physics Letters 93, no.1 (2008), doi:http://dx.doi.org/10.1063/1.2937125.
Khasanov, Airat; He, Jian; Gaillard, Jay; Yang, Keqin; Rao, Apparao M.; Cameron, C. Michelle; Schmeltzer, J. M.; Stevens, John G.; Nath, Amar. "The Role of gamma-Iron Nanoparticulates in the Growth of Carbon Nanotubes." Applied Physics Letters 93, no.1 (2008), http://ehis.ebscohost.com/ehost/detail?sid=847e8375-29be-4c3a-acb3-e8e14873eb54%40sessionmgr12&vid=1&hid=3&bdata=JnNpdGU9ZWhvc3QtbGl2ZQ%3d%3d#db=a9h&AN=33407394.
King, Jonathan. "Review of "Marabi Nights": An Enlightening History of Another Jazz." Journal of Jazz Studies 10, no.1 (2014): 91-94. http://jjs.libraries.rutgers.edu/index.php/jjs/article/view/85/72.
Kirk, H.; Offner, S. S. R.; Redmond, K. J. "The formation and evolution of small star clusters." Monthly Notices of the Royal Astronomical Society 439, no.2 (2014): 1765-1780.
Kiss, G.; Allen, N. W. "Automated docking of estrogens, antiestrogens and SERMs into an estrogen receptor alpha and beta isoform using the PMF forcefield and the Lamarckian genetic algorithm." Theoretical Chemistry Accounts 117. (2007): 305.
Knapp, Kenneth R.; Knaff, John A.; Sampson, Charles R.; Riggio, Gustavo M.; Schnapp, Adam D. "A Pressure-Based Analysis of the Historical Western North Pacific Tropical Cyclone Intensity Record." Monthly Weather Review 141, no.8 (2013): 2611-2631. http://search.proquest.com/docview/1441261753?accountid=8388.
Knoepp, J. D., Reynolds, B. C., Crossley, D. A., Swank, W.T., . "Long-term changes in forest floor processes in southern Appalachian forests." Forest Ecology and Management 220, no.1-3 (2005): 300-312.
Kruk, K. A.; Aravich, P. F.; Deaver, S. P.; deBeus, R. "Comparison of brain activity during drawing and clay sculpting: A preliminary qEEG study." Art Therapy 31, no.2 (2014): 52-60.
Krumpe, Keith; Lane, Joseph; Lee, Jimin; Manns, Mary Lynn; McKenzie, Claudel; Nelms, Linda; Stockhausen, Mckenna; Turnburke, Lauren; Yearout, Robert. "Deriving A Bridge to Transfer Unknown (Probabilistic) Times to Known (Deterministic) Times to Allow Confidence Level Estimates for a Time/Cost Tradeoff: A Critical Analysis of PERT/CPM Procedures." International Journal of Industrial Engineering Theory, Application, and Practice 17, no.3 (2010): 246.
Kurtines-Becker, Carole. "Involving Parents - so valuable; not so easy." New Teacher Advocate 16 (Fall). (2008).
Lambert, Tracy A.; Eby, Lillian T.; Reeves, Melissa P. "Predictors of networking intensity and network quality among white-collar job seekers." Journal of Career Development 32, no.4 (2006): 351-365.
Langille, J.; Jessup, M.; Cottle, J.; Newell, D. "Kinematics of the Ama Drime Detachment: Insights into orogen-parallel extension and exhumation of the Ama Drime massif, Tibet-Nepal." Journal of Structural Geology 32, no.7 (2010): 900-919. doi:10.1016/j.jsg.2010.04.005.
Langille, J.; Lee, J.; Hacker, B.; Seward, G. "Middle crustal ductile deformation patterns in southern Tibet: Insights from vorticity studies in Mabja Dome." Journal of Structural Geology 32, no.7 (2010): 70-85.
Langille, Jackie M.; Jessup, Micah J.; Cottle, John M.; Ahmad, Talat. "Kinematic and thermal studies of the Leo Pargil Dome: Implications for synconvergent extension in the NW Indian Himalaya." Tectonics 33, no.9 (2014): 1766-1786.
Lanou, A. J. "Bone health in children: Calcium recommendations should be revised." BMJ 333, no.7572 (2006): 763. doi:10.1136/bmj.38996.499410.BE.
Lanou, A. J.; Barnard, N. B. "Food power: a vegetarian approach to diabetes." Diabetes Voice 48, no.3 (2003): 27.
Lanou, A. J.; Barnard, N. D. "Dairy and weight loss hypothesis: an evaluation of the clinical trials." Nutritional Review 66, no.5 (2008): 272. doi:10.1111/j.1753-4887.2008.00032.x..
Lanou, A. J.; Svenson, B. "Vegetarian dietary patterns as a means to achieve reduction in cardiovascular disease and diabetes risk factors." Curr Cardiovas Risk Reports. (2009), doi:10.1007/s12170-009-0075-y.
Lanou, Amy J. "Vigilance is the Key to Maintaining Water Balance During Pre-season Training." Sport EX Dynamics 16. (2008): 12-14.
Lanou, Amy J. "Should dairy be recommended as part of a healthy vegetarian diet? Counterpoint." American Journal of Clinical Nutrition 89, no.5 (2009): 16385-16425. http://ajcn.nutrition.org/content/89/5/1638S.full.pdf+html?sid=7c21710f-bbf8-4b0f-9d84-675caad6c55d.
Lanou, Amy J.; Barnard, N. D. "The Dairy and Weight Loss Hypothesis: A Review of the Clinical Trials." Nutrition Reviews 66, no.5 (2008): 272-279.
Lanou, Amy Joy; Berkow, Susan E.; Barnard, Neal D. "Calcium, Dairy Products, and Bone Health in Children and Young Adults: A Reevaluation of the Evidence." Pediatrics 115, no.3 (2005): 736-743. doi:10.1542/peds.2004-0548.
Laupattarakasem, P.; Jones, W. L.; Hennon, C. C.; Allard, J. R.; Harless, A. R.; Black, P. G. "Improved Hurricane Ocean Vector Winds Using Sea Winds Active/Passive Retrievals." IEEE Transactions on Geoscience and Remote Sensing 48, no.3 (2010): 1-15.
Laws, Richard, and Stephanie Pankiewicz. "Review of Super-Scenic Motorway: A Blue Ridge Parkway History by Anne Mitchell Whisnant." Landscape architecture.. (2007): 114.
Lazio, T. J.; Fey, A. L.; Dennison, B.; Mantovani, F.; Simonetti, J. H.; Alberdi, A.; Foley, A. R.; Fiedler, R.; Garrett, M. A.; Hirabayashi, H.; Jauncey, D. L.; Johnston, K. J.; Marcaide, J.; Migenes, V.; Nicolson, G. D.; Venturi, T. "The Extreme Scattering Event Toward PKS 1741-038: VLBI Images." Astrophysical Journal 534. (2000): 706.
LeBlanc, Regan; Dickson, John; Brown, Toni; Stewart, Michelle; Pati, Hari N.; VanDerveer, Don; Arman, Hadi; Harris, Jeff; Pennington, William; Holt Jr., Herman L.; Lee, Moses. "Synthesis and Cytotoxicity of Epoxide and Pyrazole Analogs of the Combretastatins." Bioorganic and Medicinal Chemistry 13, no.21 (2005): 6025. http://www.ncbi.nlm.nih.gov/pubmed/16055334.
Lederer, Graham W.; Cottle, John M.; Jessup, Micah J.; Langille, Jackie M.; Ahmad, Talat. "Timescales of partial melting in the Himalayan middle crust: insight from the Leo Pargil dome, northwest India." Contributions to Mineralogy and Petrology 166, no.5 (2013): 1415-1441. http://search.proquest.com/docview/1441486008?accountid=8388.
Lee, Jimin; Hyun, Seunggeun. "Confidence bands for the difference of two survival functions under the additive risk model." Journal of Applied Statistics 38, no.4 (2011): 785-797. doi:10.1080/02664761003692308.
Lee, Jimin; Yearout, Robert; Parsons, Donna. "Systematic Routine for Setting Confidence Levels for Mean Time to Failure (MTTF)." Industrial and Systems Engineering Review 2, no.1 (2014): 62-69.
Lett, Carly N.; DeWald, Laura E. ; Horton, Jonathan. "Mycorrhizae and soil phosphorus affect growth of Celastrus orbiculatus." Biological Invasions 13, no.10 (2011): 2339-2350. http://download.springer.com/static/pdf/98/art%253A10.1007%252Fs10530-011-0046-3.pdf?auth66=1379608675_0a96bd020050edac4f9ad1698cb335fb&ext=.pdf.
Li, Jinhua. "Chinese Feminism and Adaptation-as-Translation Readings of Letter from an Unknown Woman." CLCWeb: Comparative Literature and Culture 9, no.4 (2007).
Li, Jinhua. "Chinese Feminism and Adaptation-as-Translation Readings of Letter from an Unknown Woman." CLCWeb: Comparative Literature and Culture 9, no.4 (2007).
Li, Jinhua. "Love and Empire: The Transnational Logic of Feng Xiaogang's The Banquet." Forum for World Literature Studies 2, no.2 (2010): 206-214.
Li, Jinhua. "Review of China Engages Global Governance: A New World Order in the Making?." East Asian Integration Studies 6, no.12 (2013).
Li, Jinhua. "Review of Slaves Tell Tales." The Middle Ground Journal. (2013).
Li, Jinhua. "Meta city, Non-city, and Crime City: Remaking Hong Kong Gangster as Boston Mafia----From Infernal Affairs to The Departed." CineAction , no.93 (2014): 29-35.
Li, Y.; Love, O.; Tong, Y. J. "Small Gold Nanoparticles Synthesized with Dialkyl Ditellurides." Nano Bulletin 2, no.2 (2013).
Lisowski, Carmen E.; Duncan, Juliana R.; Heard, George L.; Setser, D. W.; Holmes, Bert E. "Unimolecular Reactions of Chemically Activated CF2BrCF2CH3 and CF2BrCF2CD3: Evidence for 1,2-FBr Interchange." Journal of Physical Chemistry A 112. (2008): 441-447.
Lisowski, Carmen E.; Duncan, Juliana R.; Ranieri, Anthony J.; Heard, George L.; Setser, D. W.; Holmes, Bert E. "Isomerization of Neopentyl Chloride and Neopentyl Bromide by a 1,2-Interchange of a Halogen Atom and a Methyl Group." Journal of Physical Chemistry A 114, no.38 (2010): 10395-10402.
Locklear, Erica Abrams. "Varying Theories: Early Native American Perceptions of Literacy." Used as a model in Irvin Peckham's Introduction to Writing at LSU. (2004).
Locklear, Erica Abrams. "Review of The King of Stink: Appalachian Ramp Festivals, Directed by Steven Provence and Sharon Ford. ." North Carolina Folklore Journal 53, no.2 (2006): 60-61.
Locklear, Erica Abrams. "Review of Whistlin' and Crowin' Women of Appalachia: Literacy Practices since College, by Katherine Kelleher Sohn." Appalachian Journal 33, no.3-4 (2006): 358-360.
Locklear, Erica Abrams. "The Stench of a Mountain Tradition: Ramp Foodways in Appalachia." North Carolina Folklore Journal 53, no.1 (2006): 4-18.
Locklear, Erica Abrams. "What Are You?': Exploring Racial Categorization in Nowhere Else on Earth." The Southern Literary Journal 39, no.1 (2006): 33-53.
Locklear, Erica Abrams. "Fragrant Memories: They'll Get Your Attention." North Carolina Folklore Journal 54, no.1 (2007): 12-17.
Locklear, Erica Abrams. "Narrating Socialization: Linda Scott DeRosier's Memoirs." Community Literacy Journal 2, no.1 (2007): 41-57.
Locklear, Erica Abrams. "Consenting to Create: The Affrilachian Movement." Crossroads: A Southern Culture Annual. (2009): 169-185.
Locklear, Erica Abrams. "Review of Vale of Humility: Plain Folk in Contemporary North Carolina Fiction, by George Hovis." Mississippi Quarterly 63, no.3-4 (2010): 733-735.
Locklear, Erica Abrams. "On Teaching Harriette Simpson Arnow." Appalachian Heritage. (2012): 53-55.
Locklear, Erica Abrams. "Review of Dear Appalachia: Readers, Identity, and Popular Fiction since 1878, by Emily Satterwhite." Journal of American Culture 35, no.4 (2012): 370-371.
Locklear, Erica Abrams. "Finding the Forsaken: Lumbee Identity in Charles Chesnutt's Mandy Oxendine." North Carolina Literary Review 22. (2013): 108-121.
Locklear, Erica Abrams. "Following a Brier's Advice." Studies in American Culture 36, no.1 (2013): 10-15.
Locklear, Erica Abrams. "Review of Appalachian Elegy: Poetry and Place, by bell hooks." Studies in American Culture 36, no.1 (2013): 172-173.
Locklear, Erica Abrams. "Mountain Fatalism in Wiley Cash's A Land More Kind than Home." Appalachian Heritage. (2014): 110-121.
Lucki, Natasha C.; Nicolay, Christopher W. "Phenotypic plasticity and functional asymmetry in response to grip forces exerted by intercollegiate tennis players." American Journal of Human Biology 19, no.4 (2007): 566-577. doi:10.1002/ajhb.20632.
Ludwig, F.; Miller, D. K.; Gallaher, S. G. "Evaluating a Hybrid Prognostic-Diagnostic Model that Improves Wind Forecast Resolution in Complex Coastal Topography." Journal of Applied Meteorology and Climatology 45. (2006): 155-177.
Maas, R. P.; Patch, S. C.; Pandolfo, T. J.; Druhan, J. L.; Gandy, N. F. "Lead Content and Exposure from Children's and Adult's Jewelry Products." Bulletin of Environmental Contamination & Toxicology 74, no.3 (2005): 437-444. doi:10.1007/s00128-005-0605-3.
Maas, Richard P.; Patch, Steven C. "Update on Research Findings and Regulatory/Legal Activities Regarding Tapwater Lead Exposure From Traditional Leaded-Brass and 'No-Lead' Type Plumbing Parts ." Journal of the New England Water Works Association 36. (2004): 99-111.
Maas, Richard P.; Patch, Steven C.; Berkowitz, J. F.; Johnson, H. D. "Determination of the Solids Retainment Effectiveness of Disposable Swim Diapers." Journal of Environmental Health 66, no.10 (2004): 16-20.
Maas, Richard P.; Patch, Steven C.; Christian, Anna-Marie; Coplan, Myron J. "Effects of fluoridation and disinfection agent combinations on lead leaching from leaded-brass parts." NeuroToxicology 28, no.5 (2007): 1023-1031.
Maas, Richard P.; Patch, Steven C.; Morgan, Diane M.; Pandolfo, Tamara J. "Reducing Lead Exposure from Drinking Water: Recent History and Current Status." Public Health Reports 120, no.3 (2005): 316-321.
Maas, Richard P.; Patch, Steven C.; Pandolfo, T. J. "Artificial Christmas Trees: How Real are the Lead Exposure Risks." Journal of Environmental Health 67, no.5 (2004): 20-24.
Maas, Richard P.; Patch, Steven C.; Pandolfo, T. J. "Phthalate Compound Inhalation and Ingestion Exposure from Synthetic Modelling Clays." Bulletin of Environmental Contamination and Toxicology 73, no.2 (2004).
Mabe, D., Khasanov, A., Stevens, J., . "A novel investigation of tin-doped ferrihydrite nanoparticles." Hyperfine Interactions 165, no.1-4 (2005): 1-4.
MacLean, Mark S. "Taut Distance-Regular Graphs of Even Diameter." Journal of Combinatorial Theory, Series B 91, no.1 (2004): 127-142.
Malicote, Sandra. "Visual and Verbal Allusion: Disputatio and the Poetics of Elie de Saint Gille and Aiol." Romania 124. (2006): 77-111.
Mammana, A.; Asakawa, T.; Bitsch-Jensen, K.; Wolfe, A. L.; Chaturantabut, S.; Otani, Y.; Li, X.; Li, Z.; Nakanishi, K.; Balaz, M.; Ellestad, G. A.; Berova, N. "Synthesis and characterization of watersoluble free-base, zinc and copper porphyrin-oligonucleotide conjugates." Biooragnic and Medicinal Chesmistry 16, no.13 (2008): 6544. doi:10.1016/j.bmc.2008.05.041.
Manheimer, Ronald. "Being Aage Rosendal Nielsen." Journal of World Education 34. (2004).
Manheimer, Ronald. "Harry R. Moody and the Emancipation of Aging." Contemporary Gerontology 10. (2004): 148-151.
Manheimer, Ronald J. "The Older Learner's Journey to an Ageless Society: Lifelong Learning on the Brink of a Crisis." Journal of Transformative Education 3, no.3 (2005): 198-220. http://jtd.sagepub.com/content/3/3/198.full.pdf+html.
Manheimer, Ronald J. "Lifelong Learning in Aging Societies." Annual Review of Gerontology & Geriatrics 28. (2008): 111-127. doi:10.1891/0198-8794.28.111.
Mann, C. E.; Himelein, M. J. "Factors Associated With Stigmatization of Persons with Mental Illness." Psychiatric Services 55. (2004): 185-187.
Mann, Caroline E.; Himelein, Melissa J. "Putting the Person Back into Psychopathology: An Intervention to Reduce Mental Illness Stigma in the Classroom." Social Psychiatry and Psychiatric Epidemiology 43. (2008): 545-551.
Martin, M. D.; Fahmy, A. M. Khasanov; Stevens, J. G. "A Mössbauer Investigation of Zirconium Distribution and Diffusin in Ball Milled Nanocrystalline Iron Powders." Hyperfine Interactions 183. (2008): 199.
Martin, Michael D.; Fahmy, Yusef; Khasanov, Airat M.; Stevens, John G. "A Mössbauer Investigation of Zirconium Distribution and Diffusin in Ball Milled Nanocrystalline Iron Powders." Hyperfine Interactions 183. (2008): 199-204.
Mathews, Leah Greden; Jones, Andrew. "Using Systems Thinking to Improve Interdisciplinary Outcomes: Reflections on a Pilot Study in Land Economics." Issues in Integrative Studies 26. (2008): 73-104.
Mathews, Leah Greden; Rex, Art; Lancaster, Anne. "Using Participatory GIS to Improve Community Land Use Decisions: A Demonstration Using TVAL-Farm." Inventive Approaches for Technology Integration and Information Resources Management. (2014): 68.
Mayes, Sarah L.; Nelms, Linda L. "Tax Consequences of Continuing-Care Retirement Community Fees." The CPA Journal 77, no.5 (2007): 44-46. http://search.proquest.com/docview/212314675?accountid=8388.
Mayes, Sarah L.; Nelms, Linda L. "Financial Planning for Clients Considering a Continuing Care Retirement Community." Journal of Financial Planning 21. (2008): 49-55.
Mayes, Sarah L.; Nelms, Linda; Doll, Betty. "The Interface Between Continuing-Care and Retirement Communities and Long-Term Care Insurance." Journal of Financial Planning 25, no.5 (2012): 54-60.
McCann, Dawn. "A Can of Worms." Headwaters. (2005).
McClintock, C. E.; Smith, K. C.; Heard, G. L.; Setser, D. W.; Holmes, B. E. "Effects of CF3 and CH3 Groups on the Threshold Energy for the Unimolecular Interchange Reaction of Cl- and F-Atoms in CF3CHFCH2Cl and CH3CHFCH2Cl." Journal of Physical Chemistry A 118, no.16 (2014): 2886-2896. doi:10.1021/jp412299p.
McCoy, T.; Yearout, Robert; Patch, Steven. "Misrepresenting Quality Data Through Incorrect Statistical Applications - A Statistical Quality Control (SQC) Case Study." International Journal of Industrial Engineering 11, no.1 (2004): 66-73.
McDougal, E. E.; Holmes, B. E. "Recent Trends in Chemistry Instrumentation Requests by Undergraduate Institutions to NSF's RUI Program." Journal of Chemical Education 89, no.1 (2012): 4-6. doi:10.1021/ed200681j.
McGlinn, Jeanne. "A Case Study of Teaching a Video-Conference Course in Education." Society for Information Technology and Teacher Education International Conference Proceedings 1. (2004): 3931-3934.
McGlinn, Jeanne. "Experiencing Bullying through YA Fiction: Impact on Pre-Service Teachers." Language Experience Forum Journal 44, no.1 (2014): 11-18. http://www.southeastern.edu/acad_research/depts/teach_lrn/Journal.pdf.
McGlinn, Jeanne; McGlinn, Meghan. "Opening their Eyes: Picture Books in the Social Studies Classroom." The Dragon Lode 22, no.2 (2004): 20-28.
McGlinn, Meghan; McGlinn, James. "The Effects of WebQuests in the Social Studies Classroom: A Review of Research." Society for Information Technology and Teacher Education International Conference Proceedings 1. (2004): 4833-4839.
McKenzie, Claudel B.; Nelms, Linda L. "Leveraging the Internship: Integrating Theory with Experience." Reaching Through Teaching 18. (2006): 39-47. http://www.kennesaw.edu/cetl/publications/rtt/RTT18,1.pdf.
Meigs, Thomas E., Juhi Juneja, C. Todd DeMarco, Laura N. Stemmle, Daniel D.Kaplan and Patrick J.Casey. "Selective Uncoupling of Gα12from Rho-mediated Signaling." The Journal of Biological Chemistry 280, no.18 (2005): 18049-18055. http://www.jbc.org/content/280/18/18049.full.
Meigs, Thomas E.; Kaplan, Daniel D. "Isolation of centrosomes from cultured mammalian cells." Cold Spring Harbor Protocols. (2008).
Mensah-Biney, R., Carpenter, L. A., Miller, J. W., Reid, J.C. "Suitability of Pinehurst Formation as a Glass Sand, Richmond County, North Carolina." North Carolina Geological Survey Information Circular 33. (2005): 1-29. http://digital.ncdcr.gov/cdm/compoundobject/collection/p249901coll22/id/23011/rec/6.
Michal Jan Rozbicki, Ellen Pearson. "Culture and Liberty in the Age of the American Revolution." Historian 2012, no.10/21/2012 (2012), Wiley Online Library.
Michel, William; Ruiz, Michael J. "The fourth harmonic and Sibelius." Physics Education 49, no.2 (2014): 149.
Miller, Douglas K. "Near-Term Effects of the Lower Atmosphere in Simulated Northwest Flow Snowfall Forced over the Southern Appalachians." Weather and Forecasting 27, no.5 (2012): 1198-1216.
Miller, J. William; Callahan, John E.; Craig, James R.; Whatley, Katherine M. "'Ruling Theories Linger': Questioning the Identity of the Beaufort Inlet Shipwreck: A Discussion." International Journal of Nautical Archaeology 34, no.2 (2005): 339-341. doi:10.1111/j.1095-9270.2005.00067.x.
Miller, J. William; Dlugoleck, Liaura B.; Moorhead, Kevin K. "Path of the Nantahala River, Western North Carolina." Southeastern Geology 46. (2008): 37-42.
Mills, R.; Booker, R.; Lu, Y. "Soft X-ray continuum radiation from low-energy pinch discharges of hydrogen." Journal of Plasma Physics 79, no.05 (2013): 489-507.
Moffitt, David M.; Butera, C. J. "P.Duk. inv. 727r: New Evidence for the Meaning and Provenance of the Word Προσηλυτος." Journal of Biblical Literature 132, no.1 (2013): 159-178.
Molina, J.; Bader, R. F. W.; Heard, G. L. "Recognizing a triple bond between main group atoms." Theoretical Chemistry Accounts 105, no.4-5 (2001): 365.
Montgomery, E. R.; Temple, B. R.; Peters, K. A.; Tolbert, C. E.; Booker, B. K.; Martin, J. W.; Hamilton, T. P.; Tagliatela, A. C.; Smolski, W. C.; Rogers, S. L.; Jones, A. M.; Meigs, T. E. "Gα12 structural determinants of Hsp90 interaction are necessary for serum response element-mediated transcriptional activation." Molecular Pharmacology 85, no.4 (2014): 586-597. doi:10.1124/mol.113.088443.
Moseley, Merritt. "Henry James and Novelistic Impersonation." The Sewanee Review 113, no.2 (2005): 298-308. doi:http://www.jstor.org/stable/27549669.
Moseley, Merritt. "The Booker Prizes for 2004 and 2005." The Sewanee Review 114. (2006): 149-166.
Moseley, Merritt. "Pounds, Shillings, and Pence: Currency Values and Reading English Literature, 1750-1998." PostScript: The Publication of the Philological Association of the Carolinas 25. (2008): 80-96.
Moseley, Merritt. "The Complex Fate of Being a Southerner (Review of Long Time Leaving: Dispatches from Up South by Roy Blount, Jr.)." The Sewanee Review 116. (2008): xxxi-xxxii.
Moseley, Merritt. "Tidy and Untidy Novels: The Booker Prizes 2006-2007." The Sewanee Review 116. (2008): 289-303.
Moseley, Merritt. "Coetzee examines his own life from outsiders' perspective (Review of J. M. Coetzee, Summertime)." The Denver Post. (2009), http://www.denverpost.com/ci_13971817?IADID=Search-www.denverpost.com-www.denverpost.com.
Moseley, Merritt. "Doctorow clutters New York recluses' tale. (Review of E. L. Doctorow, Homer & Langley)." The Denver Post. (2009), http://www.denverpost.com/ci_13217919?IADID=Search-www.denverpost.com-www.denverpost.com.
Moseley, Merritt. "Internet drives fan's obsession in 'Juliet, Naked.'" (Review of Nick Hornby, Juliet, Naked)." The Denver Post. (2009), http://www.denverpost.com/ci_13671603?IADID=Search-www.denverpost.com-www.denverpost.com.
Moseley, Merritt. "Nick Hornby, Book Critic." Sewanee Review 117, no.3 (2009): lii-liv.
Moseley, Merritt. "Rejoicing with Fellow Book-Lovers. (Review of Nick Hornby, Shakespeare Wrote for Money)." The Denver Post. (2009), http://www.denverpost.com/ci_12213485?IADID=Search-www.denverpost.com-www.denverpost.com.
Moseley, Merritt. "Dickens the Inimitable." The Sewanee Review 118. (2010): 443-449.
Moseley, Merritt. "Margins of Fact and Fiction: The Booker Prize 2009." The Sewanee Review 118. (2010): 429-435.
Moseley, Merritt. "Ordinary Novels." The Sewanee Review 118. (2010): 154-160.
Moseley, Merritt. "J. G. Farrell's "Troubles."." Sewanee Review 119, no.3 (2011): 489-493.
Moseley, Merritt. "The Man Booker Prize for 2010." Sewanee Review 119, no.3 (2011): 505-515.
Moseley, Merritt. "The Man Booker Prize for 2011." The Sewanee Review 120, no.2 (2012): 341-347.
Moseley, Merritt. "Two Curious Instances in the History of Self-Publishing." Sewanee Review 120, no.4 (2012): 615-622.
Moseley, Merritt. "East-West in Academic Fiction: An Unequal Exchange?." East-West Cultural Passages 14, no.1 (2014): 57-76.
Moseley, Merritt. "Fairness and Reciprocity." Sewanee Review 122, no.3 (2014): 506-514. doi:10.1353/sew.2014.0088.
Moseley, Merritt. "Booker Prize 2014." Sewanee Review 123, no.2 (2015): 286-294. doi:10.1353/sew.2015.0038 .
Mukherjee, P.; Dennison, B.; Ratra, B.; Simonetti, J. H.; Ganga, K.; Hamilton, J. C. "Galactic Foregrounds in OVRO and UCSB South Pole 1994 Cosmic Microwave Background Anisotropy Data." Astrophysical Journal 579. (2002): 83.
Myers, Shirley Shultz; Fernandes, Jane K. "Deaf Studies: A Critique of the Predominant U.S. Theoretical Direction." Journal of Deaf Studies and Deaf Education 15, no.1 (2010): 30-49. http://jdsde.oxfordjournals.org/content/15/1/30.full.pdf.
Nagle, J. P.; Van Jahnkel, J.; Miller, J. W. "Evaluation and production of a North Carolina Piedmont clay deposit, Montgomery County, North Carolina." North Carolina Geological Survey Information Circular 34. (2006): 66-77.
Nath, A. "A Physical Approach to Monitoring Biological Activity of Nanoparticulates." New and Future Developments in Catalysis: Catalysis by Nanoparticles. (2013): 175-188.
Nath, A.; Venkaterswarlu, K. S.; Shankar, J. "Kinetics of Isothermal Annealing of Radiation Damage in Szilard-Chalmers Reaction with Cobalt Complexes. Tris-acetylacetone Cobalt (III)." Proc. Indian Acad. Sciences 46. (1957): 29.
Neelon, Michael F.; Williams, Justin; Garell, P. Charles. "The effects of attentional load on ERPs recorded from human cortex." Brain Research 1118, no.1 (2006): 94-105.
Nelms, Linda; Mayes, Sarah L.; Doll, Betty. "The Interface Between Continuing-Care and Retirement Communities and Long-Term Care Insurance." Journal of Financial Planning 25, no.5 (2012): 54-60.
Nickless, Pamela. "A Common Thread: Labor, Politics, and Capital Mobility in the Textile Industry." Journal of American History 94, no.2 (2007): 594-594.
Nickless, Pamela. "Review of Capital Intentions: Female Proprietors in San Francisco, 1850-1920 by Edith Sparks." EH.NET. (2007), http://eh.net/book_reviews/capital-intentions-female-proprietors-san-francisco-1850-1920.
Nicolay, Chris W.; Vaders, M. J. "Cranial suture complexity in white-tailed deer (Odocoileus virginianus)." Journal of Morphology 267, no.7 (2006): 841-849.
Nicolay, Christopher W.; Kenney, Jessica L.; Lucki, Natasha C. "Grip strength and endurance throughout the menstrual cycle in eumenorrheic and women using oral contraceptives." International Journal of Industrial Ergonomics 37, no.4 (2006): 291-301.
Nicolay, Christopher W.; Walker, Anna L., . "Grip strength and endurance: Influences of anthropometric variation, hand dominance, and gender." ERGON International Journal of Industrial Ergonomics 35, no.7 (2005): 605-618.
Novicevic, Milorad M.; Clayton, Russell W.; Williams, Wallace A. "Barnard's model of decision making: a historical predecessor of image theory." Journal of Management History 17, no.4 (2011): 420-434. http://search.proquest.com/docview/895357584?accountid=8388.
Odbadrakh, Khorgolkhuu; McNutt, Nichiolas William; Nicholson, Donald M.; Rios, Orlando; Keffer, David J. "Lithium diffusion at Si-C interfaces in silicon-graphene composites." Applied Physics Letters 105, no.5 (2014): 053906.
Ojha, Madhusuda; Nicholson , Don M.; Egami, Takeshi. "Ab-initio atomic level stresses in Cu-Zr systems." Bulletin of the American Physical Society. (2014).
Pankiewicz, Stephanie; Laws, Richard, . "On Board for Change - Community design centers provide opportunities for landscape architects." Landscape Architecture 99, no.9 (2009): 110.
Parsons, Donna B.; Mills, A. J. "I've got a Gal in Kalamazoo: Rotary International, change and the outsourcing of gender." Scandinavian Journal of Management 28, no.4 (2012): 311-320.
Parsons, Donna Boone; Sanderson, Kathy ; Mills, Jean Helms; Mills, Albert J. "Organizational logic and feminist organizing: stewardesses for women's rights." Equality, Diversity and Inclusion: An International Journal 31, no.3 (2012): 266-277.
Parsons, Donna Boone; Sanderson, Kathy; Mills, Jean Helms; Mills, Albert J. "Organizational Logic and Feminist Organizing: Stewardesses for women's rights." Equality, Diversity and Inclusion: An International Journal 31, no.3 (2012): 266-277.
Parworth, Caroline L.; Tucker, Mary K.; Holmes, Bert E.; Heard, George L. "QTAIM analysis of the 1,2-HF, HCl, HBr and HOH elimination reactions of halohydrocarbons and halohydroalcohols." Journal of Physical Chemistry A 115, no.45 (2011): 13133-13138. http://www.ncbi.nlm.nih.gov/pubmed/21967599;.
Patch, Steven C.; Ullman, Margaret C.; Maas, Richard P.; Jetter, James J. "A pilot simulation study of arsenic tracked from CCA-treated decks onto carpets." Science of The Total Environment 407, no.22 (2009): 5818-5824. doi:http://dx.doi.org/10.1016/j.scitotenv.2009.07.022.
Patch, Steven; Scheip, Katherine; Brooks, Billy. "Effect of Chromated Copper Arsenate Structures on Adjacent Soil Arsenic Concentrations." Bulletin of Environmental Contamination & Toxicology 86, no.6 (2011): 662-665. doi:10.1007/s00128-011-0270-7.
Pati, Hari; Holt Jr., Herman L.; LeBlanc, Regan; Dickson, John; Stewart, Michelle; Brown, Toni; Lee, Moses. "Synthesis and Cytotoxic Properties of Nitro- and Aminochalcones." Medicinal Chemistry Research 14, no.1 (2005): 19. http://link.springer.com/article/10.1007%2Fs00044-004-0122-7.
Pati, Hari; Wicks, Martha; Holt Jr., Herman L.; LeBlanc, Regan; Weisbruch, Paul; Forrest, Lori; Lee, Moses. "Synthesis and Biological Evaluation of cis-Combretastatin Analogs and their Novel 1,2,3-Triazole Derivatives." Heterocyclic Communications 11, no.2 (2005): 117. http://www.degruyter.com/view/j/hc.2005.11.2/hc.2005.11.2.117/hc.2005.11.2.117.xml?format=INT.
Payne, Rodger. "Review of Religion and the Making of Nat Turner's Virginia: Baptist Community and Conflict, by Randolph Ferguson Scully." Journal of American History 96. (2010): 1176.
Pearson, Ellen H. "Review of Culture and Liberty in the Age of the American Revolution by Michal Jan Rozbicki." Historian 72, no.4 (2012): 370-371.
Pearson, Ellen Holmes. "Their Magistrates and Officials: Executive Government in Colonial Maryland, 1715-1775." Journal of Southern History 78, no.3 (2012): 689-691.
Pearson, Ellen Holmes. "Neither Here nor There." Roads Taken: The Professorial Life, Scholarship in Place, and the Public Good. (2014): 174.
Perry-Hill, Rebecca; Prokopy, Linda. "Improving Environmental Management on Small-scale Farms: Perspectives of Extension Educators and Horse Farm Operators." Environmental Management. (2014): 1-12.
Petranka, J. W., Smith, C.K., . "A functional analysis of streamside habitat use by southern Appalachian salamanders: Implications for riparian forest management." Forest Ecology and Management 210, no.1-3 (2005): 443-454.
Petranka, James W.; Francis, Robert A. "Effects of Road Salts on Seasonal Wetlands: Poor Prey Performance May Compromise Growth of Predatory Salamanders." Wetlands 33, no.4 (2013): 707-715.
Petranka, James W.; Harp, Elizabeth M.; Holbrook, C. Tate; Hamel, Jennifer A. "Long-term persistence of amphibian populations in a restored wetland complex." Biological Conservation 138, no.3/4 (2007): 371-380.
Petranka, James W.; Holbrook, C. T. "Wetland Restoration for Amphibians: Should Local Sites Be Designed to Support Metapopulations or Patchy Populations?." Restoration Ecology 14. (2006): 404-411.
Petranka, James W.; Smith, C. K.; Scott, A. F. "Identifying the Minimal Demographic Unit for Monitoring Pond-Breeding Amphibians." Ecological Applications 14. (2004): 1065-1078. http://www.jstor.org/stable/4493605.
Petranka, James, . "Evolution of complex life cycles of amphibians: bridging the gap between metapopulation dynamics and life history evolution." Evolutionary Ecology 21, no.6 (2007): 751-764.
Phelps, Randy; Holmes, Bert F. "Recent Trends in Chemistry Instrumentation Requests by Undergraduate Institutions to NSF's Major Research Instrumentation Program." Journal of Chemical Education 88, no.2 (2011): 136-138. doi:10.1021/ed101113t.
Picotte, Joshua J.; Rhode, Jennifer M.; Cruzan, Mitchell B. "Leaf morphological responses to variation in water availability for plants in the Piriqueta caroliniana complex." Plant Ecology 200, no.2 (2008): 267-275. doi:10.1007/s11258-008-9451-9.
Picotte, Joshua J.; Rosenthal, David M.; Rhode, Jennifer M.; Cruzan, Mitchell B. "Plastic responses to temporal variation in moisture availability: consequences for water use efficiency and plant performance." Oecologia 153, no.4 (2007): 821-832. doi:10.1007/s00442-007-0794-z.
Picotte, Joshua; Rhode, Jennifer; Cruzan, Mitchell. "Leaf morphological responses to variation in water availability for plants in the Piriqueta caroliniana complex." Plant Ecology 200, no.2 (2009): 267-275. doi:10.1007/s11258-008-9451-9.
Pierce, Dan. "Bib Overalls and Bad Teeth: The Southern Piedmont Working-Class Roots of NASCAR." Atlanta History: A Journal of Georgia and the South 46, no.2 (2004): 26-41.
Pierce, Daniel S. "Review of Spirits of Just Men: Mountaineers, Liquor Bosses, and Lawmen in the Moonshine Capital of the World By Charles D. Thompson Jr." Historian 74, no.3 (2012): 590-591. doi:10.1111/j.1540-6563.2012.00328_30.x.
Pierce, Daniel S.; Jackson III, Harvey H. "NASCAR vs. Football: Which Sport is More Important to the South?." Southern Cultures 18, no.4 (2012): 26-42. doi:10.1353/scu.2012.0034.
Polzer-Debruyne, A.; Stratton, M. T.; Stark, G. "Investigating Personal Web Usage in the workplace: Why does it persist in a context of strict security and monitoring?." International Journal of Business Administration 5, no.3 (2014): 1.
Polzer-Debruyne, Andrea M.; Stratton, Micheal T.; Stark, Gary. "Personal Web Use in the Workplace: Why Does It Persist in a Context of Strict Security and Monitoring?." 5, no.3 (2014).
Pomerantz, B. B.; Redmond, K.; Strelnitski, V. "Non-equilibrium populations of hydrogen in high-redshift galaxies." Monthly Notices of the Royal Astronomical Society 441, no.3 (2014): 2546-2554.
Purewal, Semmy. "Introductory programming concepts with Processing. js." Journal of Computing Sciences in Colleges 29, no.2 (2013): 199-202.
Purewal, Semmy; Brown, David. "Using JavaScript to introduce social network programming." Journal of Computing Sciences in Colleges 29, no.2 (2013): 212-219.
Quesenberry, K. A.; Coolsen, M. K.; Wilkerson, K. "IMC and the Effies: Use of integrated marketing communication touchpoints among Effie award winners." International Journal of Integrated Marketing Communications. (2012): 60.
Quesenberry, K. A.; Coolsen, M. K.; Wilkerson, K. "Current Trends In Communication Graduate Degrees: Survey of Communications, Advertising, PR and IMC Master's Degree Programs." Journalism and Mass Communications Educator. (2014).
Reilly, J. K.; Lanou, A. J.; Barnard, N. D.; Seidl, K. M.; Green, A. A. "Acceptability of soymilk as a calcium-rich beverage in elementary school children." Journal of the American Dietetic Association 106, no.4 (2006): 590-593.
Rex, Art; Mathews, Leah; Lancaster, Anne. "TVAL-Farm: A Qualitative Enhancement of the LESA Model." International Journal of Applied Geospatial Research 3, no.8 (2012): 58-69.
Reynolds, Barbara. "Imidacloprid Movement in Soils and Impacts on Soil Microarthropods in Southern Appalachian Eastern Hemlock Stands." Journal of Environmental Quality 41, no.2 (2012): 469-478.
Reynolds, Barbara C.; Hamel, Jennifer; Isbanioly, Jason; Klausman, Leonardo; Moorhead, Kevin K. "From forest to fen: Microarthropod abundance and litter decomposition in a southern Appalachian floodplain/fen complex." Pedobiologia 51, no.4 (2007): 273-280. doi:10.1016/j.pedobi.2007.04.006.
Reynolds, Barbara C.; Schowalter, Timothy D.; Crossley Jr, DA. "Watershed Clearcutting and Canopy Arthropods." Long-Term Response of a Forest Watershed Ecosystem: Clearcutting in the Southern Appalachians. (2014): 146.
Richards, R. K.; Bennett, C. A.; Fletcher, L. K.; Hunter, H. T.; Hutchinson, D. P. "CO2 Laser Thomson Scattering Diagnostic for Fusion Product Alpha Particle Measurement." Review of Scientific Instruments 59. (1988): 1556. doi:10.1063/1.1140195.
Richards, R. K.; Hutchinson, D. P.; Bennett, C. A.; Hunter, H. T.; Ma, C. H. "Measurement of CO2 Laser Small Angle Thomson Scattering on a Magnetically Confined Plasma." Applied Physics Letters 62, no.1 (1993): 28.
Ritchie, Benjamin J.; Smolski, William C.; Montgomery, Ellyn R.; Fisher, Elizabeth S.; Choi, Tina Y.; Olson, Calla M.; Foster, Lori A.; Meigs, Thomas E. "Determinants at the N- and C-termini of Gα12 required for activation of Rho-mediated signaling." Journal of Molecular Signaling 8, no.1 (2013): 1-14. doi:10.1186/1750-2187-8-3.
Rizzo, Tracey. "Between Dishonor and Death: Infanticides in the Causes Célèbres of Eighteenth-Century France." Women's History Review 13, no.1 (2004): 5-22. http://www.tandfonline.com/doi/abs/10.1080/09612020400200380#.Un0ryvmsiSo.
Roberts, S., Nelms, L., and Yearout, R. "Cycle Time: An Inexpensive Computer Aided Simulation Pedagogy." Advances in Industrial Engineering Theory, Applications, and Practices. (2005): 208-213.
Roberts, S., Nelms, L., and Yearout, R. "NAFTA: The Impacts of Relocation Cost (A Case Study)." Advances in Industrial Engineering Theory, Applications, and Practices. (2005): 669-674.
Rock, T.; Heafner, T.; Oldendorf, S.; Passe, J.; O'Connor, K.; Good, A.; Byrd, S. "One state closer to a national crisis: A report on elementary social studies in North Carolina schools." Theory and Research in Social Education 34, no.4 (2006): 455-483.
Rossell Jr, C. Reed; Arico, Scott; Clarke, H. David; Horton, Jonathan L.; Ward, Jennifer Rhode; Patch, Steven C. "Forage Selection of Native and Nonnative Woody Plants by Beaver in a Rare-Shrub Community in the Appalachian Mountains of North Carolina." Southeastern Naturalist 13, no.4 (2014): 649-662.
Rossell Jr, C. Reed; McNeal, Paige; Gillette, David P.; Williams, Lori A.; Patch, Steven C.; Krebs, Alex G. "Attributes of Shelters Selected by Eastern Hellbenders (Cryptobranchus a. alleganiensis) in the French Broad River Basin of North Carolina." Journal of Herpetology 47, no.1 (2013): 66-70.
Rossell Jr., C. Reed; Patch, Steven; Salmons, Susan. "Effects of Deer Browsing on Native and Non-native Vegetation in a Mixed Oak-Beech Forest on the Atlantic Coastal Plain." Northeastern Naturalist 14, no.1 (2007): 61-72. doi:http://www.jstor.org/stable/4499896.
Rossell Jr., C. Reed; Rossell, Irene M.; Patch, Steven C. "Microhabitat selection by eastern box turtles (Terrapene c. carolina) in a North Carolina mountain wetland ." Journal of Herpetology 40. (2006): 280-284.
Rossell, C. R., Gorsira, B., Patch, S., . "Effects of white-tailed deer on vegetation structure and woody seedling composition in three forest types on the Piedmont Plateau." Forest Ecology and Management 210, no.1-3 (2005): 415-424.
Rossell, C. R., J. Hicks, L. A. Williams, Steven C.Patch. "Attributes of Rock Crevices Selected by Green Salamanders, Aneides aeneus, on the Blue Ridge Escarpment." Herpetological Review 40, no.2 (2009): 151-153.
Rossell, C. Reed; Selm, Kathryn; Clarke, H. David; Horton, Jonathan L.; Ward, Jennifer Rhode; Patch, Steven C. "Impacts of Beaver Foraging on the Federally Threatened Virginia Spiraea (Spiraea virginiana) along the Cheoah River, NC." Southeastern Naturalist 12, no.2 (2013): 439-447.
RosselL, Irene M.; Losure, David A. "The Habitat and Plant Associates of Eriocaulon decangulare L. in Three Southern Appalachian Wetlands." Southern Appalachian Botanical Society 70, no.2 (2005): 129-135. http://www.jstor.org/stable/4034280.
Rossell, Irene M.; Moorhead, Kevin K.; Alvarado, Huma; Warren, Robert J. "Succession of a Southern Appalachian Mountain Wetland Six Years following Hydrologic and Microtopographic Restoration." Restoration Ecology 17, no.2 (2009): 205-214. doi:10.1111/j.1526-100X.2008.00372.x.
Rossell, Jr., C. Reed; Arico, Scott; Clarke, H. David; Horton, Jonathan L.; Ward, Jennifer Rhode; Patch, Steven C. "Forage selection of native and nonnative woody plants by beaver in a rare-shrub community in the Appalachian Mountains of North Carolina." Southeastern Naturalist 13, no.4 (2014): 649-662. doi:10.1656/058.013.0415.
Rote, Aubrianne E.; Klos, Lori A.; Brondino, Michael J.; Harley, Amy E.; Swartz, Ann M. "The Efficacy of a Walking Intervention Using Social Media to Increase Physical Activity: A Randomized Trial." Journal of Physical Activity and Health 12, no.Supplement (June) (2015): S18-S25. http://dx.doi.org/10.1123/jpah.2014-0279.
Rote, Aubrianne E.; Klos, Lori A.; Brondino, Michael J.; Harley, Amy E.; Swartz, Ann M. "The Efficacy of a Walking Intervention Using Social Media to Increase Physical Activity: A Randomized Trial." Journal of Physical Activity and Health 12, no.Supplement (June) (2015): S18-S25. http://dx.doi.org/10.1123/jpah.2014-0279.
Rothermel, Betsie B.; Walls, Susan C.; Mitchell, Joseph C.; Dodd Jr., C. Kenneth; Irwin, Lisa K.; Green, David E.; Vazquez, Victoria M.; Petranka, James W.; Stevenson, Dirk J. "Widespread occurrence of the amphibian chytrid fungus (Batrachochytrium dendrobatidis) in the southeastern United States." Diseases of Aquatic Organisms 82. (2008): 3-18.
Roxstrom, Erik; Gibney, Mark; Einarsen, Terje. "The NATO Bombing Case and the Limits of Western Human Rights Protection." Boston University International Law Journal 23. (2005): 55-136. http://www.lexisnexis.com/hottopics/lnacademic/?verb=sr&csi=146212.
Ruffin, Tiece. "Reading Strategies:Adaptations to Meet the Needs of Secondary English-language Learners with Learning Disabilities." The Reading Matrix 9, no.1 (2009): 22-30.
Ruffin, Tiece. "Assistive Technologies for Reading." The Reading Matrix 12, no.1 (2012): 98-101.
Ruiz, Michael. "Nonstrange Hyperfine Splitting in the Relativistic Harmonic-Oscillator Quark Model." Physical Review D 30. (1984): 683.
Ruiz, Michael. "Fine Structure of Quarkonium in the Covariant Harmonic-Oscillator Quark Model." Physical Review D 33. (1986): 1640.
Ruiz, Michael. "The Human Body's Response to Glucose and Three Physical Models." American Journal of Physics 55. (1987): 641.
Ruiz, Michael J. "Kepler's Third Law Without a Calculator." The Physics Teacher 42. (2004): 530-533.
Ruiz, Michael J. "Car hits boy on bicycle." Physics Education 40, no.6 (2005): 556-561. doi:10.1088/0031-9120/40/6/008.
Ruiz, Michael J. "Don't look at the Sun: imparting the dangers of solar observation." Physics Education 40, no.5 (2005): 411-412.
Ruiz, Michael J. "Prescribing Eyeglasses for Myopia and Hyperopia." Physics Teacher 43, no.2 (2005): 88-89. doi:10.1119/1.1855743.
Ruiz, Michael J. "Aliens or the SR-71 Blackbird?." The Physics Teacher 44. (2006): 229-231.
Ruiz, Michael J. "Lenz's Law Magic Trick." The Physics Teacher 44. (2006): 96-98.
Ruiz, Michael J. "A Black Hole in Our Galactic Center." The Physics Teacher 46. (2008): 10-12.
Ruiz, Michael J. "Kinematic Measurements from YouTube Videos." Physics Teacher 47, no.4 (2009): 200-203.
Ruiz, Michael J. "Boomwhackers and End-Pipe Corrections." The Physics Teacher 52, no.2 (2014): 73-75.
Ruiz, Michael J.; Abee, Jeremy. "Doppler Football." The Physics Teacher 44. (2006): 440-442.
Ruiz, Michael J.; Flynt, Haima. "Making a Room-Sized Camera Obscura." Physics Education 50, no.19 (2015): 22. http://iopscience.iop.org/article/10.1088/0031-9120/50/1/19.
Ruiz, Michael; Robnison, T. L. "Illusions With Plane Mirrors." The Physics Teacher 25. (1987): 206.
Rundquist, Leisa. "Little Ways: Girlhood according to Henry Darger." Southeastern College Art Conference Review 15, no.4 (2009): 434-447.
Rundquist, Leisa. "Henry Darger Room Collection Helps Advance Scholarly Research." The Outsider 15, no.1 (2010): 22-23.
Rundquist, Leisa. "Small but Mighty: How 'Littleness' takes on Epic Proportions in the Art of Henry Darger." The Outsider 15, no.1 (2010): 18-21.
Rundquist, Leisa. "Darger's Resources." Journal of American Studies 47, no.1 (2013).
Rundquist, Leisa. "Michael Moon, Darger's Resources." Journal of American Studies 47, no.01 (2013): E16.
Rundquist, Leisa. "Reviews." Journal of American Studies 47, no.1 (2013): n/a. http://search.proquest.com/docview/1291893546?accountid=8388.
Rundquist, Leisa. "Vivam! The Divine Intersexuality of Henry Darger's Vivian Girl." Elsewhere: The International Journal of Self-Taught and Outsider Art , no.2 (2014): 24.
Ruppert, Nancy. "Service learning develops teaching dispositions." The Journal of Higher Education Outreach and Engagement 9, no.2 (2004): 77-89. http://openjournals.libs.uga.edu/index.php/jheoe/article/view/656/510.
Ruppert, Nancy. "Making Math Hands-on with Projects." Middle Ground 16, no.4 (2013): 29-30. http://search.proquest.com/docview/1350284614?accountid=8388.
Ruprich, Jennifer; Prout, Andrew; Dickson, John; Younglove, Brent; Nolan, Lawrence; Baxi, Kyati; LeBlanc, Regan; Forrest, Lori; Hills, Patrice; Holt Jr., Herman; Mackay, Hilary; Brown, Toni; Mooberry, Susan L.; Lee, Moses. "Design, synthesis and biological testing of cyclohexenone derivatives of combretastatin-A4." Letters in Drug Design & Discovery 4, no.2 (2007): 144. doi:10.2174/157018007779422442.
Russell, Lorena. "Review of Engaging the Online Learner: Activities and Resources for Active Instruction, by Rita Marie Conrad and J. Ana Donaldson." Effective Teaching: The Carolina Colloquy's Electronic Journal of University Teaching and Learning. (2004).
Russell, Lorena. "Hope and Despair in The English Patient." Postscripts: The Publication of the Philological Society of the Carolinas 22, no.4 (2005): 29-41. http://www2.unca.edu/postscript/postscript22/ps22.4.pdf.
Russell, Lorena. "Queer Gothic and Heterosexual Panic in the Ass-End of Space." Gothic Studies 7, no.2 (2005): 143-157.
Russell, Lorena. "Aesthetes, Ogees and 'The Lady': Queer Complications in The Line of Beauty." Postscripts 23. (2006): 169-192.
Sadowsky, Cristina L.; Hammond, Edward R.; Strohl, Adam B.; Commean, Paul K.; Eby, Sarah A.; Damiano, Diane L.; Wingert, Jason R.; Bae, Kyongtae T.; McDonald III, John W. "Lower extremity functional electrical stimulation cycling promotes physical and functional recovery in chronic spinal cord injury." The journal of spinal cord medicine 36, no.6 (2013): 623-631.
Salgado, J. F.; Altschuler, D. R.; Ghosh, T.; Dennison, B.; Mitchell, K. J.; Payne, H. E. "A Fourteen-Year Monitoring Program Monitoring the Flux Densities of 33 Radio Sources at Low Frequencies." Astrophysical Journal (Supplement) 120. (1999): 77.
Schaffer, Bryan S. "Review of Assessing for Learning: Building a Sustainable Commitment Across the Institution, by Peggy L. Maki." Effective Teaching: The Carolina Colloquy's Electronic Journal of University Teaching and Learning. (2004).
Schaffer, Bryan S. "The Nature of Goal Congruence in Organizations." SuperVision 68, no.8 (2007): 13-17. http://search.proquest.com/docview/195605903?accountid=8388.
Schaffer, Bryan S. "Leadership and Motivation." Supervision 69, no.2 (2008): 6-9.
Schaffer, Bryan S. "The Role of Cultural Value Dimensions in Relational Demography." International Journal of Management Studies 15, no.1 (2008): 103-123.
Schaffer, Bryan S.; Park, K. "Effectiveness of a Healthy Work Organization Intervention: Racial Group Differences." Journal of Occupational and Environmental Medicine 46, no.7 (2004): 623-634.
Schaffer, Bryan S.; Riordan, Christine M. "The Role of Work Group Status as a Contextual Variable in Relational Demography Research." The Journal of Business Diversity 11, no.1 (2011): 19-32. http://search.proquest.com/docview/1115585067?accountid=8388.
Schaffer, Bryan S.; Riordan, Christine M. "Relational Demography in Supervisor-Subordinate Dyads: An Examination of Discrimination and Exclusionary Treatment." Canadian Journal of Administrative Sciences / Revue Canadienne des Sciences de l'Administration 30, no.1 (2013): 3-17. doi:10.1002/cjas.1237.
Schleicher, L. S.; Miller, J. William; Watkins-Kenney, Sarah; Carnes-McNaughton, Linda F.; Wilde-Ramsing, Mark U. "Non-destructive chemical characterization of ceramic sherds from Shipwreck 31CR314 and Brunswick Town, North Carolina." Journal of Archaeological Research 35. (2008): 2824-2838.
Schriefer, Susan P., David J. Turbow, Steven C. Patch, Suzanne E.Landis. "Effects of a Computerized Body Mass Indicator Prompt on Diagnosis and Treatment of Adult Obesity." Family Medicine 41, no.7 (2009): 502-507. http://www.stfm.org/fmhub/fm2009/July/Susan502.pdf.
Schrodt, L. A.; Garbe, K. C.; Shubert, T. E. "Trained Community Providers Conduct Fall Risk Screenings With Fidelity: An Effective Model for Expanding Reach." Health Promotion Practice 15, no.4 (2014): 599-607.
Schuman, Sam. "Profit, Productivity, and Honors." Journal of the National Collegiate Honors Council 15, no.1 (2014): 41.
Schuman, Samuel. "Chaucer, Mountain Hiking, and Honors Program Leadership." Journal of the National Collegiate Honors Council 7, no.2 (2006): 25-27.
Schuman, Samuel. "Review of Wholly Spirit: Searching for a Plausible God by C. Grey Austin." Honors in Practice 4. (2008): 183-184.
Schuman, Samuel. "Ending in Honors." Honors in Practicev 5, no.9 (2009): 19-26.
Schuman, Samuel. "'Which is Sebastian?' What's in a Nabokovian and Shakespearean Name?." Nabokov Online Journal. (2010).
Scott, M. A.; Hitch, W. J.; Wilson, C. G.; Lugo, A. M. "Billing for Pharmacists' Cognitive Services in Physicians' Offices: multiple methods of reimbursement." Journal of the American Pharmacists Association 52, no.2 (2012): 175-180.
Searels, James Matthew; Keen, Karissa D.; Horton, Jonathan L.; Clarke, H. David; Ward, Jennifer Rhode. "Comparing Ginsenoside Production in Leaves and Roots of Wild American Ginseng (Panax quinquefolius)." American Journal of Plant Sciences 4. (2013): 1252.
Shepherd, G.; Mohorn, P.; Yacoub, K.; May, DW. "Adverse Drug Reaction Deaths Reported in United States Vital Statistics, 1999-2006." Annals of Pharmacotherapy 46, no.2 (2012): 169-175.
Shreffler, S., Carson, S., Nelms, L., Yearout, R. "Is Six Sigma Criteria Attainable for Processes with Significant Variability (A Quality Control Case Study)." Advances in Industrial Engineering Theory, Applications, and Practices. (2005): 687-692.
Sigmon, Cole; Patch, Steve. "A Pilot Survey of In-Service Home Arsenic Tracked in from Chromated Copper Arsenate--Treated Decks." Journal of Environmental Health 72, no.6 (2010): 18-22.
Simonetti, J. H.; Dennison, B.; Topasna, G. A. "The Contribution of Galactic Free-Free Emision to Anisotropies in the Cosmic Background Found by the Saskatoon Experiment." Astrophysical Journal (Letters) 458, no.L1 (1996).
Simpson, M. L.; Bennett, C. A.; Emery, Mike S.; Hutchinson, D. P.; Miller, Gordon H.; Richards, Roger K.; Sitter, David N. "Coherent Imaging With Two-Dimensional Focal Plane Arrays: Design and Applications." Applied Optics 36, no.27 (1997): 6913. doi:10.1364/AO.36.006913.
Sinclair, Bryan. "Commons 2.0: Library Spaces Designed for Collaborative Learning." EDUCAUSE Quarterly 30, no.4 (2007): 4-6.
Sinclair, Bryan. "The Blended Librarian in the Learning Commons: New Skills for the Blended Library." College & Research Libraries News 70, no.9 (2009): 504-516. http://crln.acrl.org/content/70/9/504.full.
Slatton, Anne. "Global Bollywood." Journal of Film & Video 63, no.1 (2011): 64-66.
Slatton, Anne. "A Complete History of American Film Criticism." Journal of Film & Video 64, no.1 (2012): 93-95.
Slatton, Anne. "Review of A Complete History of American Film Criticism, author Jerry Roberts." Journal of Film & Video 64, no.1-2 (2012): 93-95.
Slota, C.; Blalock, S.; Carpenter, D.; Robin, A.; Muir, K.; Sleath, B. "Examining Patient Provider Communication Regarding Cost In The Glaucoma Patient Population." Value in Health 17, no.3 (2014): A287-A287.
Smit, Bart; McClure, Mark; Palenstijn, Willem; Sparling, E.; Wagon, Stan. "Through the Looking-Glass, and What the Quadratic Camera Found There." Mathematical Intelligencer 34, no.3 (2012): 30-34. doi:10.1007/s00283-012-9309-9.
Smith, Matthew E.; Henkel, Terry W.; Uehling, Jessie K.; Fremier, Alexander K.; Clarke, H. David; Vilgalys, Rytas. "The Ectomycorrhizal Fungal Community in a Neotropical Forest Dominated by the Endemic Dipterocarp Pakaraimaea dipterocarpacea." PLoS ONE 8, no.1 (2013): 1-13. doi:10.1371/journal.pone.0055160.
Snelson, Mark Thomas; Cavagnini, Kyle S.; Denker, Bradley M.; Meigs, Thomas E. "Elucidation of structural determinants of polycystin-1 interaction with G?12." The FASEB Journal 27. (2013): 598.4.
Snow, David; Benford, Robert; McCammon, Holly J.; Hewitt, Lyndi; Fitzgerald, Scott T. "The Emergence and Development of the Framing Perspective or 25 Years since Publication of 'Frame Alignment': What Lies Ahead?." Mobilization: The International Quarterly Review of Social Movement Research. (2014): 23.
Sochacki, Paul; Ward, Jennifer Rhode; Cruzan, Mitchell B. "Consequences of Mycorrhizal Colonization for Piriqueta Morphotypes under Drought Stress." International Journal of Plant Sciences 174, no.1 (2013): 65-73. doi:10.1086/668224.
Solaka, S. A.; Boshamer, S. E.; Parworth, C. L.; Heard, G. L.; Setser, D. W.; Holmes, B. E. "Isomerisation of CF2ClCH2Cl and CFCl2CH2F by Interchange of Cl and F atoms with Analysis of the Unimolecular Reactions of Both Molecules." Chemphyschem: a European Journal of Chemical Physics and Physical Chemistry 13, no.2 (2012): 869-878.
Solaka, Sarah A.; Parworth, Caroline L.; Heard, George L.; Setser, D. W.; Holmes, Bert E. "Isomerization of CF2ClCH2Cl and CFCl2CH2F Molecules by Interchange of Cl and F Atoms and Analysis of the Unimolecular Reactions of both Molecules." Chemphyschem : a European journal of chemical physics and physical chemistry. (2011).
Sours, Gregory N.; Petranka, James W. "Intraguild Predation and Competition Mediate Stage-Structured Interactions between Wood Frog (Rana sylvatica) and Upland Chorus Frog (Pseudacris feriarum) Larvae." Copeia , no.1 (2007): 131-139. http://www.jstor.org/stable/4126505.
Spellman, Bill. "The Resilient Liberal Arts College." Inside Higher Ed. (2009), http://www.insidehighered.com/views/2009/07/30/spellman.
Spellman, W. M. "Review of John Wesley's Moral Theology: The Quest for God and Goodness by D. Stephen Long." Anglican and Episcopal History 75. (2007): 257-258.
Spellman, W. M. "Review of Richard Hooker, Reformer and Platonist by W. J. Torrance Kirby and Richard Hooker and His Early Doctrine of Justification by Corneliu C. Simut." Anglican and Episcopal History 76. (2007): 425-427.
Spivey, Virginia. "Sites of Subjectivity: Robert Morris, Minimalism and Dance." Dance Research Journal 35 and 36, no.1 and 2 (2004): 112-130. http://www.jstor.org/stable/30045072.
Stevens, J. G.; Khasanov, A. M.; Mabe, D. R. "A Novel Investigation of Tin-Doped Ferrihydrite Nanoparticles." Hyperfine Interactions 161. (2005): 83.
Stevens, J. G.; Khasanov, A. M.; Mabe, D. R. "Alteration of Ferrihydrate Nanocrystals with Cr3+, V3+, Mn2+, and BO3-." Izvestiya RAN Seriya Fizicheskaya 69, no.10 (2005): 1497.
Stevens, John G.; Khasanov, A. M.; Hall, N. F.; Khasanova, I. A. "The USA and international Mössbauer community." Hyperfine Interactions 153. (2004): 159-170.
Stevens, John G.; Khasanov, A. M.; Hall, N. F.; Khasanova, I. A. "The Mössbauer community in the USA." Hyperfine Interactions 170. (2006): 159-167.
Stevens, John G.; Khasanov, Airat M.; Mabe, David R. "Mössbauer and X-Ray Diffraction Investigations of a Series of B-Doped Ferrihydrites." Hyperfine Interactions 161, no.1-4 (2005): 83-92. doi:10.1007/3-540-28960-7_9.
Stratton, M. T. "James Michaels (A) & (B)." Organization Management Journal 9, no.1 (2012): 34.
Stratton, M. T.; Julien, M.; Schaffer, B. "GoAnimate." Journal of Management Education 38, no.2 (2014): 282-282-298.
Stratton, M. T.; Julien, Mark. "Xtranormal Learning for Millennials: An Innovative Tool for Group Projects." Journal of Management Education 38, no.2 (2014): 259.
Stratton, Micheal T. "Uncovering a New Guilty Pleasure: A Qualitative Study of the Emotions of Personal Web Usage at Work." Journal of Leadership and Organizational Studies 17. (2010): 392-410.
Subramaniam, S. "Book Review, Student Activism in Malaysia." Berita (newsletter of the Malaysia/Singapore/Brunei Studies Group, Association for Asian Studies). (2012): 12-15.
Subramaniam, S. "Report on MSB-Sponsored Panel (Limits of the Developmental State) at the Association for Asian Studies Annual Meeting." Berita (newsletter of the Malaysia/Singapore/Brunei Studies Group, Association for Asian Studies). (2012): 20-26.
Subramaniam, Surian. "Assessing Political Dynamics in Contemporary Malaysia: Implications for Democratic Change." ASIANetwork Exchange 19, no.1 (2011): 42.
Swartz, A. M.; Rote, A. E.; Cho, Y. I.; Welch, W. A.; Strath, S. J. "Responsiveness of motion sensors to detect change in sedentary and physical activity behaviour." British journal of sports medicine 48, no.13 (2014): 1043-1047. doi:10.1136/bjsports-2014-093520.
Swartz, A. M.; Rote, A. E.; Welch, W. A.; Maeda, H.; Hart, T. L.; Cho, Y. I.; Strath, S. J. "Prompts to disrupt sitting time and increase physical activity at work, 2011-2012." Preventing Chronic Disease 11, no.5 (2014).
Swartz, A. M.; Tarima, S.; Miller, N. E.; Hart, T. L.; Grimm, E. K.; Rote, A. E.; Strath, J. S. "Prediction of body fat in older adults by time spent in sedentary behavior." Journal of Aging and Physical Activity 22. (2012): 332.
Tagliatela, Alicia; Hamilton, Tyler; Jones, Alan; Meigs, Thomas. "Analysis of class-distinctive Gα13 mutants to identify regions critical for serum response element-mediated transcriptional activation (802.9)." The FASEB Journal 28, no.1 Supplement (2014): 802.9.
Tatum, R. C.; Childers, K. L. "The distribution and utilization of class time: How long should class be, and should students even attend?." International Review of Economics Education 13. (2013): 1-9.
Tatum, Robert. "Liberalization of Import Restrictions on Capital Goods and the Balance of Payments." Journal of International Trade and Economic Development 19, no.3 (2010): 385-419.
Tatum, Robert C. "A hard row to hoe: farming on the economic frontier under incomplete property rights." Environment and Development Economics 18, no.05 (2013): 576-594.
Tatum, Robert C., . "Sustaining imperfectly credible trade liberalization: Do the rate of tariff reduction and the degree of labour mobility matter?." Journal of International Trade & Economic Development 14, no.4 (2005): 407-435.
Taylor, C.; Wasileski, S. A.; Filhol, J. S.; Neurock, M. "First-Principles Reaction Modeling of the Electrochemical Interface: Consideration and Calculation of a Tunable Surface Potential from Atomic and Electronic Structure." Physical Review B 73. (2006).
Taylor, Laurel. "Morning Becomes Etruria: Ritual, Performance and Iconography in the Seventh and Sixth Centuries." Journal of Etruscan Studies 14. (2011): 39-54.
Taylor, Laurel. "Review of Miniature Votive Offerings in the Roman North-West, by Philip Kiernan." Bryn Mawr Classical Review 3, no.57 (2011).
Taylor, Laurel. "Book Review: Portraits of Children on Roman Funerary Monuments." The Classical Review 63, no.2 (2013): 576-578. http://search.proquest.com/docview/1431973730?accountid=8388.
Taylor, Laurel. "Performing the Prothesis: Gender, Gesture, Ritual and Role on the Chiusine Reliefs from Archaic Etruria." Etruscan Studies 17, no.1 (2014): 1-27.
Taylor, Laurel. "Preface and Introduction." Etruscan Studies 17, no.2 (2014): 111-120.
Taylor, Laurel; Ewell, Charles. "Excavations at the 'Project of 100 Roman Farms', Lucca, Italy: The 2006-2008 Seasons at Palazzaccio." FOLD&R (Fasti Online Documents and Research) 1. (2010): 1-7. http://www.fastionline.org/docs/FOLDER-it-2010-173.pdf.
Traboulsi, Samer. "An Early Refutation of Muhammad b. 'Abd al-Wahh?b's Reformist Views." Die Welt des Islams 42. (2002): 373.
Traboulsi, Samer. "The Queen was Actually a Man: Arwa Bint Ahmad and the Politics of Religion." Arabica L 50, no.1 (2003): 96.
Traboulsi, Samer. "Sources for the History of the Tayyibi Ismaili Da'wa in Yemen and Its Relocation to India." Journal of Islamic Manuscripts 5, no.2-3 (2014): 246-274.
Tucker, M. K.; Rossabi, S. M.; McClintock, C. E.; Heard, G. L.; Setser, D. W.; Holmes, B. E. "Unimolecular isomerization of CH2FCD2Cl via the interchange of Cl and F atoms: Assignment of the threshold energy to the 1,2-dyotropic rearrangement." Journal of Physical Chemistry A 117, no.31 (2013): 6717-6723. doi:10.1021/jp507788v.
Turner-McGrievy, G. M.; Barnard, N. D.; Scialli, A. R.; Lanou, A. J. "Effects of a low-fat, vegan diet and a Step II diet on macro- and micronutrient intakes in overweight, postmenopausal women." Nutrition 20. (2004): 738.
Uldricks, T. J. "Rev. of Dealing with the Devil: Anglo-Soviet Intelligence Cooperation during the Second World War by Donal O'Sullivan." Slavic Review 71, no.2 (2012): 467-468.
Uldricks, Teddy. "War, Politics and Memory." History & Memory 21, no.2 (2009): 60-82.
Uldricks, Teddy J. "Icebreaker Redux: The Debate on Stalin's Role in World War II Continues." Kritika 11, no.3 (2010): 649-660.
Uldricks, Teddy J. "Dealing with the Devil: Anglo-Soviet Intelligence Cooperation during the Second World War." Slavic Review 71, no.2 (2012): 467-468.
Urgo, Joseph. "The Road Taken and the Difference It Makes." Roads Taken: The Professorial Life, Scholarship in Place, and the Public Good. (2014): 221.
van Engelen, Debra L.; Suljak, Steven W.; Hall, J. Patrick; Holmes, Bert E. "Undergraduate Introductory Quantitative Chemistry Laboratory Course: Interdisciplinary Group Projects in Phytoremediation." Journal of Chemical Education 84, no.1 (2007): 128-131. doi:10.1021/ed084p128.
Walker, John F.; Miller Jr., Orson K.; Horton, Jonathan L. "Hyperdiversity of ectomycorrhizal fungus assemblages on oak seedlings in mixed forests in the southern Appalachian Mountains." Molecular ecology 14, no.3 (2005): 829-838. doi:10.1111/j.1365-294X.2005.02455.x.
Walker, John F.; Miller Jr., Orson K.; Horton, Jonathan L. "Seasonal dynamics of ectomycorrhizal fungus assemblages on oak seedlings in the southeastern Appalachian Mountains." Mycorrhiza 18. (2008): 123-132.
Wang, Junhu; Jin, Chang; Liu, Xin; Liu, D.; Sun, Hui; Wei, Fang; Zhang, Tao; Stevens, J.; Khasanov, A.; Khasanova, I. "M??ssbauer spectroscopy database: past, present, future." Hyperfine Interactions 204, no.1-3 (2012): 111-117. doi:10.1007/s10751-012-0564-0.
Ward, J. R.; Cowart, M. L.; Clifford, J.; Camp, M.; Cruzan, M. B. "Variation in sex allocation and floral morphology in an expanding distylous plant hybrid complex." International journal of plant sciences 175, no.5 (2014): 518-525.
Ward, J. R.; David Clarke, H.; Horton, J. L. "Effects of a research-infused botanical curriculum on undergraduates' content knowledge, STEM competencies, and attitudes toward plant sciences." CBE Life Sciences Education 13, no.3 (2014): 387-396.
Warren II, Robert J.; J. Pittillo, Dan; Rossell, Irene M. "Vascular Flora of a Southern Appalachian Fen and Floodplain Complex." Castanea 69. (2004): 116-124.
Warren II, Robert J.; Rossell, Irene M.; Moorhead, Kevin K. "Colonization and Establishment of Red Maple (Acer rubrum) in a Southern Appalachian Wetland." Wetlands 24. (2004): 364-374.
Wasileski, Sally A.; Janik, Michael J. "A first-principles study of molecular oxygen dissociation at an electrode surface: a comparison of potential variation and coadsorption effects." Physical Chemistry Chemical Physics 10, no.25 (2008): 3613. doi:10.1039/b803157f.
Weber, K.; Langille, J. "Middle crustal ductile deformation patterns in southern Tibet: Insights from vorticity studies in Mabja Dome." GIScience and Remote Sensing 44, no.3 (2007): 237-250.
Weldon, Alice. "Viene clareando' la verdad: As Light Is Shed (Some) Justice Is Done." SECOLAS Annals: Journal of the Southeastern Conference of Latin American Studies 38. (2006): 113-122.
Wengrow, Arnold. "Marjorie Bradley Kellogg: 'What I Care About is Real Things'." Theatre Design and Technology 42. (2006): 46-60.
Wengrow, Arnold. "Hidden Broadway in Full Panorama." Theatre Design and Technology, the Journal of the United States Institute for Theatre Technology 50, no.4 (2014): 30-36.
West, M. D. "Is the Internet an Emergent Public Sphere?." Journal of Mass Media Ethics: Exploring Questions of Media Morality 28, no.3 (2013): 155-159.
Whitley, Adam. "Creating animated goal-driven interactive games in processing with mouse and keyboard input." Journal of Computing Sciences in Colleges 29, no.2 (2013): 236-237.
Whitley, Adam. "Orrery: an animation of a model solar system using elliptical motion and trigonometry in processing." Journal of Computing Sciences in Colleges 29, no.2 (2013): 238-239.
Whitley, Adam; Dave, Dipesh; Fenwick, John; McDaniel, Benjamin Tyler; Radford, Nicholas; Loftis, Gregory Tyler. "Teaching software design principles to undergraduates by creating software inspired by the board game Castle Panic." Journal of Computing Sciences in Colleges 30, no.2 (2014): 247-253.
Wilcox, Jeffrey D.; Bahr, Jean. M.; Hedman, Curtis J.; Hemming, Jocelyn D.C.; Barman, Miel A.E.; Bradbury, Kenneth R. "Removal of organic wastewater contaminants in septic systems using advanced treatment technologies." Journal of Environmental Quality 38, no.1 (2009): 149-156. https://www.agronomy.org/publications/jeq/articles/38/1/149.
Wilcox, Jeffrey D.; Gotkowitz, Madeline B.; Bradbury, Kenneth R.; Bahr, Jean M. "Using Groundwater Models to Evaluate Strategies for Drinking-Water Protection in Rural Subdivisions." Journal of the American Planning Association 76, no.3 (2010): 295-304.
Williams, Catherine L.; Neelon, Michael. "Conditional Beauty: The Impact of Emotionally Linked Images on the Red Effect in Sexual Attraction." Psi Chi Journal of Psychological Research 18, no.1 (2013): 10-19.
Williams, G.; Allen, N. W. "Generation of Histaminergic Receptor followed by Modafinil Binding Study." UNCA Journal of Undergraduate Research. (2010).
Wingert, J. R.; Welder, C.; Foo, P. "Age-related hip proprioception declines: Effects on postural sway and dynamic balance." Archives of Physical Medicine and Rehabilitation 95, no.2 (2014): 253-261.
Wingert, J. R.; Welder, C.; Foo, P. "Hip joint position sense and kinesthesia decline in older adults: the effects on postural sway and dynamic balance." Archives of Physical Medicine and Rehabilitation 95, no.2 (2014): 253.
Wingert, Jason R.; Burton, Harold; Sinclair, Robert J.; Brunstrom, Janice E.; Damiano, Diane L. "Tactile sensory abilities in cerebral palsy: deficits in roughness and object discrimination." Developmental Medicine and Child Neurology 50. (2008): 832-838.
Wingert, Jason R.; Burton, Harold; Sinclair, Robert J.; Brunstrom, Janice E.; Damiano, Diane L. "Joint-Position Sense and Kinesthesia in Cerebral Palsy." Archives of Physical Medicine and Rehabilitation 90, no.3 (2009): 447-453. doi:http://dx.doi.org/10.1016/j.apmr.2008.08.217.
Wingert, Jason R.; Wasileski, Sally A.; Peterson, Karin; Mathews, Leah Greden; Lanou, Amy Joy; Clarke, David. "Enhancing Integrative Experiences: Evidence of Student Perceptions of Learning Gains from Cross-Course Interactions." Journal of the Scholarship of Teaching and Learning 11, no.3 (2011): 34-57. http://josotl.indiana.edu/article/view/1827/1824.
Wingert, Jason R.; Wasileski, Sally A.; Peterson, Karin; Mathews, Leah Greden; Lanou, Amy Joy; Clarke, David. "The impact of integrated student experiences on learning." Journal of the Scholarship of Teaching and Learning 14, no.1 (2014): 42-58.
Wingert, Jason; Sinclair, Robert L.; Dixit, Sachin; Damiano, Diane L.; Burton, Harold. "Somatosensory-evoked Cortical Activity in Spastic Diplegic Cerebral Palsy." Human Brain Mapping 31, no.11 (2010): 1771-1785.
Wood, John C. "Cold Patience." Anthropology and Humanism 35, no.1 (2010): 112-120.
Wood, John Coleman. "Life Damages You." Anthropology & Humanism 36, no.2 (2011): 248-259. doi:10.1111/j.1548-1409.2011.01095.x.
Woods, Kelly N.; Khasanov, Airat M.; Stevens, John G. "Point Charge Model Analysis of the Quadrupole Splitting in Normal Spinels." Hyperfine Interactions 188, no.1-3 (2009): 127-136. doi:10.1007/978-3-540-78697-9_189.
Xie, J.; Wolfe, A. L.; Boger, D. L. "Total synthesis of kopsinine." Organic Letters 15, no.4 (2013): 868. http://pubs.acs.org/doi/abs/10.1021/ol303573f.
Yearout, Robert DeWitt; Ballard, Jack; Lee, Jimin; McKenzie, Claudel; Parsons, Donna. "Service Quality in a Reduced payroll Environment: Applying Queuing Analysis to Customer Perception Case Study." Industrial and Systems Engineering Review 1, no.1 (2013): 51-58.
Yearout, Robert; Game, X.; Krumpe, Keith; McKenzie, Claudel. "Impacts of DBCP on Participants in the Agricultural Industry in a Third World Nation (An Industrial Health and Safety Case Study of a Village at Risk)." International Journal of Industrial Ergonomics (Special Edition on Industrial Safety and Health) 38, no.2 (2008): 127-134.
Yearout, Robert; McKenzie, Claudel. "Spanning the Gap from Traditional Ergonomics to Health and Safety Issues." International Journal of Industrial Ergonomics (Special Edition on Industrial Safety and Health) 38, no.2 (2008): 125-126.
Yearout, Robert; Walker, T.; Moe, E.; Capraro, A.; Nelms, N.; Lyda, M. "Setting Product Specifications to Meet Quality Expectations." International Journal of Industrial Engineering Theory, Application, and Practice 15, no.2 (2008): 220-230.
Yeh, Kuan-Yu; Wasileski, S.A.; Janik, Michael J. "Electronic structure models of oxygen adsorption at the solvated, electrified Pt(111) interface." Physical Chemistry Chemical Physics 11, no.43 (2009): 10108. doi:10.1039/b909233a.
Yu, Wanfeng; Ritchie, Benjamin J.; Su, Xuefeng; Zhou, Jing; Meigs, Thomas E.; Denker, Bradley M. "Identification of polycystin-1 and Gα12 binding regions necessary for regulation of apoptosis." Cellular signalling 23, no.1 (2011): 213-221. doi:http://dx.doi.org/10.1016/j.cellsig.2010.09.005.
Zaluzhna, Oksana; Simmons Jr., J. G.; Heard, George L.; Setser, D. W.; Holmes, Bert E. "Unimolecular Elimination of HF and HCl from Chemically Activated CF3CFClCH2Cl." Journal of Physical Chemistry A 112. (2008): 6090.
Zaluzhna, Oksana; Simmons Jr., J. G.; Setser, D. W.; Holmes, Bert E. "Unimolecular Reactions of CF2ClCFClCH2F and CF2ClCF2CH2Cl: Observation of ClF Interchange." Journal of Physical Chemistry A 112. (2008): 12117-12124.
Zhu, Deguang, Robert I. Tate, Ralf Ruediger, Thomas E. Meigs, and Bradley M.Denker. "Domains Necessary for Gα12 Binding and Stimulation of Protein Phosphatase-2A (PP2A): Is Gα12 a Novel Regulatory Subunit of PP2A." Molecular Pharmacology 71, no.5 (2007): 1268-1276. http://molpharm.aspetjournals.org/content/71/5/1268.full.pdf+html.
Zhu, Deguang; Kosik, Kenneth S.; Meigs, Thomas E.; Yanamadala, Vijay; Denker, Bradley M. "Gα12 Directly Interacts with PP2A: Evidence for Gα12-stimulated PP2A Phosphatase Activity and Dephosphorylation of Microtubule-Associated Protein, Tau." Journal of Biological Chemistry 279, no.53 (2004): 54983-54986.
Zhu, J.; Pallavkar, S.; Chen, M.; Yerra, N.; Luo, Z.; Colorado, H. A.; Lin, H.; Haldolaarachchige, N.; Khasanov, A.; Ho, T. C.; Young, D. P.; Wei, S.; Guo, Z. "Magnetic carbon nanostructures: Microwave energy-assisted pyrolysis vs. conventional pyrolysis." Chemical Communications 49, no.3 (2013): 258-260.
Zubko, Katherine C. "Review of Balasaraswati: Her Art and Life, by Douglas M. Knight." The Journal of Asian Studies 70, no.2 (2011): 618-620. http://search.proquest.com/docview/877605972?accountid=8388.
Zubko, Katherine C. "Dancing the Bhagavadgita: Embodiment as Commentary." The Journal of Hindu Studies. (2014): hiu028.
Zubko, KC. "Book Review: A Matter of Belief: Christian Conversion and Healing in North-East India." Journal of Hindu-Christian Studies 26, no.1 (2013): 22.
Bennett, Charles A. "Multipart Homework Problems over the Web."Computers in Science and Engineering, 2000, 87, doi:http://doi.ieeecomputersociety.org/10.1109/MCSE.2000.10002.
Butler, Brian. "Pluralism? A Solution to Many Problems (Interview of Randy Auxier)."Daily Planet, 2005.
Butler, Brian. "UNCA graduation to feature noted philosopher (Interview of Martha Nussbaum)."Daily Planet, 2005.
Cloninger, Curt. "Manifesto for a Theory of the 'New Aesthetic'."Mute Magazine, 2013, 16-27.
Gaillard, SC; Mensah-Biney, R.; Miller, JW. "Use of quarry fines to make a construction aggregate."Mining Engineering, 2013, 57-64.
Ho, Cynthia. "The Silence That Wasn't Silent."Impulse: The Magazine of the East-West Center, University of Hawaii, Manoa, 2004, 9-11.
Hobby, Blake G.; Rast, Earen. "American Consumption and Academic Production in Joe Wenderoth's Letters to Wendy's."Magazine Americana, 2006, http://www.americanpopularculture.com/archive/venues/wenderoth.htm.
Holland, Lora L. "A Day With Diana."Iris Magazine, 2008, 28-29.
Iglesias, Holly. "Little Women and "Morning Shift"."New England Watershed Magazine, 2006.
Iglesias, Holly. "Narrative Impulse: 33135 (poem)."Palabra : a magazine of Chicano and Latino literary art., 2009.
Iglesias, Holly. "Sermonette (poem)."Palabra : a magazine of Chicano and Latino literary art., 2009.
Iglesias, Holly. "The Monologist of South Beach (poem)."Palabra : a magazine of Chicano and Latino literary art., 2009.
Iglesias, Holly. "Corrections to the Book of Cliché."Shadowbox, 2010, http://www.shadowboxmagazine.org/.
Manheimer, Ronald. "Beyond the Gold Watch."Where to Retire, 2004.
Pierce, Daniel S. "A Fairy Dream on a Goat Hill: The Unlikely Story of the Establishment of the Great Smoky Mountains National Park."Smokies Life Magazine, 2008.
Walters, Scott. "Charlie Flynn-McIver and Scott Treadway: Western North Carolina's Funniest Acting Team Unites Disparate Talents and Audiences."American Theatre Magazine, 2010, 38-40.
Miller, J. William; Fryer, Karen H. "Bedrock Geologic Map of the Asheville 7.5 minute quadrangle, North Carolina." Raleigh, NC.: North Carolina Geological Survey: Geological Map Series, 2008.
Slatton, Anne. "The First Apple." 48 Hour Film Project. 2012.
Ettari, Gary. "Blizzard of One: Author Mark Strand to Read at Sculpture Benefit."Mountain Xpress, 2008, http://www.mountainx.com/article/19714/Blizzard-of-one.
Moseley, Merritt. "Convolutions of Love and Loss (Review of When Madeline Was Young by Jane Hamilton)."The Denver Post, 2006, http://www.denverpost.com/ci_4519988?IADID=Search-www.denverpost.com-www.denverpost.com.
Moseley, Merritt. "For Pessimists Among Us (Review of The Possibility of an Island by Michel Houellebecq)."The Denver Post, 2006.
Moseley, Merritt. "Writing on the Wall (Review of The Eagle's Throne by Carlos Fuentes)."The Denver Post, 2006.
Moseley, Merritt. "He Can't Hear Them Now (Review of Deaf Sentence by David Lodge)."The Denver Post, 2008, http://www.denverpost.com/lifestyles/ci_10207451.
Reynolds, Barbara C. "Climate Change is the Most Severe Problem That We are Facing Today."Asheville Citizen-Times, 2004.
Ruffin, Tiece. "Let's Thwart Structural Racism in our Schools."Asheville Citizen - Times, 2015.
Ruffin, Tiece. "Why Parents Should Advocate to Close the Achievement Gap."Asheville Citizen - Times, 2015.
Sinclair, Bryan. "The Joys of Vinyl: LPs Hold Their Own in a Downloadable Digital Market."Asheville Citizen-Times, 2006.
Wengrow, Arnold. "Melton melds dozens of photos to create giant portraits."Asheville Citizen - Times, 2015, D1-D2.
West, Mark. "Weekly Column."The Daily Planet, 2006.
Williams, Nancy. "A new year brings new problems -- and solutions?."Asheville Citizen - Times, 2007, B.7, http://search.proquest.com/docview/438738113?accountid=8388.
Williams, Nancy. "Bowles effectively leading UNC system to new heights."Asheville Citizen - Times, 2007, C.3, http://search.proquest.com/docview/438726910?accountid=8388.
Williams, Nancy. "Cooking, flower arranging my best shot at a ribbon."Asheville Citizen - Times, 2007, B.5, http://search.proquest.com/docview/438727613?accountid=8388.
Williams, Nancy. "Learning to love imperfections."Asheville Citizen - Times, 2007, B.7, http://search.proquest.com/docview/438738454?accountid=8388.
Williams, Nancy. "Substitute teachers deserve much respect; each school day matters."Asheville Citizen - Times, 2007, B.5, http://search.proquest.com/docview/438725346?accountid=8388.
Comins, D.; King, L.; Despagnet, E. 2006. European Patent Office Publication: EP1685138. European Patent Office, EP1685138.
Comins, D.; King, L.; Despagnet, E. 2006. Regiospecific synthesis of nicotine derivatives. United States Patent Office, US2006287532.
Hopes, David (Producer). "Night, Sleep, and the Dreams of Lovers (Play production)." Last Frontier Playwriting Conference. 2004.
Hopes, David (Producer). "Stegosaurus (Play production)." University of Illinois, Urbana-Champaign, Theater Touring Project. 2004.
Hopes, David (Producer). "The Class of 1950 (Play production)." Long Beach New Plays Festival, Long Beach Playhouse. 2004.
Hopes, David (Producer). "The Faith Healer (Play production)." Process Theater. 2004.
Hopes, David (Producer); McGonnigal, Jamie (Director). "7 Reece Mews (Play production), Directed by Jamie McGonnigal." Monday Morning Productions, Fat Chance Productions. 2004.
Cope, W. P. A Teacher's Guide to the Signet Classics Edition of William Shakespeare's Merchant of Venice. Edited by Ellis, W.G.; McGlinn, James. New York: Penguin Putnam, 2007.
Ettari, Gary. A Teacher's Guide to the Signet Classic Edition of Henry IV, Part 1. Edited by McGlinn, James E. New York, NY.: Penguin Putnam, 2006.
Gilbert, Chris. A Teacher's Guide to the Signet Classics Edition of Edmond Rostand's Cyrano de Bergerac. Edited by McGlinn, Jeanne. New York: Penguin, 2014.
Kloeppel, Lise. A Teacher's Guide to the Signet Classics Edition of Anton Chekhov: The Major Plays with Focus on The Sea Gull, The Three Sisters, and The Cherry Orchard. Edited by McGlinn, Jeanne M.; McGlinn, James E. New York: Penguin Group, 2011. http://www.us.penguingroup.com/static/pdf/teachersguides/chekhovTG.pdf.
Kloeppel, Lise. A Teacher's Guide to the Signet Classic Edition of The Importance of Being Earnest. Edited by McGlinn, Jeanne M. New York, NY.: Penguin, 2012.
Kromer, Allen. A Teacher's Guide to Joseph Conrad's Heart of Darkness. Edited by McGlinn, Jeanne; McGlinn, James. New York, NY.: Penguin, 2010.
Kromer, Allen. A Teacher's Guide to the Signet Classics Edition of The Phantom of the Opera. Edited by McGlinn, Jeanne M.; McGlinn, James E. New York: Penguin Group, 2011.
Manfra, Meghan M. A Teacher's Guide to Harriet Tubman's Incidents in the Life of a Slave Girl. Edited by McGlinn, Jeanne M.; McGlinn, James E. New York, NY.: Penguin, 2008.
Manfra, Meghan; Simmons, Crystal. A Teacher's Guide to the Signet Classics Edition of W.E.B. DuBois' The Soul of Black Folk. Edited by McGlinn, Jeanne. New York: Penguin, 2014.
Mayer, Laura Reis. A Teacher's Guide to the Signet Classics Edition of Christopher Marlowe's Doctor Faustus. Edited by McGlinn, Jeanne M.; Ellis, W.G. New York, NY.: Penguin, 2006.
Mayer, Laura Reis. A Teacher's Guide to the Signet Classics Edition of George Bernard Shaw's Pygmalion. Edited by McGlinn, Jeanne M.; Ellis, W. G. New York: Penguin, 2007.
Mayer, Laura Reis. A Teacher's Guide to Henrik Ibsen's A Doll's House. Edited by McGlinn, Jeanne M.; McGlinn, James E. New York, NY.: Penguin, 2008.
Mayer, Laura Reis. A Teacher's Guide to the Signet Classics Edition of Mary Shelly's Frankenstein. Edited by McGlinn, Jeanne M.; McGlinn, James E. New York: Penguin Group, 2009.
Mayer, Laura Reis. A Teacher's Guide to Sophocles: The Complete Plays. Edited by McGlinn, James; McGlinn, Jeanne. New York, NY.: Penguin, 2010.
Mayer, Laura Reis. A Teacher's Guide to the Signet Classic Edition of Emma. Edited by McGlinn, Jeanne M. New York, NY.: Penguin, 2012.
Mayer, Laura Reis. A Teacher's Guide to the Signet Classics Edition of Martin Luther King Jr.'s Why Can't We Wait. Edited by McGlinn, Jeanne. New York: Penguin, 2014.
McGlinn, James; McGlinn, Jeanne. A Teacher's Guide to the Signet Classic Edition of Henry James's Washington Square. Edited by Ellis, W.G.; Reed, Althea J.S. New York, NY.: Penguin Group, 2004. http://www.us.penguingroup.com/static/pdf/teachersguides/washsquare.pdf.
McGlinn, Jeanne M. A Study Guide to the Penguin Edition of Greg Mortenson and David Oliver Relin's Three Cups of Tea. New York, NY.: Penguin, 2010.
McGlinn, Jeanne M. A Teacher's Guide to The Help by Katheryn Stockett. New York, NY.: Penguin, 2012.
McGlinn, Jeanne M.; McGlinn, James. A Teacher's Guide to the Signet Classics Edition of Horatio Alger, Jr.'s Ragged Dick: Or, Street Life in New York with the Boot Blacks. Edited by Ellis, W.G.; Reed, Althea J.S. New York: Penguin, 2005.
Posey, Nancy. A Teacher's Guide to the Signet Classics Edition of Jane Austin's Pride and Prejudice. Edited by McGlinn, Jeanne M.; McGlinn, James E. New York: Penguin Group, 2009.
Ruggieri, Colleen A. A Teacher's Guide to the Signet Classics Edition of Richard Henry Dana, Jr.'s Two Years before the Mast. Edited by McGlinn, James E.; Ellis, W.G. New York, NY.: Penguin Putnam, 2006. http://www.us.penguingroup.com/static/pdf/teachersguides/twoyears.pdf.
Ruggieri, Colleen A. A Teacher's Guide to the Signet Classics Edition of Charlotte Bronte's Jane Eyre. Edited by Ellis, W. G.; McGlinn, Jeanne. New York: Penguin, 2007.
Self, Kelli McCall. A Teacher's Guide to the Signet Classic Edition of Sir Gawain and the Green Knight. Edited by McGlinn, Jeanne M. New York, NY.: Penguin, 2012.
Shlensky, Jane. A Teacher's Guide to Mark Twain's Adventures of Huckleberry Finn. Edited by McGlinn, Jeanne M.; McGlinn, James E. New York, NY.: Penguin, 2008.
Shlensky, Jane. A Teacher's Guide to the Signet Classics Edition of Willa Cather's My Antonia. Edited by McGlinn, Jeanne M.; McGlinn, James E. New York: Penguin Group, 2009.
Hardy, Grant. "Great minds of the Eastern intellectual tradition." In Great courses. Chantilly, VA: Teaching Co.. 2011.
Hardy, Grant. "Sacred Texts of the World (36 Lecture Course)." In The Great Courses. Chantilly, VA: The Teaching Company. 2014.
Berls, Robert C. "Alexander Technique for Technicians." 2008.
Butler, Brian E. "Democratic experimentalism." 2013.
Canejo, Cynthia M. "Questioning Issues of Importance to Afro-Brazilian Art and Culture." 2010.
Chapman, Reid. "Teaching about Religion in the Public Schools." The Middle East Suitcase Project, a multimedia educational resource put together by the Center for Cultural Exchange . 2005.
Iglesias, Holly. ""Morir Soñando: To Die Dreaming," "Froth," "Forlorn," "Parlor," and "Limit Your Search"." Del Sol Review . 2006.
Iglesias, Holly. ""Depression Glass," "From The Lives of The Saints: The Meek in Death Shall Bleed," "Kitchen Conversion," "Annunciation Street"." 2010.
Spivey, Virginia. "Review of Rosalind Krauss and American Philosophical Art Criticism: From Formalism to Beyond Postmodernism by David Carrier." 2004. http://www.caareviews.org/reviews/614.
Walters, Scott. "Toward a Rural Arts Education." 2012.
.
Display items per page.
---